Haaland: Real Madrid best-placed to sign Borussia Dortmund striker
Dortmund don't want to sell before 2022, but if push came to shove would give priority to Real Madrid. Odegaard has been busy selling the club to Haaland.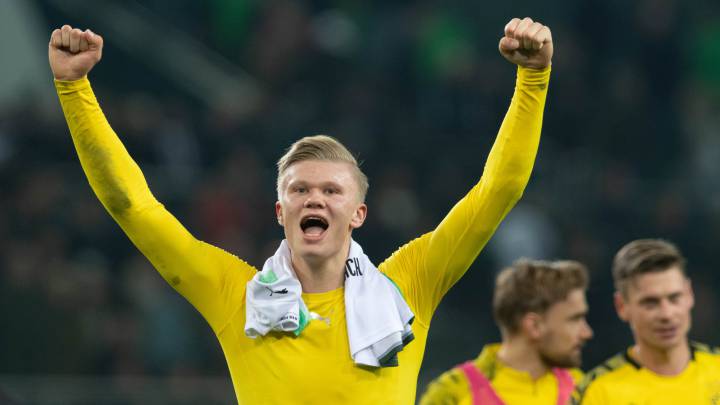 If a deal happens this summer, it is Real Madrid who are best-placed to sign Erling Braut Haaland, 19.
Martin Odegaard, who is on loan at Real Sociedad from Madrid, has sought to sell the club to his fellow Norwegian, who is a friend and international team-mate. The CEO of Borussia Dortmund, Hans-Joachim Watzke, is a close ally of Madrid president Florentino Pérez, and is a firm admirer of the Bernabéu chief's work. And finally, Haaland's agent, Mino Raiola, is eager to broker a major transfer to Madrid. The stars are aligning to take Haaland to the Spanish capital.
Within Real Madrid, however, club bosses are remaining cautious when it comes to making plans. There is genuine fear that the season could fail to resume as a result of the coronavirus pandemic, and that next term could begin behind closed doors, leading football clubs' revenue to take the kind of hit that would scupper any big-money transfers this summer. At the same time, though, Madrid are also getting themselves into position in case a wholly more positive scenario plays out.
Haaland doesn't have 75m-euro release clause, Dortmund insist
Sources close to Dortmund's board have insisted to AS that they don't plan on parting with Haaland before 2022. They also deny that the player has a 75-million-euro release clause that takes effect in 2021, as was reported by the German newspaper Bild in January. However, they acknowledge that if they were left with no option but to sell Haaland, who they signed for 20 million euros from RB Salzburg in January, their preference would be to do business with Madrid.
It was much the same situation when former Dortmund striker Pierre-Emerick Aubameyang was being heavily tipped for a switch to Madrid: Watzke gave priority to the Spanish giants because of his "friend Florentino". However, Los Merengues finally opted against a move for the Gabon international, who signed for Arsenal.
There is genuine apprehension at Dortmund that Haaland could at some point push for a transfer to Madrid. The Germans will try to hold this off as long as possible, safe in the knowledge that, as things stand, Madrid have a first-choice centre-forward in the shape of Karim Benzema, who is under contract until 2022.
Achraf Hakimi could be included in Haaland deal
One man who could be involved in a deal for Haaland is Achraf Hakimi, who has spent the past two seasons on loan at Dortmund and has excelled at Signal Iduna Park. As has already been revealed by AS, Dortmund are keen for the Moroccan to stay, leaving Madrid in a position to use the full-back as a bargaining chip.
It is in both clubs' interests to maintain their friendly relations. In Dortmund's case, they need to keep hold of a major ally at the top table of the European club game, not least given the possibility that they could get more players on loan from Madrid in future. For Los Blancos, meanwhile, it's important that they remain at the front of the queue when the Germans sell the stars that they consistently shape.