Senderos: I threw up at the Bernabéu
The former Arsenal defender has recalled being so overwhelmed by nerves when facing Real Madrid at the Bernabéu in 2006 that he vomited before the game.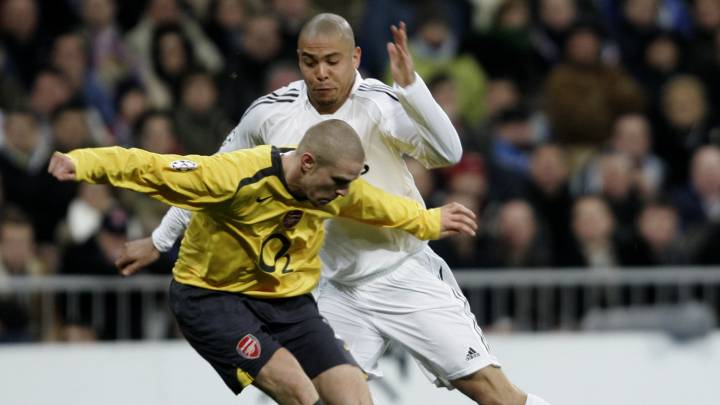 It was former Real Madrid player, coach and general manager, Jorge Valdano, who first used the term "stage fright" to refer to the paralysing feeling that can came over European rivals on big nights at the Santiago Bernabéu.
And the latest player to recount having suffered such emotions at the Bernabéu has been former Arsenal defender, Philippe Senderos, who retired earlier this year after a final short spell with FC Chiasso in his native Switzerland.
My dad was a Real Madrid fan - Senderos
The 35-year-old former centre-back visited the iconic Madrid stadium with the Gunners back in 2006 in the Champions League and was overwhelmed by stage fright before the game, as he recalls in the latest episode of Arsenal's 'In Lockdown' podcast.
"My Dad is Spanish, from very close to Madrid so he's supported Real Madrid all his life and me growing up, I always looked at Real Madrid being an amazing team and a team that I would love to play for in the future," said Senderos.
"That game, that day at the Bernabéu, was the day that I was the most nervous in my whole entire life. I remember throwing up before the game on the field and before the ref blew because I was actually living my dream, but the atmosphere and the setting were very intimidating."
But Senderos and his Arsenal team mates managed to overcome the famous Bernabéu stage fright and, thanks to a lone goal from Thierry Henry, won the game that will long live in the former Swiss international's memory.
"That Real Madrid game, away, with an amazing Henry goal - that game was for me one of my best memories in an Arsenal shirt and on a football pitch in general," said Senderos.
He added: "Playing at the Bernabéu against Real Madrid for Arsenal that was my dream as a kid. I wanted to do that in my life and I was actually living it so that's one of my best memories on a football field."
Senderos suffered from panic attacks - Gallas
That episode at the Bernabéu was not the only time Senderos had a bout of panic before a game. He was regularly overwhelmed by nerves, particularly when facing Chelsea striker Didier Drogba, as recalled by his former Arsenal team mate, William Gallas, in an interview with Radio Montecarlo two years ago.
"He suffered from panic attacks. I knew Philippe Senderos and before a game he needed to talk a lot, you could see that he was sweating, that he was not feeling well," recalled retired defender Gallas.
"That happened especially against certain players. I saw him against Chelsea, against Drogba, who he was really scared of playing against. It was like he was facing his own match before actually playing it."