AS reclaims top spot in Latin America with all-time record audience
The sports site claimed a 28% market share, bolstering its dominant position in South America, where it is the leader in Chile, Colombia, Argentina and Peru.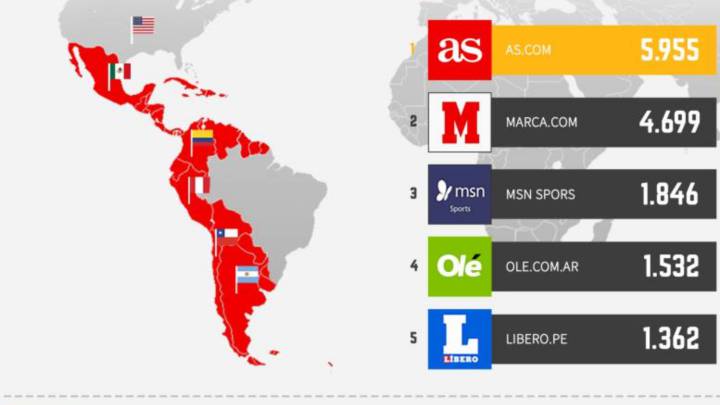 Diario AS (as.com) bolstered its position as the stand-out leader among sports websites in Spanish in Latin America, according to the latest Comscore report, for March 2020. The official audience ratings agency placed AS at the top of the chart in the Sports in Latin America segment (not including Brazil). The report does not include mobile traffic (multi-platform data), which is included in some reports – hence some local data are different and cannot be directly tallied to create this Comscore ranking. What can be clearly seen from the regional ranking is the order of the various websites and the differences in audience share between them, because the percentage of users accessing the sites by way of computers or mobile devices is similar.
AS has thus reclaimed top spot in the ranking, claiming a market share of 28%, with a growth in users of 145% compared to February 2020 and 87% compared to March 2019. In March the gap between AS and Marca (4,699,000), its closest rival, was 1.25 million unique uses. The other newspapers in the top five are Argentinean site Olé (1,532,000), Peruvian outlets Líbero (1,362,000) and Depor (1,271,000). This is the second time AS has led the market, having been number one continuously from January 2017 through to August 2018.
The news coverage provided by AS in March was focused on the devastating impact of the Covid-19 pandemic on the world of sports, with the suspension of the Olympic Games, the European Championships, the Copa América and of almost all sporting tournaments and competition worldwide. AS also covered in detail useful information for readers regarding the pandemic.
Diario AS launched in the Americas in 2013 with a site covering the entire region, before launching individual editions for a number of countries: Chile (October 2014), Colombia (February 2015), Mexico (July 2015), the US (November 2015), Argentina (May 2017 and Peru (July 2017). Each has its own team of local journalists and are headed up by Mario Brisso (Chile), Sarah Castro (Colombia), Alejandro Gómez (Mexico and the US) and Aritz Gabilondo (all other editions). Each team works in tandem with the main newsroom in Madrid, Spain.
In March, AS recorded significant audience in all of its major markets. According to country data from Comscore, it is the leader in Chile, Colombia, Argentina, Peru (data for PCs) and the US. Moreover it is second in Mexico.
AS has eight digital versions in Spanish, plus an English-language edition and an Arabic site.