Heroes Act: How $3tn US stimulus bill would affect student loans
Among those to benefit from the Heroes Act, a $3 trillion coronavirus relief package passed by the House on Friday, would be student-loan borrowers.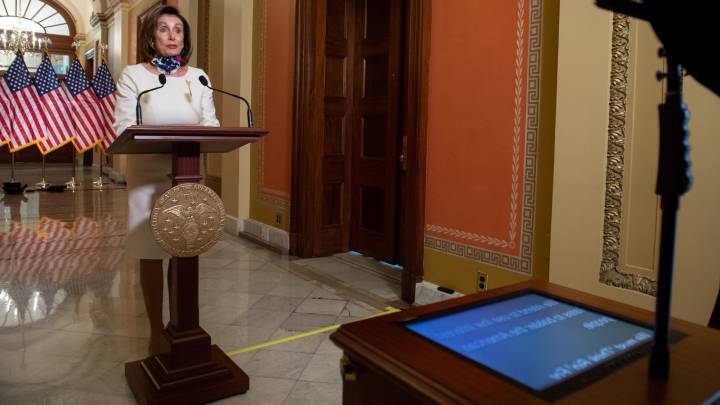 Approved by the House of Representatives on Friday, the Health and Economic Recovery Omnibus Emergency Solutions (Heroes) Act proposes a further $3 trillion in stimulus money to help people in the United States deal with the financial effects of the coronavirus pandemic.
Among those to benefit from the Democrat-backed bill - which must now get through the Republican-controlled Senate and appears to be facing an uphill battle to do so - would be those repaying student loans.
Student-loan relief in Heroes Act
The most notable student-debt relief measures in the Heroes Act include:
The widening of the Cares Act suspension of federal-loan interest and repayments to include Perkins loans, and FFEL Program loans not owned by the US Department of Education
The extension of this suspension by a year, until the end of September 2021
The cancellation of up to $10,000 in federal and private loans if the borrower qualifies as "economically distressed"
You'll find more detailed summaries of how the Heroes Act would affect those paying back student loans here and here. (Please note, however, that the second was written before the initially broader loan-forgiveness measures were narrowed to include only the "economically distressed".)
Who counts as "economically distressed"?
The Heroes Act considers borrowers "economically distressed" if they were in one of the following repayment situations on 12 March 2020, the day before US president Donald Trump declared a national emergency because of the Covid-19 crisis:
They were paying $0 a month as part of an income-based repayment plan
They were delinquent (90 days past due) or in default (270 days past due) on their student loan
They had qualified for loan forbearance or deferment
See also:
Live coverage of the coronavirus crisis
You can stay up-to-date with the latest developments in the coronavirus pandemic by following our live blog. We also have a dedicated rolling feed for the US here.