Real Madrid: "Pogba is ideal for Zinedine Zidane"
Christophe Dugarry said that the Manchester United midfielder is a perfect fit for Real Madrid and Zinedine Zidane in an interview with RMC.
Christophe Dugarry believes that Manchester United midfielder Paul Pogba is the perfect fit for Real Madrid, who have been heavily linked with a move for the France international given Zinedine Zidane's admiration for the player.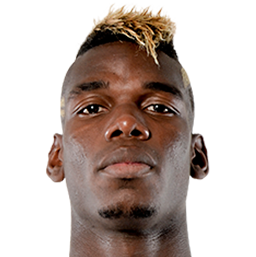 "We can all see that Real Madrid's squad is getting on a bit," Dugarry told RMC. "It's a team that has trouble getting forward, breaking the defensive lines and having people getting into the box behind the strikers to get on the end of crosses. Pogba can do that. He is a lad who scores goals. For me, he is the ideal player to give Real Madrid what they are lacking." 
Pogba has had an injury-plagued season at Old Trafford and has contantly been linked with a move away, either to Madrid or back to his former side Juventus, and suggested that under Zidane he would flourish. "He's had a difficult year because he's had a lot of injuries and his team haven't been performing well but whenever he has been able to play he has got back to his best level quickly. Knowing Zizou, if he was in love with Pogba a year ago there is no reason that would have changed a year ago," Zidane's former France teammate added. 
Real Madrid looking at cheaper alternatives to Pogba
Madrid have a long-standing interest in Pogba but due to financial constraints imposed by a loss of revenue during the coronavirus crisis are unlikely to shell out upwards of €100m on a single player this summer. Instead, the Bernabéu board are considering a move for Napoli midfielder Fabián, who they view as a similar sort of midfielder to Pogba, and have been heavily linked with Rennes midfielder Eduardo Camavinga. 
Zidane also has an army of loan players he can call upon and Madrid are likely to view recouping some of their assets as a more viable alternative signings this sumer. Martin Odegaard. Achraf Hakimi and Dani Ceballos are all in the frame to join Zidane's first team squad next season.