REAL MADRID
Real Madrid: Achraf could play a major role in Haaland's future
Borussia Dortmund want Achraf Hakimi to stay for another season and Madrid could allow it with an eye on luring Haaland to the Bernabéu in the future.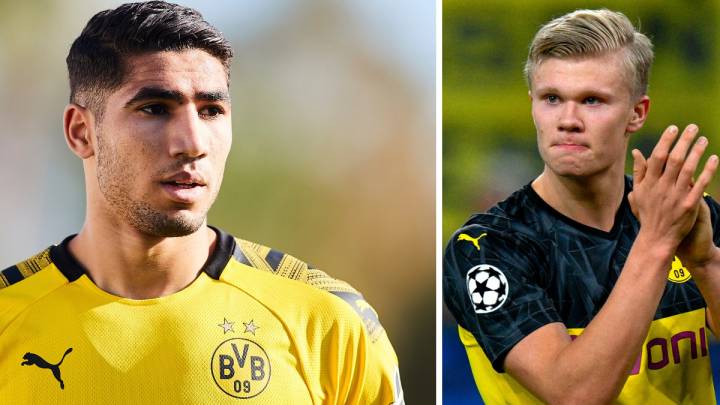 The futures of Achraf Hakimi and Erling Haaland could be linked. AS understand that Borussia Dortmund have told Real Madrid they would like to keep him in Germany beyond this season. It is unclear, however, if they will ask for another loan or make an offer to make the move permanent. Haaland is on Madrid's radar but they won't try to sign the Norwegian yet even though they are well positioned to sign him. Dortmund will facilitate a move after reaching a verbal agreement with Mino Raiola to let him leave in 2022. That is the same time Karim Benzema finishes his contract with Madrid.

AS also understand that the relationship between Dortmund's CEO, Hans-Joaquim Watzke, and Florentino Pérez. Nobody is doubting that if Achraf is allowed to stay at Dortmund for another year, the German side might be more flexible in the future when it comes to Haaland in 2022. And it would even add more weight if Achraf is transferred.
The uncertainty caused by coronavirus has made every scenario possible. There won't be much money for signings and clubs will have to figure out ways to finance moves for transfers. Even moreso if they don't win titles. At Madrid, there is an overload of full-backs. Reguilón and Odriozola are on loan from Sevilla and Bayern respectively, Nacho and Militao can play in those positions along with Achraf and Carvajal. It is possible that Madrid end up selling Achraf and Reguilón.
Achraf finishes his contract with Madrid in 2021 but it will extend two years automatically if he ends up making up part of the first team. He is currently listed as a Castilla player and he wants to be paid like a first team player and not like a reserve one. "If Madrid want me to come back, I'll come back," he said in the past. His form has been incredible and he wants to play. It's inevitable that he will get minutes, it's just a matter of where that is...