CORONAVIRUS
Coronavirus US: how to calculate actual unemployment rate?
The US has seen a significant increase in unemployment but the figures released could be a lot higher with working hours cut and jobseekers not able to look for jobs.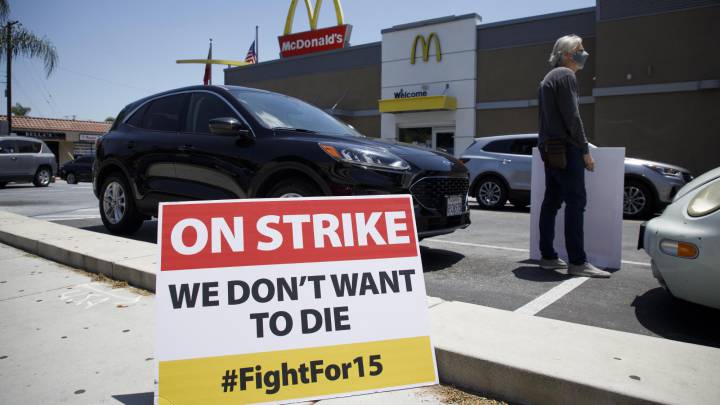 According to Donald Trump's key economic advisor, Kevin Hassett, says US unemployment figures could be 'north of 20%' in May with possible double-digits in November. The latest figures say nearly 39 million Americans have lost their jobs in the last nine weeks but that figure could be higher.
The figures have been devastating; the Bureau of Labor Statistics said earlier in May that total non-farm payroll employment had fallen by 20.5 million in April with employment "falling sharply in all major industry sectors."
The unemployment rate is now 14.7%, the worst since records began, but it could be as high as 20%. Some of the figures released do not even count people whose hours were cut sharply due to the virus, or who couldn't look for work because of stay-at-home orders.
The unemployment rate is part of a monthly report from the federal government's Labor Department, showing how many people don't have jobs as a percentage of the overall American workforce. The "jobs report," as the release is known, provides two important labor market yardsticks: that unemployment rate, generated by a survey of households, and nonfarm payrolls, from a survey of businesses.
The US unemployment rate
The Washington Post noted that the single-month job loss statistics represented the wiping out of a whole decade of labor market growth and was roughly equivalent to the total rate of job destruction experienced by the US during the 2007-09 financial crisis.
A 14.7% unemployment rate means that nearly 15 people out of every 100 who want work don't have jobs. That is a lot more than the 4.4% rate in March.
The Labor Department publishes six measures of unemployment (www.bls.gov/cps/cps_htgm.htm). The main one is technically called U-3, and to qualify you need to be both out of work and looking for a job to be counted. That is the one that rose to 14.7% on Friday. Those not counted, however, are in what is called U-3 and they are people who have had their hours significantly reduced or who could not even seek a job due to lockdown measures.
If you add up all these people, you get a figure much closer to 20% and one that will hurt Donald Trump's chance of re-election in November.