BUNDESLIGA
Real Madrid had the chance to sign Lewandowski for €20 million
Florentino Pérez decided against paying the €20 million to break his pre-contract with Bayern as it would have started a war with the German giants.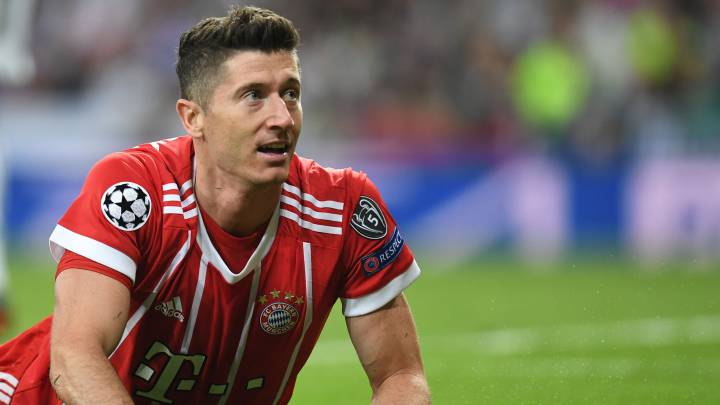 Borussia Dortmund and Bayern Munich play each other on Tuesday night and Real Madrid fans will be keeping a particularly close eye on Erling Haaland. Robert Lewandowski, his counter-part for Bayern, will not be moving to Madrid at this stage of his career but there is an important lesson to be learned from the three occasions when the Polish striker almost did move to the Spanish capital. The last time he nearly signed with Real Madrid was in the summer of 2013...
Lewandowski scored four goals against Real Madrid in the Champions League 2012-13 game while donning the Dortmund jersey. Florentino Pérez, watching the attacker, started to think of ways to bring him to the Bernabéu and sounded out the striker. Lewandowski himself admitted to Bild there had been contact: "Yes, we talked..."
In the summer of 2014, Madrid were ready to make their move. Lewandowski's agent, Cezary Kucharski, had floated the option of paying the €20 million clause that would see him break his pre-contract with Bayern where he was set to move on a free transfer that summer.
Madrid didn't want a war with Bayern of Lewandowski
Madrid opted against this option though and Pérez didn't see it as the right move because it would have started a war with Bayern. Karim Benzema was also doing just fine at Madrid where he had arrived in 2009. Lewandowski's departure would have forced Madrid to explore Benzema's next destination.
Lewandowski would go on to be an unqualified success at Bayern with 40 goals in all of his seasons except for his first in which he scored 25. In total, he has scored 232 goals in 277 games. During that time, Ronaldo scored 251 in 267 games with Madrid and Juve, Messi has scored 273 in 203 with Barcelona. He has scored over 100 more than Benzema since that summer of 2014 with the French striker scoring 130.
The Polish striker, like Cristiano, is obsessed with working. As a kid, he dedicated 6 hours a day in the gym to gain mass. "His legs looked like stick, he looked like he was going to split in two," said Sikorski, his former manager. His life has been filled with responsibilities too from a young age after his father died of a heart attack at 15. The plan then was to quit football and look after his family but Lewandowski stuck with it and became a resounding success. Married to a former Olympic medalist, it's not surprise that he is obsessed with good nutrition and hard work. He's a top sportsman and a lethal goalscorer.