EPL players encouraged to show support for Black Lives Matter protests
After support for the BLM protests in the Bundesliga in the wake of the killing of George Floyd, the chairman of Kick It Out has called on Premier League players to do the same.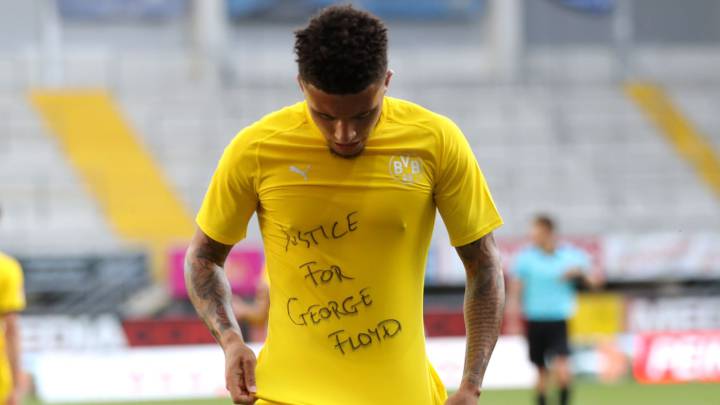 In a picture posted on the club's social media on Monday morning, Liverpool players gathered around the centre circle in solidarity with those protesting the death of George Floyd, who died handcuffed and unarmed when police officer Derek Chauvin knelt on his neck for almost nine minutes. The image showed players down on one knee on the Anfield pitch, echoing Colin Kaepernick's 2016 protest against police brutality, alongside the caption "Unity is Strength. #BlackLivesMatter".
Manchester United's Paul Pogba and Marcus Rashford have also expressed their support for the movement and posted their thoughts to Instagram on Monday. Rashford called on people to come together and added: "People are hurting and people need answers. Black Lives Matter."
Justice for George Floyd

Manchester United's season is yet to resume but Rashford's international teammate Jadon Sancho has been back in action for the past three weeks and celebrated a goal last weekend with his own tribute to the protests. After scoring the young Englishman revealed an undershirt which read 'JUSTICE FOR GEORGE FLOYD', and was subsequently booked for removing his jersey. Achraf Hakimi, Weston McKennie and Marcus Thuram also added their voices to the protest by taking a knee and displaying a message on an armband.
The players were roundly praised for expressing solidarity with the cause but they will now be investigated by the German FA (DFB) for making a political statement on the pitch. DFB vice president Rainer Koch commented on the on-going investigation: "As is the case internationally, the game itself should remain free of political statements or messages of any kind".
FIFA to allow leagues to make their own decision
In the past FIFA has been very strict on players and associations adjudged to have broken Section 5 of the IFAB's laws of the game. The regulation bans players displaying support for any political group or specific political act/event on their equipment or kit.
In 2017 England, Wales, Scotland and Northern Ireland were fined by the world governing body for displaying the poppy during World Cup qualifiers held around Armistice Day. At the time, FIFA disciplinary committee chairman Claudio Sulser said that he "fully respected" their decision to display the poppy, but insisted, "In the stadium and on the pitch, there is only room for sport, nothing else".
However it appears that FIFA's position has softened and they are now willing to let domestic governing bodies make their own decision on shows of support for the protests. A statement from FIFA said that they understood the "depth of sentiment and concerns expressed by many footballers in light of the tragic circumstances of the George Floyd case".
"The application of the laws of the game ... is left for the competitions' organisers, which should use common sense and have in consideration the context surrounding the events."
Kick It Out: This is a chance to send a powerful message
Sanjay Bhandari, chairman of UK anti-racism organisation Kick It Out, has called on Premier League players to support the movement when fixtures resume and hopes it can be done without facing punishment.
"I would like to encourage the players to protest if they want to but I would also like to encourage them to do it in a way that doesn't expose them to unnecessary sanction. If they could do that by taking a knee, well if every player did that it would be quite a powerful message.
"I would be interested to hear what the authorities thought of that, whether it would constitute a breach of the rules. To me that is about demonstrating solidarity."
With the Premier League likely to receive a huge amount of attention after its lengthy hiatus, Bhandari sees it as an opportunity for players and teams to make their enormous global reach count.
"Every player should do it. It should be teams doing it. You saw the Erling Haaland celebration after the first game back where all the Borussia Dortmund players did the social-distancing celebration. They could all take a knee. Racism's not about black players or brown fans. It's about all of us.