Barcelona: Setién meets Arthur before training amid mooted Juventus move
Barcelona coach, Quique Setíen, met with Arthur to dicuss if the Brazilian was in the frame of mind to play against Celta Vigo.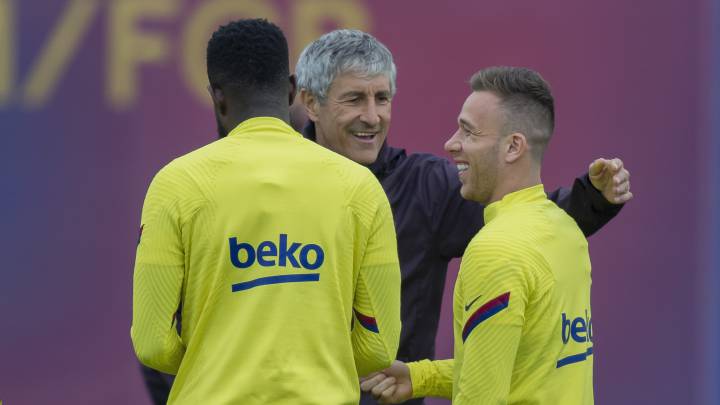 During Friday's press conference, Barcelona coach Quique Setién was bombarded with questions about Arthur and whether the Brazilian midfielder would be in the right frame of mind to play against Celta Vigo this Saturday, amid reports that the player is about to close an agreement with Juventus.
In response, Setién stated he had full confidence in Arthur and his ability to concentrate on the task at hand on Saturday despite all the media hype surrounding him. The Barça boss confirmed that the 23-year-old Brazilian would be on the plane to Vigo, contradicting speculation that the player would travel to Turin this weekend to take a medical.
Setién speaks to Arthur
After the presser, Setién wanted to verify his statements with Arthur himself and subsequently met with him before the start of training.
The coach spoke with the midfielder for a few minutes mainly to inquire about his state of mind amid the current situation. The player insisted that he is fully prepared to travel to Vigo, though acknowledged that the situation is not easy.
Injuries for Barcelona
Regardless of the situation, the fact that Setién is without the injured Frenkie De Jong, Sergi Roberto and Sergio Busquets means Arthur's presence in Vigo is essential. Aside from the Brazilian, only Ivan Rakitic and Arturo Vidal are available in central midfield. Although it must noted that Riqui Puig's recent impressive form has opened the door to a starting position for the young Spaniard.
Sergi Roberto's absence was finally confirmed at Friday's training session, leaving Setién with just 15 first-team players available for the match against Celta on Saturday. As a result, Setién has called up eight youth team players to make up his 23-man squad.
Set

ien's press conference comments about Arthur
Do you see Arthur being ready for Celta? "In principle, I still count on him. He is a player that we are going to need and he is important. Firstly, he will train and then he will travel (to Vigo) and with the possibility of playing. It is what it is. He has to try to make sure that the noise does not affect him and if he has to go out and play, he must try to give his best."
Would you understand the anger of the fans if Arthur leaves? "He is not the first player to arrive at a club with great excitement who doesn't bear fruit. It happens to many teams and players."
What has happened to Arthur, who has not lived up to earlier comparisons with Xavi? "I cannot speak of the time when he was not with me. Since we have been together, he has put a lot of effort into what we ask for. We have stressed many things to him. Perhaps he has lacked continuity, but it is not easy to change a footballer who comes from other coaches who have told him that he did things well like holding the ball, pausing and doing so with two touches. Normally he has done it effectively. I think he is on the right track for the future."
If you are the Barça coach next season, would you prefer to have Pjanic or Arthur? "I do not comment on hypotheses. I am in constant contact with the sporting direction, but I do not ask for too much information every day because I can't wear myself out on things that do not concern me. I am focusing on tomorrow's game."