FC Dallas stops training after three players test positive for Covid-19
MLS released a statement early on Wednesday morning to update the number of players they have tested in Orlando, and on Dallas reported 3 cases.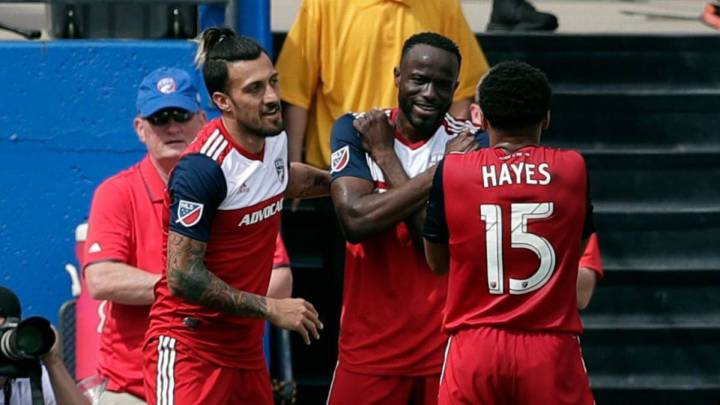 A few days ago it was reported that at least one player from Orlando City had tested positive for Covid-19 and on Wednesday morning Paul Tenorio from The Athletic revealed that FC Dallas is in the same situation. The team from Texas, however, didn't specify the name of the three players that tested positive as we near the return of the MLS.
"The [FC] Dallas medical staff has been working directly with the Covid-19 task force to treat the players who are observing appropriate isolation protocols and are feeling well," the spokesperson said just prior to a video conference call with manager Luchi Gonzalez. "No other cases or symptoms within FC Dallas soccer operations, front office or Toyota stadium staff have been identified at this time."
For that reason FC Dallas didn't train on Tuesday and they have planned not to return until Monday with their first game of the tournament scheduled for 9 July. FC Dallas arrived in Orlando on 27 June and since then there has been a total of six Covid-19 cases reported.
For that reason, many teams have delayed their flight where the tournament is set to start on 7 July due to the increase of new cases in that state. So far Major League Soccer has reported a total of 24 cases between players and staff members since the league stopped in March.
MLS has announced six positive COVID tests in Orlando. @samstejskal and I can confirm the below report that all six positives are FC Dallas players. (Silver lining: no positives for any other team in bubble.)

FCD didn't train yesterday and won't train today. First game is July 9 https://t.co/Go6NJsWXx4

— Paul Tenorio (@PaulTenorio) July 1, 2020
FC Dallas coronavirus timeline
According to 3rddegree.net this is the timeline of FC Dallas' positive Covid-19 cases:
3 June – One player tests positive, 2nd player in MLS.
18-19 June – Two more cases while still in Frisco. A 4th suspected case turns out to be some other "old school" illness.
27 June – FCD travels to and arrives in Orlando.
28 June – FCD holds its first training session and has two more positive tests.
29 June – FCD has one more positive test.
30 June – FCD has three more positive tests.
"Based upon guidance from our Covid-19 Task Force and MLS health officials, this case does not present a risk to our front office personnel, Toyota Stadium staff, FC Dallas players who are coaching staff, or any recent visitors to Toyota stadium," the spokesperson added. "In addition to working with our infectious disease specialists, we remain in constant consultation with the CDC, local health authorities and Major League Soccer regarding the situation."
Due to the spike in new coronavirus cases in Orlando all Major League Soccer teams, except San Jose Earthquakes, the first team to arrive at the Disney complex, have returned to individual and small group training. The question is if the MLS has considered canceling the tournament.