Butragueño: "The business of football will need to adapt to the pandemic"
Four top executives from Brighton, Bari, Orlando SC and Real Madrid discussed the future of football post Covid-19 pandemic as part of the World Football Summit live.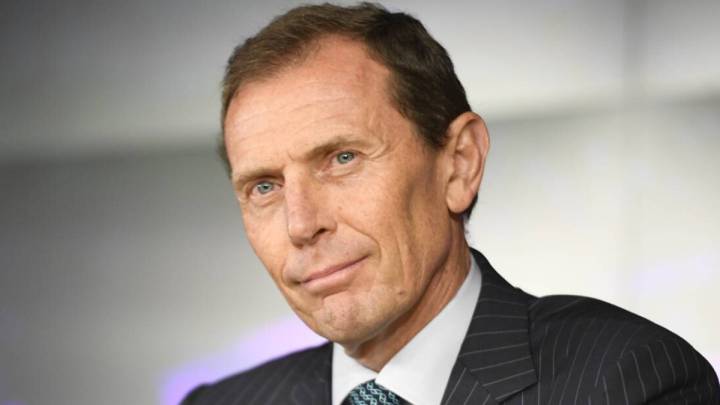 The Covid-19 pandemic has seen changes across the footballing world that cannot possibly be explained in one sentence. World Football Summit live gathered together four top executives from a diverse range of clubs: Brighton and Hove Albion (Premier League), Orlando SC (MLS). SSC Bari (Serie C) and LaLiga's Real Madrid to analysis the life and times of a football club going through what was truly an unprecedented time, looking at the challenges the pandemic presented and what were the necessary steps taken to come out on top of this crisis.
Paul Barber (Chief Executive and Deputy Chairman) Brighton & Hove Albion
"Less than 25 years ago, this football club was close to going out of business, we were at the bottom of the English professional football pyramid. We've lost our stadium. We were deep in debt, and we were very very close to going out of existence. So, to be back from that to be playing in the Premier League for two seasons in succession, this year and hopefully if we can survive the next five matches played in the Premier League next year, has been a remarkable transformation. Whilst this pandemic has been terrible and it has been a very, very difficult period for everyone to get through, we should hopefully come out of it in better shape than we were in back 23 years ago when the club almost went out of existence."
Luigi De Laurentiis (President) SSC Bari Serie C
"Well from our perspective at Bari, we acquired the club from bankruptcy two years ago in August and we had basically 40 days to get a new team, new logo and new structure together because as a result of the bankruptcy we'd lost so much. Basically we didn't live, you know, we worked 15 hour days and it was pretty crazy times hiring new people and trying to make it work. So that was pretty, pretty hectic but very far from what we just went through."
Emilio Butragueño (Director of Public Relations) at Real Madrid
"Real Madrid are 118 years old so the club has gone through some difficult times in the past such as a civil war in the 1930s, the post war period had an impact in Spain as well as a series of economic crises. When Florentino Perez was elected as president he laid solid financial foundations and thanks to this solid sporting and economic strategy it has helped us to overcome what was really a difficult period."
When did you know coronavirus was going to have a significant impact on the world of football?
Emilio Butragueño (Director of Public Relations) at Real Madrid


"When the government declared the state of alarm, all of a sudden, life in Spain was paralysed along with its economic activity. Everything stopped as did football and this caused our revenue to plummet, no football activity, no stadium activity. We soon realised that we'd have to adapt to the situation and try to cut expenses. We initially tried to avoid outgoings and cancel spending that could be deferred".
Paul Barber (Chief Executive and Deputy Chairman) Brighton & Hove Albion
"We were the Premier League game that was postponed that led to the whole suspension of the league. We were scheduled to play Arsenal and on Thursday, I got a call from the CEO of Aston to say that Miguel Arteta had tested positive for the virus and that Arsenal would be unable to play us on that Saturday. We only started playing again on the 17th of June and I think very quickly we had to adjust and adapt, reduce our expenditure, protect our income and most importantly, protect our staff from a health point of view.
But I think the thing that we learned very quickly was not to take anything for granted as we'd all gotten used to playing football, week after week and training day after day. Having income coming into the club and all the things that we had just simply become suddenly stopped overnight and the shock of that I think took a while for us to adjust to. But I think over the three months we've learned a lot. I think most importantly we've kept our people safe as much as we possibly could."
Emilio Butragueño (Director of Public Relations) at Real Madrid
"I think there are key lessons to be learned from this terrible period. The first one is what seems impossible at one point is possible, everything can change overnight. We all also have the ability to overcome difficulties in the way we've been able to bounce back and should be very proud about that and this pandemic has impressed the importance of being united. When we are united we can overcome".
How is the balance now of running a club right now how do you balance today versus tomorrow What does that look like within your organisation?
Alex Leitao (CEO) Orlando SC
"It's a learning process, honestly, what you have to do in the first place to protect the bottom line, fulfil the commitments that we have with our sponsors at MLS, so ticketing, TV rights and club sponsors. They are the three big components of a budget. 2020 is going to be tough for every single club in the world, and at the same time, I think the market, it's going to have to adjust".
Emilio Butragueño (Director of Public Relations) at Real Madrid
"This pandemic has accelerated some processes in our society and as football is part of the society, football will be impacted too. The situation may afford an opportunity to reach fans directly and put in place special relationships via different platforms and I see these helping us to strengthen the emotional part of our relationship, and at the same time expand the commercial situation globally. Our fans are very loyal, they will be with us forever and this loyalty of our fans is probably one of our main assets to build the future."
As clubs focus on financial planning for next season, what areas will be prioritised since we are looking at probably lower revenue numbers. Will this impact on signings?
Paul Barber (Chief Executive and Deputy Chairman) Brighton & Hove Albion
"We were planning to do some more work on our stadium, which we're going to delay, so that we don't actually take away from the team's performance. These are things that were nice to do but not essential. And I think in the transfer market, you know, we are going to see probably a short term blip, whether that's medium or longer term I think remains to be seen but we're very glad that we've invested in our academy over the last 10 years because it gives us an opportunity to bring through more younger players faster."
Emilio Butragueño (Director of Public Relations) at Real Madrid
"I think the industry of football has to adjust to this new situation with ongoing uncertainty about when a vaccine will be discovered. In the meantime we need to be both creative and be flexible enough to adapt ourselves to the new situations.
I think it's really important to understand that this is not a football crisis, this is a global crisis and football is part of the world and part of an economy which is struggling.
This situation of course is going to condition the transfer market and there are question marks abut the future. Having said that, we don't know yet exactly what is going to happen, but we can foresee that the situation is going to be different compared to other summers."