Coronavirus: Will children have to wear masks?
Health experts recommend starting the conversation about wearing a mask with your children now in case they have to go back to school before the end of the year.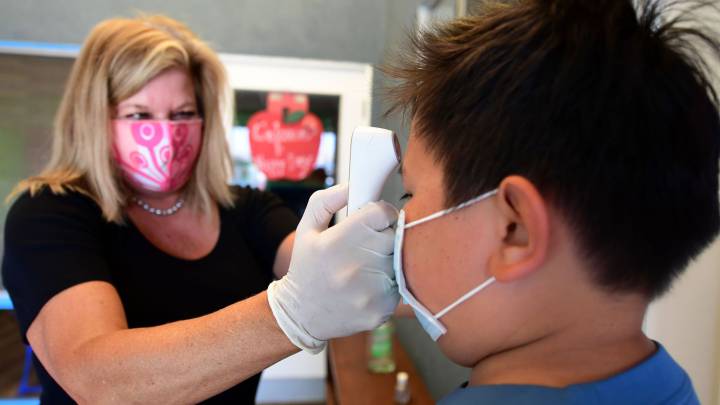 Discussions are on-going about when and whether children will be returning to school during the coronavirus pandemic in the United States, with parents wondering how school officials plan on ensuring the safety of their students, faculty and staff if a decision is made for everyone to return to school.
Another discussion taking place is whether children will be required to wear masks throughout the day if schools bring them back for in-person instruction. While it is not yet mandatory for children to wear a mask, many districts, such as New York City Public Schools, will mandate children to wear face masks.
Miami-Dade's school board approved a plan on 1 July that called for the reopening of schools this fall with the mandatory use of masks for everyone, with other measures including smaller classes and a mix of in-person and online instruction.

Mayor Bill de Blasio later confirmed that students would be welcomed back through a mix of in-school and at-home learning, with most attending school two days per week so that there would be enough space in the building and classroom. However, Gov. Andrew Cuomo said a decision about reopening schools would not be made until August.
Meanwhile, public schools in Texas, Pennsylvania, Utah and North Carolina have all said they're requiring masks in their buildings for everyone. Seattle Public Schools will also require masks according to information provided from PEOPLE. But not all schools that are physically bringing students and faculty back will be making facial coverings mandatory.
For Columbus City Schools in Ohio, masks will be required for all staff and students who ride on the Columbus City buses, but will only be "recommended" for students in the schools. The plan is to split students into two groups and have them come into school twice a week. The remaining three weekdays will serve as remote learning days.
The Center for Disease Control maintains its stance that although face coverings may be "challenging for students, especially younger students, to wear in all-day settings," wearing one can prevent the spread of the virus.