Coronavirus USA: can dogs and cats get coronavirus?
There have been a few recorded instances of a household pet contracting Covid-19 from an owner but there is no evidence of dogs or cats infecting humans.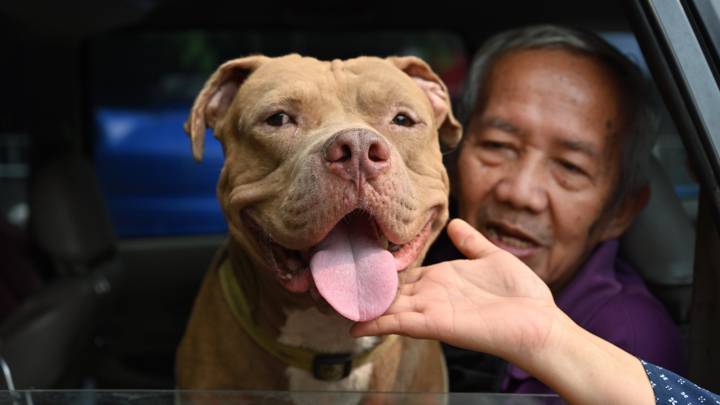 The global coronavirus pandemic is widely believed to have originated in a so called "wet market" in Wuhan, China, after human contact with an animal infected with Covid-19. It is thought that a bat was the likely host animal for SARS-CoV-2, the strain of coronavirus that causes Covid-19, and while animal-to-human transmission of coronavirus strains is considered to be rare by the US Centers for Disease Control and Prevention (CDC), Covid-19 made the jump from an animal to humans and is now spread though human-to-human transmission.
The same is true of Covid-19's predecessor, SARS-CoV-1, which was first detected in Foshan, Guangdong, in November 2002. The 2002-2004 SARS outbreak as it became known was also suspected to have originated in a market or elsewhere in the food industry. SARS eventually infected just over 8,000 people worldwide, the majority in China, with a mortality rate of 9.6 percent. The World Health Organization declared SARS contained in July 2003.
Covid-19 contagion risk from animals to humans

According to the CDC, Covid-19 can be transmitted from animals to humans although research in this field is in its infancy and it may never be known with full certainty where the disease originated or what animals are possible carriers. What is known is that some animals are also at risk of contracting Covid-19 from humans. At the height of the pandemic in New York, lions and tigers at Bronx Zoo were diagnosed with Covid-19. It is believed that a zoo employee passed the disease on in what was later confirmed to be the first instance of an animal testing positive for Covid-19 in the US.
Mink have also proven vulnerable to Covid-19. Several farms in the Netherlands reported outbreaks earlier in the summer and Spain ordered the cull of 100,000 mink in Aragón on 17 July after around 87 percent of the animals tested positive for coronavirus. The regional authorities stated the decision was made to "avoid the risk of human transmission."
The number of mink infected in the most recent incidence suggests the mammals can spread the virus among themselves. CDC research indicates that cats can also act as same-species transmitters, while dogs can become infected but transmission to other dogs is less common.
Can my pet dog or cat give me Covid-19?
Overall, there have been few reported cases of a domestic dog or cat contracting Covid-19 from an infected owner. The US Department of Agriculture keeps a record of each confirmed case and while there are no global figures available it is thought to be relative rare for household pets to become infected. What has been proven, according to a paper by Rania Gollakner and Anne Kimmerlein of VCA Animal Hospitals, is there is no evidence whatsoever to suggest domestic cats and dogs can transmit the virus to humans.