Mark-Anthony Kaye: "It is Galaxy's World Cup final when they play LAFC"
Last time Los Angeles Galaxy and Los Angeles Football Club met was in the MLS is Back Tournament and the 'Black and Gold' defeated their city rivals 6-2.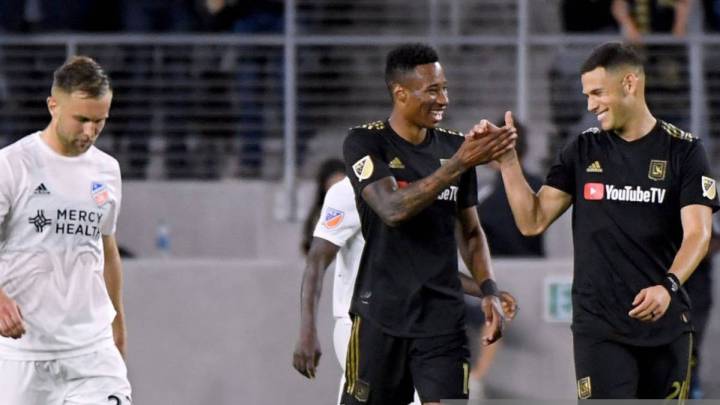 El Tráfico is a rivalry between the two Major League Soccer (MLS) clubs in the Los Angeles area, LA Galaxy and LAFC. The first time they met was back on 31 March, 2018 at the Dignity Health Sports Park. LAFC was winning 3-0 in the first half but thanks to Zlatan Ibrahimovic, Galaxy ended up coming back to claim a 4-3 victory.
Many things have happened since then, because they have met a total of seven times with two victories for each club and a total of three draws. But the last time they met was in the MLS is Back tournament in Orlando, Florida on 18 July, 2020.
During that game LAFC defeated LA Galaxy 6-2 and pretty much left them with no chance of advancing to the next round with one game left in the group stage. During an interview with BSI: The Podcast, LAFC midfielder Mark-Anthony Kaye cut right to the chase when asked about the city rivals.
"They know that maybe they've been outworking us," Kaye said. "Then in the second half they're discouraged because they're like 'Wow, how can we keep this up? We've never had to keep up like this for that long.'


MLS
*Update 26 de julio de 2020
"Then you see it just opens up. Once we get that goal I was like I'm telling guys in that huddle, we score the first goal the game is over, it's done. They have nothing else. Then they start bickering at each other and they're done."
The Canadian midfielder also talked about the bad start Galaxy had this season. "Look at them right now, they have [two points] from their first five games of the season. It's their World Cup final playing us.
"I don't know what they're fueled off of at this point. I don't know how they train, I don't know what their ideas are. Yes, I think their coach is a good coach. He's proven it with other teams, but it's like they need that physical battle. If they win that physical battle they feel like they'll win the game and you can't do that all the time. In the MLS you're not going to be up for a game all the time like that. I just don't know, I really don't know."
14