Coronavirus Africa: news summary 30 July
Coronavirus live Africa: latest news - 31 July
Africa Covid-19 update: 07:30 WAT (08:30 CEST) on Friday 31 July
According to the latest figures published by Johns Hopkins University, 17,297,276 cases have been detected worldwide, with 673,233 deaths and 10,134,560 people recovered.
South Africa: 482,169 cases / 7,812 deaths
Egypt: 93,757 cases / 4,774
Nigeria: 42,689 cases / 878 deaths
Tracking the spread of coronavirus
African accounts for 17% of the population, while its proportion of global coronavirus cases is at 5%. North America and Europe account for the largest portion of cases at 31% and 27%, respectively.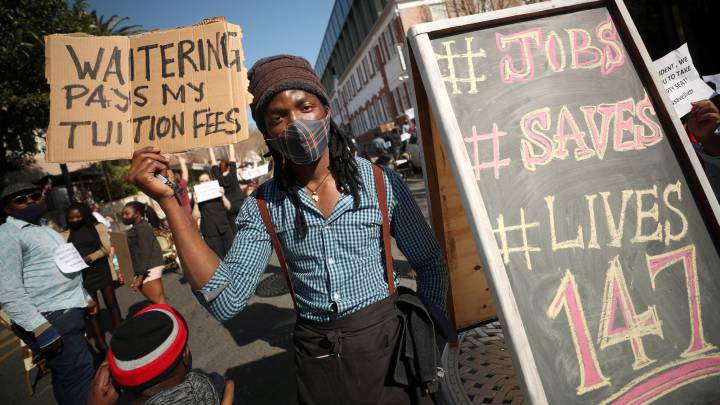 Curfew hours reduced in South Africa
The South African government has reduced night curfew hours in an attempt to help struggling restaurants recover from the economic effects of Covid-19.
Botswana reinstates coronavirus lockdown in capital for two weeks
(Reuters) Botswana's capital city Gaborone returned to a two-week lockdown from midnight on Thursday to stem the latest local coronavirus surge in the country, an official said.
Under new rules for the capital and surrounding areas, only essential workers would be able to leave home for work, with others only able to leave the house to buy groceries. All gatherings will be banned and hotels, restaurants, gyms and schools will close.
Botswana ended a national lockdown on June 15, allowing businesses and schools to reopen under strict conditions, as the country was recording most of its cases at border points from truck drivers bringing goods into the landlocked country from South Africa.
IMF approves $171.9m to Madagascar
(Reuters) The International Monetary Fund (IMF) approved $171.9 million of funding to Madagascar, it said on Thursday, bringing the total Covid-19 emergency support to the country to $337.9 million as the island nation's economy struggles due to the pandemic.
It is IMF's second emergency disbursement to Madagascar since the onset of the pandemic and will help finance the country's "urgent balance of payments and fiscal needs."
Madagascar's economy continues to deteriorate since the release of the first funding under the Rapid Credit Facility (RCF) in April, the IMF said in the statement.
A volunteer takes a photograph of a person receiving food during the weekly food program at the Heritage Baptist Church in Melville, Johannesburg. The Heritage Baptist Church food program helps approximately 500 people a week. EFE/EPA/KIM LUDBROOK
Zimbabwe government minister died from Covid-19
(Reuters) Zimbabwe's agriculture minister Perrance Shiri died from the Covid-19 infection, becoming the first senior government official to succumb to the pandemic, President Emmerson Mnangagwa said on Thursday.
Shiri, a retired general who helped plot a coup that ousted Robert Mugabe in 2017, died on Wednesday.
The late liberation war veteran was declared a national hero and will be buried on Friday during a closed ceremony.
"Now that it is confirmed that Minister Shiri died of Covid-19, we will follow World Health Organisation regulations on how the funeral should proceed," Mnangagwa said during a funeral wake at Shiri's home in Harare.
Zimbabwe has recorded 2,879 confirmed cases of the coronavirus and 40 deaths.
Africa "fighting this disease in the dark" - IRC
The International Rescue Committee (IRC) says the real number of coronavirus cases in Africa is likely to be "much higher" than officially reported, warning that "dire testing shortfalls" in countries on the continent means "we are fighting this disease in the dark".
"The doubling of confirmed COVID cases in July across African countries is alarming," the IRC said in a statement on Thursday, "but we are worried that this could be the tip of the iceberg. For all the countries where we work in the region, testing rates fall far below WHO guidelines.
"Without testing, there are indeed 'no cases' - but this does not mean the virus is not spreading unchecked. For example, in Somalia, 32% of those tested are positive - in contrast to 3% in Germany - indicating that a huge proportion of COVID cases are going undetected, leaving the pandemic to spread freely."
While the WHO recommends "at least 1 test per 1,000 people per week", the IRC noted, African countries such as Niger and South Sudan are only managing "1 test per every 2,680 and 930 people in total respectively".
60% of Zimbabweans threatened by hunger, UN warns
The UN food agency on Thursday appealed for an additional $250 million to provide relief to millions of Zimbabweans as the Covid-19 pandemic bites and warned that 60% of the population could become "food-insecure".
Zimbabwe is gripped by a climate- and recession-induced economic crisis, its worst in more than a decade, which has seen shortages of foreign currency, medicines and soaring inflation.
The World Food Programme (WFP) said the number of food-insecure Zimbabweans will reach 8.6 million by December, which is 60% of the population, owing to the combined effects of drought, economic recession and the coronavirus.
The agency required an additional $250 million to support a rapidly expanding emergency operation. In April, the WFP sought $130 million to fund emergency operations until August.
"Many Zimbabwean families are suffering the ravages of acute hunger, and their plight will get worse before it gets better," Lola Castro, WFP's regional director for Southern Africa, said. "We need the international community to step up now to help us prevent a potential humanitarian catastrophe."
(Text: Reuters)
Church food programme amid Covid-19 pandemic
A volunteer checks the temperature of a person receiving food during the weekly food program at the Heritage Baptist Church in Melville, Johannesburg, South Africa, on Thursday. The Heritage Baptist Church food program is helping approximately 500 people a week amid the financial crisis caused by the coronavirus pandemic.
(Photo: EFE/EPA/KIM LUDBROOK)
Kenyan colleges, universities to stay closed until 2021
Kenya's education minister, George Magoha, says all colleges and universities in the country will remain closed until January 2021 as a result of the coronavirus crisis.
Speaking in the nation's capital, Nairobi, Magoha urged universities to continue offering online classes, in addition to exams and graduations.
Kenya has reported 19,125 cases and 311 deaths since the Covid-19 pandemic began.
Global Covid-19 cases pass 17m mark
The world has seen more than 17 million coronavirus cases with the Johns Hopkins University Coronavirus tracker posting 17,031,021 cases as of Thursday morning with 4.4 million of those cases being detected in the United States alone. South Africa with 470,000 cases represents the most affected nation in Africa.
Africa Covid-19 tracker
The daily update from the Daily Nation reveals that South Africa, Egypt and Nigeria continue to be the most affceted nations from the Covid-19 pandemic on the African continent.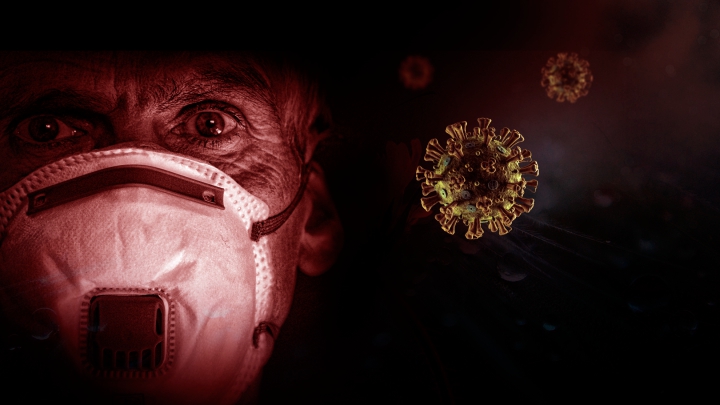 Coronavirus: the complete guide to the Covid-19 pandemic
Coronavirus: the complete guide to the Covid-19 pandemic
In this guide you'll find a summary of many of the recommendations and explanations provided by the World Health Organisation (WHO) and other public health authorities, along with answers to many of the most frequently asked questions about the coronavirus.
Standard Bank SA predicts half-year profits to fall 50%
South Africa's Standard Bank revealed that it expects half-year profits to drop by 50% as the corononavirus continues to wreak havoc on the economy. Meanwhile, South Africa's insurers are bowing to political pressure and paying out on claims related to the coronavirus, which is set to have a major impact on the industry's profit margins this year...
15 players test positive for Covid-19 at Zambian Premier League club
A total of 19 players and officials have tested positive for Covid-19 at the Zambian premier league club, Napsa Stars. The news comes two weeks after 28 positive cases were detected at fellow ZPL outfit, Forest Rangers.
"I would like to make an appeal to our players, the fans and the general football fraternity to adhere to all health measures, including wearing of face masks, social distancing and hand sanitising, among others," the club's chairperson Greg Chola Nsofu (via BBC News).
Zambia has so far reported over 4,481 coronavirus cases and 139 deaths
Coronavirus live Africa updates: welcome
Hello and welcome to our live, Africa-focused coverage of the coronavirus pandemic, which has now registered over 17 million cases and over 667,000 deaths worldwide, according to figures by Johns Hopkins University.