Beirut ammonium nitrate explosion kills 100 and leaves over 4,000 injured
According to officials the blast was caused by 2,750 tonnes of ammonium nitrate stored in a warehouse at the port.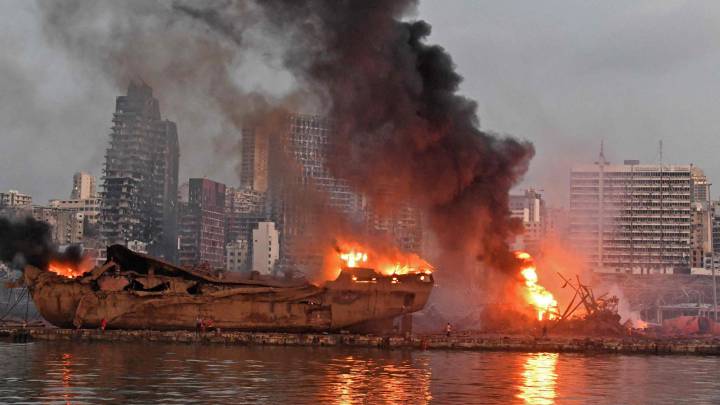 The capital of Lebanon, Beirut, was rocked by a massive blast at its port in Tuesday, which has killed at least 100 people and injured 4,000 more.
The explosion, which shook the entire capital and could be felt as far away as Cyprus, also devastated huge swathes of the city. The blast caused a mushroom cloud which was widely shared on social media.
Follow live coverage of the aftermath of the explosion

Explosion caused by ammonium nitrate stored at Beirut port

According to President Michel Aoun, the explosion was caused by 2,750 tonnes of ammonium nitrate that had been unsafely stored in a warehouse at the port for over six years. He said those responsible would be punished in the "strongest terms".
The Lebanese authorities declared Beirut a disaster area due to the incident, with the Supreme Defence Council declaring a state of emergency for two weeks.
The Council are allocating funds to hospitals to cover the expenses of treating the vast numbers of injured people, paying compensation to families who lost loved ones and supplying wheat to the population. The explosion destroyed and damaged wheat silos in the port which are vital for providing food to the people of Beirut.
Ammonium Nitrate
The chemical compound ammonium nitrate, made up of nitrogen, hydrogen and oxygen, is mainly used as a fertiliser in agriculture, but also as a component of explosive mixtures, used in construction, quarrying and mining.
It has been widely used in improvised explosive devices, such as the device used in the Oklahoma City bombing which killed 168 people and injured around 700. That bomb contained around two tonnes of ammonium nitrate (compared to the 2,750 tonnes at the port in Beirut), mixed with nitromethane and diesel fuel mixture.
Ammonium nitrate readily forms explosive mixtures when mixed with fuels, due to its powerful oxidant properties (it releases oxygen directly into the reaction making it more powerful).
Ammonium nitrate itself can explode by detonation, either by an explosive charge going off in the mass, or by a fire that spreads into the ammonium nitrate itself, which is what appears to have happened in Beirut.
Ammonium nitrate has caused several major disasters world wide, including the Oppau explosion of 1921 in Germany, which killed up to 600 people and injured 2,000 when 4,500 tonnes of ammonium sulphate and ammonium nitrate exploded; the Texas City disaster of 1947, the deadliest industrial accident in US history and the 2015 Tianjin explosions in China, which killed 173 people.