Koke speaks to AS: "Every player dreams of winning the Champions League"
Atlético Madrid captain Koke has spoken exclusively to AS before Diego Simeone's side fly to Lisbon to take on RB Leipzig in the Champions League quarter-final.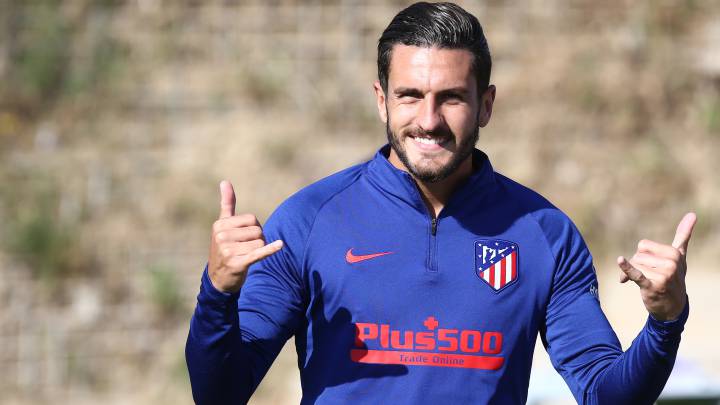 Atlético Madrid will head to Lisbon on Tuesday to face a very different Champions League quarter final: a one-match tie, in the middle of August and without any fans in the stands. But nothing can quell the desire and enthusiasm of the club's players and fans, with captain Koke (28) at the helm and going in search of a first title that is just three wins away. The Rojiblanco midfielder spoke to AS via video call before the teams flies out to face Leipzig in the Portuguese capital.
How will you face the tie against Leipzig?
With desire and enthusiasm. It is a strange season, and a different, unique kind of Champions League. It's one game and we have to adapt to situations with all the enthusiasm and the desire in the world to be able to get through. We have all the spirit and all the morale in the world to advance from this phase.
The title is three wins away.
Yes, we know that the Champions League title is three wins away. We've eliminated the champions (Liverpool); that increases your morale, but you must be aware that it is not easy and that nobody gives anything away. We must continue as we have since the return after quarantine. The team is strong, it has fulfilled the objective of the season which was to qualify for next season's Champions League, and even better because we finished third. We were sixth going into the break; but we were able to finish third. We are going to Lisbon with great desire and enthusiasm.
What is it like to play without fans?
At home it is very difficult to play without your fans. For us it adds a lot. It is true that we have had good results in these games without an audience, but for us it is very difficult. I had never imagined going to the Metropolitano without seeing the fans and without feeling that support. When you play away from home it doesn't affect you as much, but at home it is very important.
Was the win at Anfield the turning point of the season?
I think that in the end that game got the best out of all of us. We took responsibility and it made us realise that we can do great things, when we're all in it together and plugged in. It is not easy to win two matches in a row against the current European champions and recent Premier League champions.
Can you imagine playing your entire career at Atlético?
It would be nice. In the end it would be a challenge for me, finishing my career here has been a dream of mince since I was six years old and would be something incredible. But we know what football is like. Besides I cannot continue at the level I am now and I would have to look for other options. But it is true that one of my dreams is to finish my career here.
Koke on Llorente, João Félix and Costa
Have you been surprised by the level of Marcos Llorente as a striker?
Sometimes we joke with him, because he has gone from defensive midfielder to pure forward. He is a very versatile player and he is showing that. His passing, the strength he gives us, his work, his physical performance… he contributes a lot to the team.
João Félix has had more difficulties, does he seem ready for the Champions League?
João is always ready. You have to give him time to adapt to the team; many good but young players have been given time and you have to be patient. It is true that with everything that was involved and the money that he cost, the expectations are very high, but you have to give him time. João has a lot of room for improvement, no doubt he will grow with us as a footballer and he will be one of the best.
Diego Costa is doing well. What does he bring to the team?
I have always said that Diego is a player who pulls a lot of his team mates and that when he is well he connects us all. The better Diego is, the better the team will be, he is a very important player for us and whenever he is well, it shows a lot.
What message do you want to send to the fans?
They are very excited, like everyone. I ask that they keep supporting us from home, because with everything that is happening, it is difficult. No doubt that they want to come to see us, to cheer us on, to be close to the players and they will undoubtedly support us from wherever they are. We want them to they have faith in us, because in the end we feel for them.