Real Madrid to recall Martin Ødegaard from Real Sociedad
Martin Ødegaard's original loan deal with Real Sociedad was for two seasons but the Bernabéu board have decided to bring the midfielder back on Zidane's advice.
Real Madrid have performed an about-face in their plans for Martin Ødegaard by telling Real Sociedad that they have the intention of bringing the Norway midfielder back early from his two-year loan at Anoeta. The decision has been taken after Zinedine Zidane requested the early return of the 21-year-old, who has shone this season in the blue-and-white shirt. Zidane's move is based on the midfielder's impressive performances for La Real but will also serve to cast further doubt on the futures of some of Madrid's current midfield, among them Isco, James Rodríguez and Toni Kroos.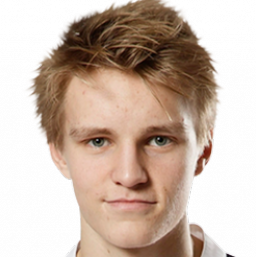 Real Sociedad has assumed that Ødegaard would remain under the tutelage of Imanol Alguacil for another season as per their arrangement with Madrid and had agreed that the midfielder would return to Anoeta for pre-season training on 14 August. However, it now seems that Zidane has been suitable impressed by the player, not least during La Real's pulsating 3-4 Copa del Rey victory at the Bernabéu. 
Ødegaard did not particulary enjoy his first experience of working under the Frenchman at Castilla but who has improved considerably since his arrival at the Bernabéu in 2015 and appears to have gained his manager's trust for the upcoming campaign. Real Madrid's exit from the Champions League at the hands of Manchester City may also have influenced Zidane's thinking: his usually reliable midfield three of Casemiro, Kroos and Luka Modric did not cover themselves in glory in the Etihad.
Madrid had originally intended to allow Ødegaard to remain at La Real for another season but also gave the player the option to decide where he felt best for his development. The Norway international said he would like to stay on at Anoeta but after a chat with Zidane, who assured him he is ready to challenge for a place in the first team, and with the green light from Florentino Pérez on the Frenchman's advice, Ødegaard is keen to return to his parent club.
Pérez has spoken with his counterpart at Real Sociedad, Jokin Aperribay, to inform of his Madrid's desire to recoup Ødegaard. It remains to be seen if an olive branch will be forthcoming in the shape of another loan player after Take Kubo, who had been linked with a season at Anoeta, eventually went to Villarreal.