Coronavirus Africa: cases, deaths and news - 20 August
Coronavirus Africa live: latest news - 20 August
Morocco may reimpose full lockdown as Covid-19 cases surge - King
Morocco could return to a complete coronavirus lockdown as cases continue to spike, Moroccan King Mohammed VI said on Thursday, warning of severe economic repercussions. The warning came as a jump in infections in the once bustling tourist hub of Marrakech strained health services and led to protests by medical staff in recent days.
New cases nationally have surged to more than 1,000 a day since Morocco lifted a strict three-month long lockdown in late June and hit a record high of 1,766 on 15 August.
"If figures continue to increase, the Covid-19 Scientific Committee may recommend another lockdown, perhaps with even tighter restrictions," the King said in a speech. The deterioration of the health situation "does not leave much room for optimism," he said.
As of Thursday, Morocco had recorded a total 47,638 cases, including 775 deaths and 32,806 recoveries. Pictures posted on social media platforms showed COVID-19 patients in Marrakech lying on the floor of crowded hospitals. Medics have staged protests in recent days to highlight the congestion and lack of anti-coronavirus equipment and oxygen.
The health ministry said on Wednesday it will boost capacity at the city's hospitals. Morocco has carried out 1.7 million tests and made the wearing of masks mandatory. An emergency decree giving authorities leeway in restoring restrictive measures has been extended until Sept. 10. The Moroccan economy is expected to contract by 5% this year, while the budget deficit is forecast to deepen by 7.5% of gross domestic product. (Text: Reuters; Photo: AFP)
Egypt to re-open mosques on 28 August
Egypt has announced it will re-open mosques on August 28 after a five-month hiatus. Worshippers will be required to wear masks, maintain social distancing and bring their own prayer mats, while sermons will be restricted to 10 minutes.
The coronavirus tracker
Africa has now registered 1,148,423 cases with a 250,560 deaths. 871,196 people have recovered from the disease.
As the number of continent-wide daily cases has fallen this week, the director of Africa CDC, Dr John Nkengasong has spoken of a "sign of hope", but also called for cautious optimism,
Latest figures from Zimbabwe, Kenya and Ghana
Zimbabwe has reported 102 new cases in the past 24-hour period to bring its total tally to 5,745. The death toll increased by 1 to reach 151.
Kenya has confirmed 426 new cases, taking its total caseload to 31,441, while 10 new deaths have been reported, brining the total to 516.
Ghana has registered 166 new cases in the past 24 hours as the country surpasses 43,400 total cases.
Nigeria announces restrictions on some countries
As Nigeria reopens to international flights, it has been announced that the country will not allow international flights from EU and other countries that still have bans on flights from Nigeria.
France sees 4,711 new COVID infections, close to lockdown record
The French health ministry reported 4,711 new coronavirus infections over the past 24 hours, a new post-lockdown record and a level last seen during the height of the epidemic in France.
During lockdown, France saw a peak of 7,578 infections per day on March 31, but since then, there have been only a few days with the number of new infections per day rising above 4,500.
The infection rate has been soaring in the past few days, but the number of people in hospital with COVID-19 has been relatively stable and the numbers of new deaths per day have also been stable in the low double digits. Twelve new deaths were reported on Thursday. (Reuters) (Photo by EFE)
"Signs of hope" as caseloads levels off in Africa, says Africa CDC director
The director of Africa CDC, Dr John Nkengasong, has spoken of a "sign of hope", as the daily coronavirus caseload on the continent begins to level off. The continent-wide daily average was 10,300 last week, down from 11,000 the week before, reports the BBC.
"We are beginning to bend the curve slowly," said Dr John Nkengasong (via the BBC). "But it's very, very early - we are dealing with a very delicate virus that spreads rapidly. We take this news with cautious optimism."
Nigeria considers using private firms for coronavirus tests after foreign flights resume
(Reuters) Nigeria is considering partnerships between state governments and private firms to ramp up testing and tracing of coronavirus cases after international flights resume this month, the head of the Nigeria Centre for Disease Control (NCDC) said.
Nigeria will reopen its airports for international flights from 29 August. They have been closed since 23 March to all but essential overseas flights to help combat the Covid-19 pandemic in Africa's most populous country.
State governments are responsible for testing and tracing but the influx of travellers will increase the pressure on already stretched authorities in Nigeria, which has had 50,488 cases resulting in 985 deaths.
Africa beginning to 'bend the curve' of coronavirus - Africa CDC
(Reuters) Africa is beginning to slowly "bend the curve" of Covid-19 infections as measures like mask-wearing and social distancing slow down the spread of the pandemic on the continent, the Africa Centres for Disease Control and Prevention said on Thursday.
Although the spread of the Covid-19 outbreak was slow in Africa in the early stages of the pandemic, the rate of infection gradually accelerated especially in South Africa, which now accounts for more than half of its case load of more than 1.1 million.
On average, there were signs of a decline in new infections across Africa over the last two weeks, said John Nkengasong, head of Africa CDC.
"So I think that is really some sign of hope that we are beginning to bend the curve slowly. We take this news with cautious optimism," he said.
CAF postpone Africa World Cup qualifiers to June 2021
The start of the African group stage qualifiers for the 2022 World Cup have been shifted to June next year and will be completed in a five-month dash for a place in Qatar, according to a Confederation of African Football memo seen by Reuters.
The qualifiers were due to begin in October, but the impact of the COVID-19 pandemic has seen a reshuffle in the African international football calendar.
The continent continues to be hard hit by the pandemic, with only a handful of domestic competitions such as South Africa, Egypt, Tunisia and Morocco currently under way.
The preliminary World Cup competition will now be played in four windows next year, with two games each.
West African leaders hold Zoom conference over Mali situation
A screenshot shows a teleconference during the extraordinary Summit of the Economic Community of West African States (ECOWAS) Authority of Heads of State and Government on the Socio-Political Situation in Mali.
S.African airports group ACSA gets new funding
South Africa's state-controlled airports company ACSA has signed a new 3 billion rand ($174 million) loan with domestic banks and shelved major projects to shore up its finances in the coronavirus crisis, its finance chief said on Thursday.
Since March, when South Africa declared a state of disaster to contain the COVID-19 pandemic, major domestic airports such as the continent's busiest, OR Tambo in Johannesburg, have closed, knocking revenue at Airports Company SA (ACSA).
"We've got facilities of 3 billion rand confirmed," Chief Financial Officer Siphamandla Mthethwa told Reuters. The deal with Standard Bank, Rand Merchant Bank and Nedbank doubled an existing 1.5 billion rand overdraft-type facility up for renewal in June, he said, adding further easing of lockdown restrictions this week to allow inter-provincial leisure travel would help.
Egypt says from Sept travelers must show coronavirus test results
Egypt will require all visitors to the country to present Polymerase Chain Reaction test results for the new coronavirus on arrival from Sept. 1, the prime minister said in a televised address on Wednesday.
Egypt will also allow Friday prayers to resume in mosques from Aug. 28 under strict health and safety protocols to be issued by the Ministry of Endowments, Mostafa Madbouly added.
WHO online Covid-19 conference - today !
Two leading African figures from the WHO & Unicef will speak about the ongoing Covid-19 pandemic and it's impact on Africa.
Zambia's vice president tests positive for Covid-19
Zambia's vice president Inonge Mutukwa on Wednesday tested positive for the coronavirus, the presidency said in a statement, which also said her condition was stable and she was in self isolation at home.
"The vice president has some mild symptoms that are being managed appropriately ... She is in high spirits and working virtually ..." the statement said.
Ivory Coast finance ministry suspends financial ties with Mali
Ivory Coast's finance ministry said on Wednesday it had ordered the suspension of all economic and financial relations with Mali in line with a decision by West Africa's regional bloc to halt financial flows over a military mutiny against Mali's president.
In a statement, the ministry said the decision applied to all Ivorian banks and financial institutions.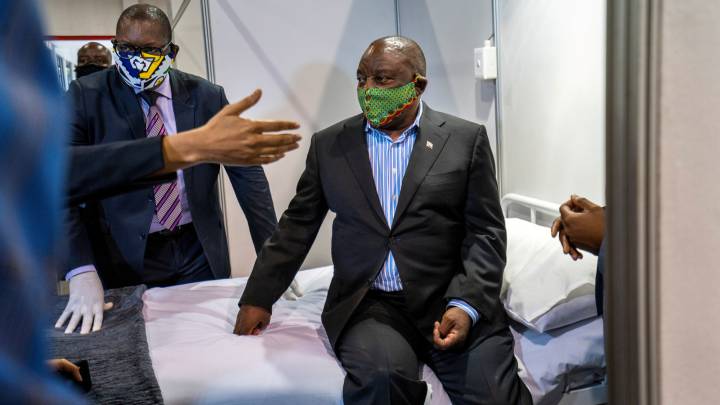 Nigeria passes 50,000 cases
The Wednesday figure is the highest daily record of new cases in August, with Plateau topping the list of states with 186 positive samples, followed by Lagos with 172.
The Nigeria Centre for Disease Control (NCDC) announced the new cases in its update for August 19, 2020.
Before Wednesday, the highest number of positive samples for August was 457, which was confirmed on August 5.
The development comes less than four weeks after Nigeria crossed 40,000 cases – the country had confirmed a total of 40,543 infections as of July 26, out of which 17,374 recoveries and 858 deaths were recorded.
Good morning
Hello and welcome to AS' live coverage of the coronavirus in Africa. We'll be bringing you breaking news, reaction and the latest figures from the continent throughout the day, as well as the biggest coronavirus news from across the globe.