Who is Jacob Blake, the man shot seven times by police in Kenosha?
Another video has captured the shooting of a black man by police and it has sparked violent protests in Wisconsin. Joe Biden demands that the officers are held to account.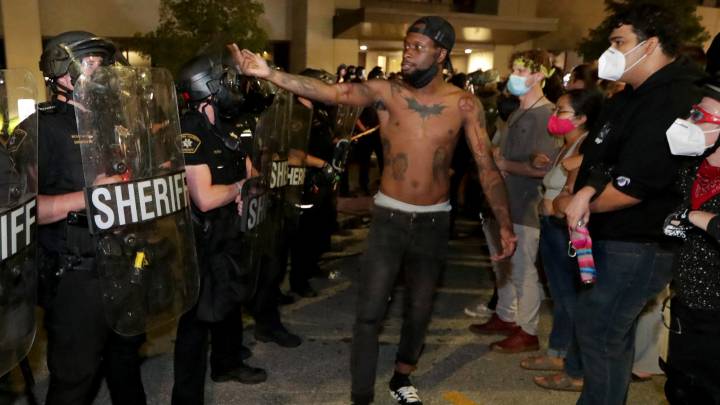 Jacob Blake shooting, live updates, reactions and breaking news in Kenosha.
Protests erupted in the US state of Wisconsin following a police shooting of a reportedly unarmed black man, forcing officials to impose a curfew in the city of Kenosha.
VIDEO: Jacob Blake shot in back by police in Kenosha, Wisconsin **viewer discretion advised**

Jacob Blake shooting report forces curfew
The man was hospitalised in a serious condition on Sunday evening after police shot him multiple times after which crowds gathered at the scene, local media reported.
The victim has been identified as Jacob Blake by Wisconsin Governor Tony Evers in a tweet. "We stand against excessive use of force and immediate escalation when engaging with Black Wisconsinites," the governor wrote.
The shooting happened at around 17:00 local time in Kenosha as officers were responding to a "domestic incident". The victim was immediately taken to a hospital by the police, according to a statement issued by the Kenosha police department.
No further explanation was given by the police as to what led to the shooting. The shooting will be investigated by the Wisconsin Department of Justice, police said.
Race soldiers in Kenosha, Wisconsin shot an unarmed Black man in the back seven times in front of his family

Black Americans. Do not let anyone prioritize any other issues over this. This type of sick, state sanctioned filth that is allowed to happen, should be our only concern pic.twitter.com/4JnKhH4e3P

— Tariq Nasheed 🇺🇸 (@tariqnasheed) August 24, 2020
A video circulating on social media and cited by the US press showed the man walking towards a car followed by two officers and one of them shooting him as he opens the car door.
Multiple fires were set at the scene by a crowd that gathered to protest against the incident, according to various US media reports.
Biden calls for 'officers to be held accountable'
Social media posts showed large crowds marching down streets and throwing Molotov cocktails and bricks at the police, with one officer reportedly injured. The police responded by imposing a city-wide curfew until 7 a.m.
There have been ongoing protests in the United States against police brutality and racism since the death on May 25 of George Floyd, a 46-year-old African-American man, after a white police officer knelt on his neck for nearly nine minutes.
Following the news of the shooting, US Democratic presidential nominee Joe Biden called "for an immediate, full and transparent investigation and the officers must be held accountable."
Wisconsin police officers not equipped with body cameras
It has emerged that the police officers who were on the scene of Sunday night's shooting of Jacob Blake were not equipped with standard issue body cameras - technology that could give their perspective on the shooting.
Authorities in Kenosha, Wisconsin have put off implementing body cameras for police officers, even though leaders unanimously endorsed them more than three years ago as a way to increase police accountability and collect evidence at scenes of domestic violence.
The video which is circulating on social media, which shows an officer shooting Blake in the back several times as he tried to get into a vehicle with his children, was captured by a neighbour.