Carlos Vela faces six-week injury layoff
Carlos Vela will be out for 4 to 6 weeks after coach Bob Bradley confirmed that the LAFC striker suffered a grade II MCL against LA Galaxy on Saturday.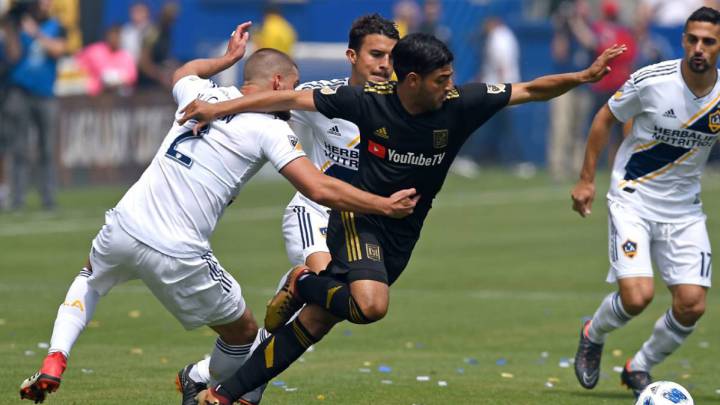 On Saturday, Carlos Vela had to be replaced during the second half of LAFC's 2-0 defeat against LA Galaxy at the Banc of California stadium. The former league MVP was seen limping on his way to the bench and on Tuesday, prior to the game against Real Salt Lake, coach Bob Bradley confirmed that Vela suffered a Grade 2 MCL to his left knee.
Carlos Vela out for at least six weeks
The LAFC captain had opted out of the MLS is Back tournament due to health reasons and hadn't played an official game since 8 March before the league was postponed due to the coronavirus pandemic.
10

"We are going to talk about Carlos' injury since that is the news of the day. Vela suffered a grade 2 MCL and it happens on the play where he cuts inside somewhere around the 55th minute as he tries to shoot. Insua steps up and so that MCL opens up a bit," explained Bradley in a video conference organized by LAFC.
"This injury is very common in football and we just need to evaluate him week by week. Oftentimes with an MCL the player is able to start running straight ahead pretty quickly, but the timeframe is really determined as he gets into cutting and shooting. So we don't know how long that will take."
The MVP remains in good spirits
Even though he will be out for 4 to 6 weeks, Carlos Vela remains in good spirits and hopes will be back to help the team reach the playoffs and have another shot at the MLS Cup.
"Carlos by nature is a really positive guy, somebody who is just coming in everyday with a smile, always a good teammate and even with the difficult news it's the same Carlos. He was excited to come back but when you play your first match in five months it's never easy and then it ends with a MCL that is going to slow him down," added Bradley.