PSG, Manchester City and accommodating Leo Messi
PSG and Manchester City are the obvious front-runners but Pep Guardiola's side are arguably set up better to slot the Argentinean into the team.
Leo Messi's announcement on Tuesday that his intention is to leave Barcelona had reverberations in Catalonia and further afield as clubs including Manchester City, Paris Saint-Germain, Inter Milan and slightly more hopefully, Newell's Old Boys, started to dream of adding the Camp Nou star to their ranks. Now the question is: which of those clubs would benefit most from the addition of the six-times Ballon d'Or winner, and where would Messi get the chance to showcase his talent to the best of his and his new club's ability?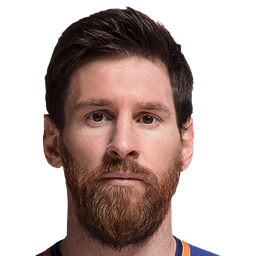 The Argentina captain has developed a very distinctive style of play and for many years Barcelona's entire game plan has been molded to Messi's needs. If and when he moves – unless it is to rejoin Pep Guardiola at Manchester City – he will find himself in a new league, with new teammates and a new coach, all of which will need to pull together to accommodate one of the world's greatest-ever players.
The two front-runners for his signature, PSG and City, both have coaches in Thomas Tuchel and Guardiola who are well-known for their tactical diversity and both will be rubbing their hands together at the prospect of having Messi on their team sheet next season.
PSG: a magical front line of Messi, Mbappé and Neymar
Messi never really forgave the Barcelona board for losing Neymar to PSG and subsequently in Messi's own words "not everything they could" to bring the Brazilian back last summer.
However, the addition of Messi to a front line already containing Neymar and Kylian Mbappé would seem to be an almost certain guarantee of success, Tuchel has adapated this season. The German tactician realized that throwing on as many forwards as possible isn't going to blow every side in Europe away and it was a tactical switch that partly explains PSG's run to the Champions League final. Instead of playing the "fantastic four" of Neymar, Mbappé, Ángel di María and Mauro Icardi, Tuchel sacrificed one of his prolific front four, Icardi, for an extra midfield player to reinforce the centre of the park and offer more protection to the defence. That player was Ander Herrera and the Spaniard thrived in the role, adding balance and a driving force from midfield. In the final against Bayern Munich, he was one of PSG's best players.
Should Messi arrive in Paris, the temptation will be to return to the same mistakes of old. A forward line of Messi on the right, Neymar in the middle and Mbappé on the left is any coach's dream but it would present its own problems given PSG's current way of playing. Not only Icardi but also the influential Di María could both be benched to make way for Messi. Mbappé would also have to operate mostly through the middle with Messi a firm fixture in his favoured right wing position, or vie with Neymar for the left wing. Both Neymar and Mbappé prefer to operate nominally from that flank but either is comfortable in a more central position.
The other possibility top lay Di María behind the front three, but then PSG would find the same issues with balance and midfield control that have dogged them in the past.
Manchester City: a natural role in Guardiola's side
However much Messi would like to be reunited with Neymar, Manchester City might be a better fit. No coach has ever got more out of Messi than Guardiola, who allowed him to operate nominally from the right but in a much more free role in order to pop up wherever he saw the best opportunity to attack the opposition defence. There are few better examples that Barça's 6-2 drubbing of Real Madrid in the Bernabéu in 2009 when Guardiola deployed Messi as a false nine.
Guardiola can therefore adapt his team to suit the Argentinean, with the right flank very much up for grabs. This season it has been shared between Riyad Mahrez, Bernardo Silva and Phil Foden, none of whom are likely to trouble Messi for a start with Guardiola on the bench.
The big question is how Messi would adapt to the physical nature of the Premier League and the frenetic end-to-end nature of many games. But there is little doubt that a front line of Messi, Sergio Agüero and Raheem Sterling would function from the off and Guardiola could choose to pair Messi and Kevin de Bruyne on the right, which would be a formidable weapon. Tactically speaking, there is no side in Europe currently set up to accommodate the Argentinean without a major shift in style or personnel.