Coronavirus USA news summary, Sunday 6 September 2020
Coronavirus live US: latest Covid-19 news - Sunday 6 Sept
US coronavirus latest: 16:00 PT / 19:00 ET on Sunday 6 September (01:00 CEST on Mon 7 Sept)
Latest figures published by Johns Hopkins University.
Worldwide
Cases: 26,971,129
Deaths: 881,216
Recoveries: 18,039,525
US
Cases: 6,273,372
Deaths: 188,895
Recoveries: 2,315,995
Coronavirus-related stories you might be interested in: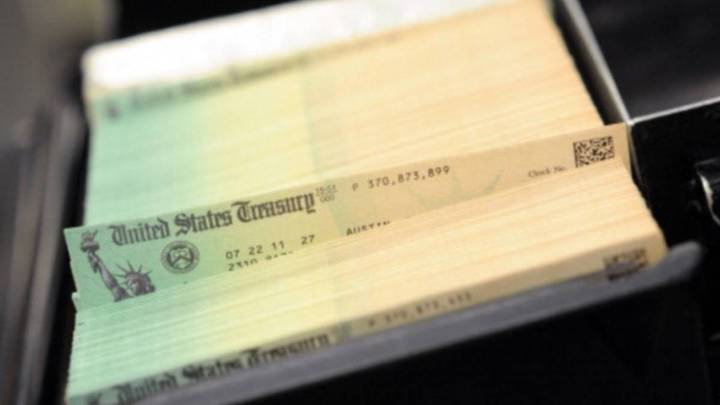 Thailand to US: Covid-19 protection products could be exported
Thai manufacturers have been urged to seize the opportunity to export medical products reported by the US Food and Drug Administration (USFDA) to be in short supply. The listed products such as examination gowns, surgical gowns and patient examination gloves can be produced in Thailand.
The USFDA had recently announced a list of 20 products that are at risk of being in short supply in the United States due to the Covid-19 crisis. Thailand is capable of manufacturing these medical products, so it is seen as a great opportunity for Thai companies to make and export such items to the United States.
Cases rising ahead of holiday weekend
Coronavirus cases are rising in 22 of the 50 US states, according to a Reuters analysis, a worrisome trend on a Labor Day holiday weekend traditionally filled with family gatherings and parties to mark the end of summer.
As little as three weeks ago, cases were increasing in only three states, Hawaii, Illinois and South Dakota, according to an analysis comparing cases for the two-week period of 8-22 August with the past two weeks. Most of the 22 states where cases are now rising are in the less-populated parts of the Midwest and South. On a percentage basis, South Dakota had the biggest increase over the past two weeks at 126%, reporting over 3,700 new cases.
Health officials have linked some of the rise to hundreds of thousands of motorcyclists who descended on Sturgis, South Dakota, for an annual rally in August. Cases are also rising rapidly in Iowa, with 13,600 new infections in the past two weeks, and North Dakota, with 3,600 new cases in the same period. The increases are masked nationwide by decreasing new infections in the most populous states of California, Florida and Texas. In California, cases fell by 39,000 over the past two weeks compared with the prior two weeks, compared to a 37,000-case increase in the 22 states in the same period, according to a Reuters analysis of state and county data.
While cases nationally have dropped from a peak in July, the United States is going into the Labor Day holiday weekend with an average of 44,000 new cases a day -- double the number ahead of the 23-25 May Memorial Day weekend. Many health experts partly blame the July spike on social gatherings held around Memorial Day. At the same time, the United States continues to average about 1,000 new deaths from Covid-19 each day, with the total number of lives lost approaching 190,000 -- the highest death toll in the world. Also contributing to the spike in US cases is the re-opening of schools and colleges in many areas and the large gatherings taking place despite the warnings of health experts, ranging from protests against racial injustice to rallies in support of President Donald Trump.
The government's top infectious disease expert, Dr. Anthony Fauci, has said that it is crucial that the outbreak be contained before the cold weather sets in, when influenza cases are likely to spike alongside Covid-19 and more people begin to move indoors, increasing the risk of contagion.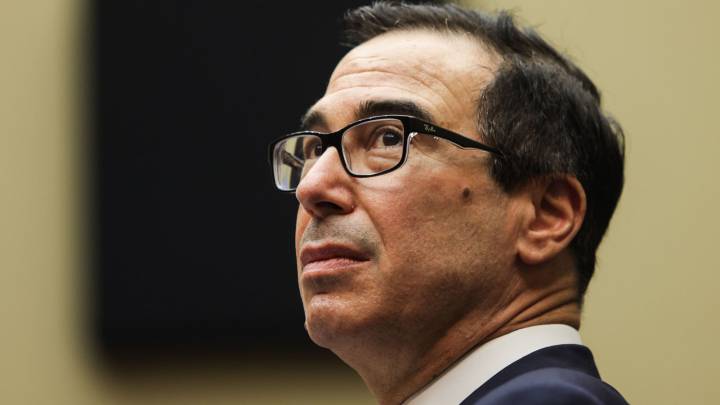 A video for those in the 'high risk' category
It is believed that more than 10% of those in the US are diabetic. This video is worth watching...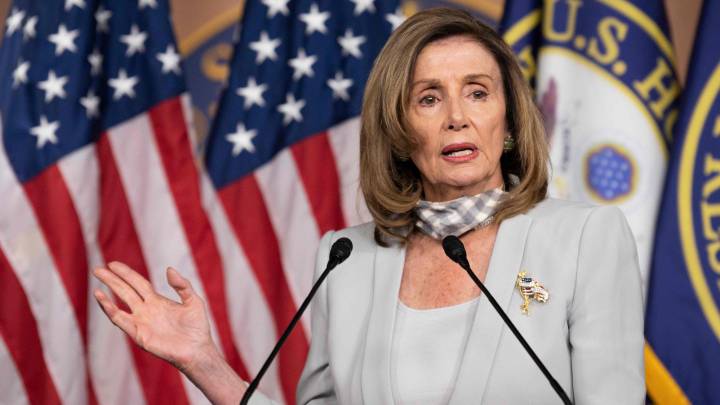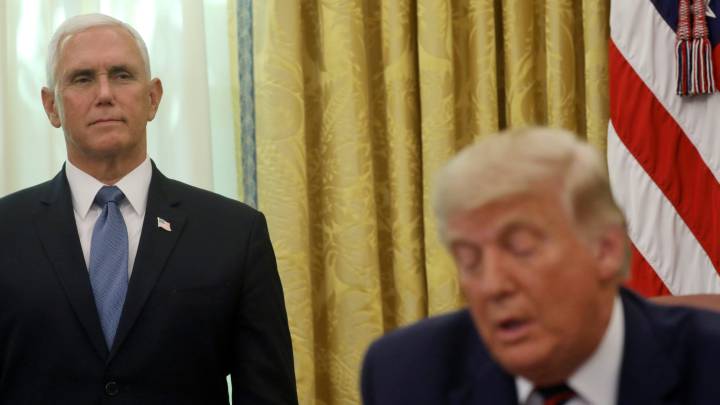 Hurricane recovery during a pandemic
"Covid brings it to a whole new level," says Michael Kimble, who is in charge of Louisiana's search and rescue teams. His crew is doing daily Covid-19 screenings and temperature checks while wearing personal protective equipment to shield themselves. Protocols are especially stringent for the teams that have come from out of state. An Orlando-based rescue team got rapid Covid-19 tests for each of its firefighters.
"Everybody tested negative," says team leader Jeremiah Plasters. "Since we're all staying together and we're using our PPE, the only way that we would get it is by someone else making contact with us."
In Pictures: Protective masks are distributed free of charge in Central Park in New York in the United States this Saturday. New York City is the epicenter of the Coronavirus pandemic. (GTRES)
FBI keepong eye on scams during pandemic
FBI section chief Steven Merril has told CNBC that the agency is working longer hours than usual to combat con artists using the coronavirus to scam government agencies, investors and consumers...
Pope says gossiping is a 'worse plague' than coronavirus
Pope Francis urged the faithful on Sunday to steer clear of gossip, calling it worse than the coronavirus and saying it could be used to divide the Roman Catholic Church.
"Please, brothers and sisters, let's make an effort not to gossip. Gossiping is a worse plague than Covid," the pope said during his weekly address from a window above St. Peter's Square.
"The devil is the great gossip. He is always saying bad things about others because he is the liar who tries to split the Church," Francis added in the off-the-cuff comments.
The pope has regularly warned of the risks of gossiping and has also railed against Internet trolls. "If something goes wrong, offer silence and prayer for the brother or sister who make a mistake, but never gossip," he said on Sunday. (Reuters)
Leading drugmakers to sign pact to produce safe coronavirus vaccine
Amid concerns that a vaccine could be rushed to the market before the presidential election, leading US drugmakers are set to sign a pact to produce a safe coronavirus vaccine.
A summer a social distancing in pictures
This NPR photogallery looks back at unprecendented summer of social distancing due to the coronavirus pandemic, where "Plastic partitions went up, National Parks became even more popular, and indoor movie dates shifted to film nights beneath the stars"...
Costa Rica researchers to trial coronavirus treatment from horse antibodies
Researchers in Costa Rica are due to begin trials of an inexpensive coronavirus treatment based on antibodies taken from horses injected with the SARS-Cov-2, the virus that causes Covid-19, according to scientists.
Developed by University of Costa Rica's Clodomiro Picado Institute (ICP), the equine antibodies medication is to be tested on 26 patients from mid-September, Roman Macaya, president of the Social Security Fund that manages public health centers, told Reuters.
Venezuela health workers get first payment from funds frozen in US
(Reuters) Venezuelan health workers have started receiving $100 monthly payments financed by funds that the United States seized from the government of President Nicolas Maduro, opposition leader Juan Guaido said on Saturday.
The US Treasury Department in August approved the use of the funds to help Venezuela's health personnel on the front lines of the fight against Covid-19 amid a hyperinflationary economic crisis.
"Men and women who earned between $6 and $8 per month now have an account," Guaido said in a social media broadcast, adding that some 3,000 doctors and nurses have received the money.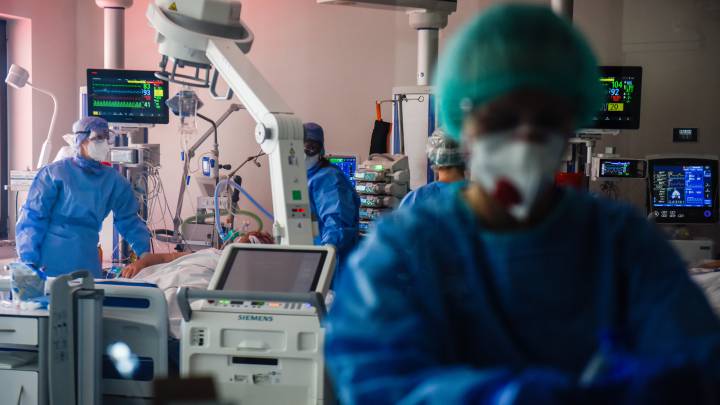 People gather on the beach along the Pacific Ocean on the first day of the Labor Day weekend amid a heatwave in Santa Monica, California. Temperatures are soaring across California sparking concerns that crowded beaches could allow for wider spread of the coronavirus amid the Covid-19 pandemic. Mario Tama/Getty Images/AFP
Trump's ex-lawyer says president disparaged Black leaders and voters-report
(Reuters) Michael Cohen, US President Donald Trump's former personal lawyer, is alleging in a new book that Trump made disparaging remarks about Black world leaders including former South African President Nelson Mandela, as well as about US minorities in general, the Washington Post reported on Saturday.
Cohen worked closely with Trump for years before turning against him, most publicly in testimony to Congress last year prior to Trump's impeachment.
Now Cohen is serving a three-year sentence for, among other things, making false statements to Congress. In a book due to be published next week, Cohen alleges that Trump described Mandela as a poor leader, according to the Washington Post which reported it obtained a copy of the book.
According to the newspaper, Cohen wrote that following Mandela's death in 2013, Trump said: "Mandela f---ed the whole country up. Now it's a s---hole. F--- Mandela. He was no leader."
Cohen also alleged that Trump said: "Tell me one country run by a black person that isn't a s---hole. They are all complete f---ing toilets."
White House Spokeswoman Kayleigh McEnany responded by attacking Cohen's credibility.
"Michael Cohen is a disgraced felon and disbarred lawyer, who lied to Congress. He has lost all credibility, and it's unsurprising to see his latest attempt to profit off of lies," McEnany said in a statement.
Democrat Biden adds former rival Buttigieg, ex-Obama officials to transition team
(Reuters) Joe Biden's presidential campaign on Saturday added former Democratic primary rival Pete Buttigieg, along with senior officials who served under President Barack Obama, to an expanded White House transition team.
Biden added four new co-chairs to the team led by his longtime ally Ted Kaufman: New Mexico Governor Michelle Lujan Grisham, former Obama economic adviser Jeffrey Zients, Louisiana Representative Cedric Richmond and his campaign adviser Anita Dunn.
He also named Buttigieg, a military veteran and former mayor of South Bend, Indiana, to the advisory board, together with former deputy Attorney General Sally Yates, and Susan Rice, national security adviser to Obama who was on the shortlist to be Biden's running mate.
"We are preparing for this transition amid the backdrop of a global health crisis and struggling economy," Kaufman said. "This is a transition like no other, and the team being assembled will help Joe Biden meet the urgent challenges facing our country on day one."
Rival groups square off at Kentucky Derby as summer of protests grinds on
(Reuters) Armed supporters of the police clashed briefly with anti-racism protesters in Louisville ahead of the famed Kentucky Derby horse race on Saturday, as dueling demonstrations over racial justice and policing continued to grind across the United States.
In the afternoon, hundreds of protesters marched toward the Churchill Downs track chanting "No Justice, No Derby" - a nod to activist's calls to cancel the annual race, which was being held without spectators to prevent the spread of the coronavirus.
Separately, roughly 250 members of a Black militia group named NFAC that has protested against the police killings of Black people assembled outside Churchill Downs, all armed with long guns. NFAC leader John "Grandmaster Jay" Johnson taunted the officers standing guard in front of the track, but the group later retreated without incident.
Louisville has emerged as a key flashpoint in a summer of unrest because of outrage over the death of Breonna Taylor, a 26-year-old Black woman who was killed in March when the city's police burst into her apartment using a so-called "no-knock" arrest warrant that did not require them to announce themselves.
Kamala Harris: Trump can't be trusted about possible Covid-19 vaccine
Democratic US vice presidential candidate Kamala Harris said she would not take President Donald Trump's word alone on any potential coronavirus vaccine. In an interview excerpt broadcast by CNN on Saturday, Harris said Trump had a track record of suppressing expert opinion about the coronavirus pandemic and worried that might happen again in the case of a prospective vaccine.
"I would not trust Donald Trump," she said, adding she would only be convinced of the efficacy of a vaccine if someone credible were vouching for it as well. "I will not take his word for it."
42% of low earners feel they might not be able to pay September's rent
According to a recent US Census Bureau Household Pulse Survey, 42% of renter households earning less than $35,000 per year are not confident of being able to pay this month's rent.
Last week, the Trump administration said it is implementing a national four-month moratorium on residential evictions. It went into effect on Friday and will run until 31 December. The new initiative applies to individuals earning less than $99,000 a year and who are unable to make rent or housing payments. The move comes after Republicans and Democrats in Congress failed to reach a deal on another coronavirus rescue package.
Hello and welcome
We begin our new round of US coronavirus news, as the total caseload in the country stands at over six million while fatalities have surpassed 188,000.
We'll be bringing you all the lastest US-focused news and reaction as it breaks throughout the day.