Trump Supreme Court list: 20 more people the president would consider
President Donald Trump has revealed his list of potential candidates for the highest court in the land, while taking a swipe at Democratic rival Joe Biden.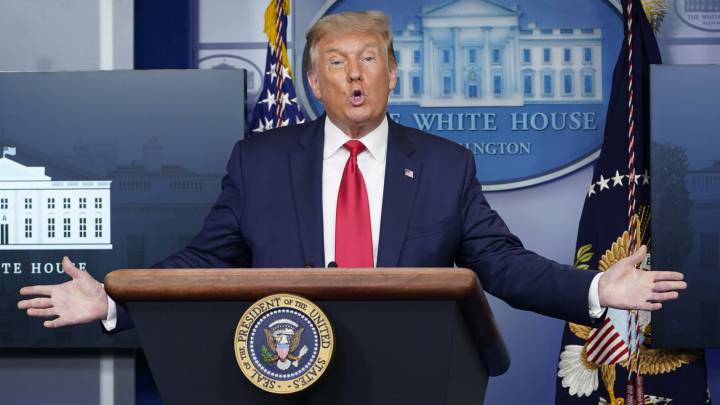 On Wednesday 9 September, President Donald Trump announced a list of potential candidates to join the Supreme Court ahead of the presidential elections on 3 November.
Trump's latest Supreme Court names
The president called upon his presidential rival Joe Biden to name his selection stating that they had not yet been provided due to the fact that "they are so far left" and that they "could never withstand scrutiny."
From the White House's Diplomatic Reception, Trump gave his selection.Among those named, there were three sitting Republican senators: Ted Cruz (Texas), Tom Cotton (Arkansas) and Josh Hawley (Missouri). There was also a place for Daniel Cameron, Kentucky's attorney general.
Trump advised that the 20 new names were being added to the list of 25 judges already named.
Here's the rest of Trump's list:
Bridget Bade, 9th Circuit Court of Appeals
Paul Clement, former U.S. solicitor general
Stuart Kyle Duncan, 5th Circuit judge
Stephen Engel, assistant attorney general
Noel Francesco, former solicitor general
James Ho, 5th Circuit judge
Gregory Katsas, D.C. Circuit judge
Barbara Lagoa, 11th Circuit judge
Christopher Landau, U.S. ambassdor to Mexico
Carlos Muniz, Florida Supreme Court
Martha Packold, Northern District of Illinois judge
Peter Phipps, 3rd Circuit judge
Sarah Pitlyk, Eastern District of Missouri judge
Allison Jones Rushing, 4th Circuit judge
Kate Todd, deputy assistant to the president
Lawrence Van Dyke, 9th Circuit judge
Trump on Supreme offensive against Biden
"Unfortunately, there is a growing radical left movement that rejects the principle of equal treatment under the law," Trump said after naming his candidates. "If this extreme movement is granted a majority on the Supreme Court, it will fundamentally transform America without a single vote of Congress."
I appreciate the President's confidence in listing me as a potential Supreme Court nominee. But as I told the President, Missourians elected me to fight for them in the Senate, and I have no interest in the high court. I look forward to confirming constitutional conservatives

— Josh Hawley (@HawleyMO) September 9, 2020
"Radical justices will erase the Second Amendment, silence political speech and require taxpayers to fund extremely late-term abortion," he contiued.
The names on President Trump's list of potential Supreme Court nominees are exactly the types of justices the majority of Americans don't want on the high court.

— Chuck Schumer (@SenSchumer) September 9, 2020
"It will give unelected bureaucrats the power to destroy millions of American jobs. They will remove the words under God from the Pledge of Allegiance. They will unilaterally declare the death penalty unconstitutional, even for the most depraved mass murderers."