"Racism No": Neymar accuses Marseille's Álvaro of racism during heated Classique
PSG striker Neymar accused Álvaro González of racism during a heated Classique affair, after which the Brazil star tweeted that he regretted not hitting "this asshole".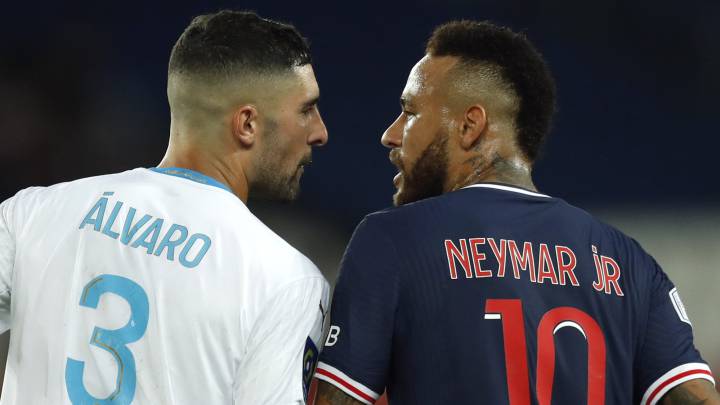 Le Classique between PSG and Marseille is normally a heated occassion. But Sunday's frantic affair was hotter than most, with five players men off at the end of the game following a clash involving several players from both clubs.
A staggering fourteen yellow cards were also handed out during the match, which Marseille won 1-0 to secure their first victory over PSG in Paris since 2011.
The unsavoury behaviour began well before half time, with PSG star Neymar getting involved in a spat with Marseille's Álvaro González that ended with the Brazilian accusing the Spaniard of racism.
Neymar shouts "Racism, No" after incident with
Álvaro
As Neymar approached the sideline to confront the Marseille bench and the referee after the incident with Álvaro, a TV microphone picked up the Brazilian saying, "Racism, no, Racism, No," as he pointed at the Marseille player.
Later, after being one of the five players sent off deep into injury time, Neymar again claimed he was racially abused, addressing the assistant referee as he walked off the pitch. "There was a racist comment there, that's why I did it," he could be heard telling the assistant.
Neymar says he regrets not hitting González
According to Get France Football News, Téléfoot Chaine reporter Gregoire Margotton, one of France's most respected football journalists, later claimed that Álvaro told Neymar: "Shut your mouth, dirty monkey." Though GFFN states that those claims are yet to be verified.
Whatever was said, the incident has clearly left Neymar incensed, with the Brazilian striker tweeting he regrets not having hit Álvaro during the game.
"The only regret I have is not hitting this asshole in the face," wrote the PSG star in what is seemingly a reference to Álvaro, who, for his part, has reportedly, accused Angel Di María of spitting on him.