Real Madrid: Odegaard leaves Valverde in the shade
Coupled with a change of formation, Zinedine Zidane's faith in Martin Odegaard looks like pushing Federico Valverde down the Real Madrid pecking order.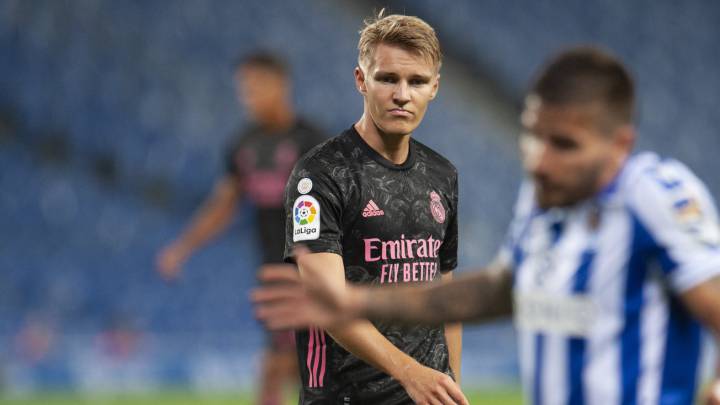 On the evidence of Real Madrid's LaLiga opener against Real Sociedad, Martin Odegaard has been brought back from the Txuri-urdin to play an important role in Zinedine Zidane's side - and from day one, at that.
Odegaard goes straight into Real Madrid XI despite knee niggle
Odegaard had been carrying a knee complaint in the run-up to Sunday's visit to San Sebastián, but not even that could dissuade the Madrid head coach - a man usually so cautious when it comes to players recovering from injury - from starting the Norwegian international.
It was at the express request of Zidane that Madrid opted not to renew Odegaard's successful loan stint at Real Sociedad for a second year, and the Frenchman has shown no hesitation in placing his faith in the 21-year-old.
Zidane fits Odegaard and Modric into 4-2-3-1
Against La Real, Zidane dropped the 4-3-3 formation that has become something of an institution during his tenure at Madrid, instead turning to a 4-2-3-1 to accommodate this summer's only major arrival at the Bernabéu. Luka Modric has been earmarked as a major candidate to give up playing time to the youngster, but when push came to shove the Madrid boss reworked his side to fit both in.
Odegaard also offers the attacking penetration Valverde brings
The most notable casualties of this structural rejig were Casemiro, hitherto a nailed-on starter but a surprise omission in the Basque Country, and Federico Valverde, last season's revelation at Madrid. The Uruguayan in particular is shaping up as the major victim of Odegaard's return.
Valverde's abilities as a box-to-box central midfielder were key to his first-team emergence at Real Madrid, but with Odegaard now an option at the tip of Los Merengues' midfield, Zidane has a greater breadth of alternatives as he looks to put together an engine room capable of offering attacking penetration.
Odegaard return hurts Valverde's prospects in deeper and advanced midfield roles
If Sunday's formation becomes the norm this term, the presence of Odegaard and the return to form of Modric will make Valverde's task of getting minutes a lot tougher. Last season, the 22-year-old was also used as an understudy for Casemiro at the base of a midfield trio, but if Zidane decides that an out-and-out anchorman - though not the Brazilian himself - is no longer an essential part of his system, Valverde may well find himself further down the pecking order. Going by this weekend's 0-0 draw, Zidane plans to field a deep-lying central-midfield duo rather than a three with a holder, leaving Valverde up against each of Casemiro, Toni Kroos and Modric for one of just two available spots.
Just as he did when Zidane fielded a five-man midfield in January's Spanish Super Cup, Valverde can also operate in a more advanced role, but that's where he'll find himself competing directly with the freshly-recalled Odegaard, as well as Isco.

Betis clash sure to provide further clues of Zidane's thinking...
It must be noted, though, that Real Madrid's lack of pre-season fixtures makes it that bit harder to draw concrete conclusions on Zidane's intentions for the campaign ahead. Saturday's LaLiga trip to face Real Betis will provide further clues.