Real Madrid's Marco Asensio on injury, Hazard, Messi, Zidane...
The playmaker spoke to Spanish programme El Transistor and shared his views on a number of subjects, including the situation with his Belgian teammate.
As Marco Asensio attempts to get back to where he left off before his almost season-ending injury in the summer of 2019, he discussed some of the key topics on people's lips when speaking to Spanish programme El Transistor during this international break. The Balearic player appears to be getting closer to his best and has been handed a starting role for Real Madrid in the last two matches although he has had to face another recent setback.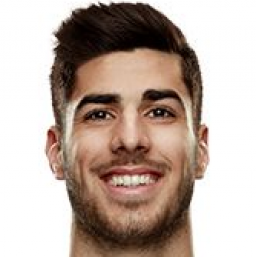 Asensio responds to Netflix comments
Forced to withdraw from a national team call-up, first for a knee injury and then a serious sore throat, manager Luis Enrique responded to a question about him saying "I think he must be watching a Netflix series now, relaxing at home, sitting on the sofa." Much was made about this being a dig at the player and Asensio was asked about it.
"When he said that I was not watching a series, I was feeling bad with the flu. It's natural that he didn't like that question because I know he doesn't like talking about people who haven't been called up. I have a very good relationship with him, he's a great guy and rather funny."
Delving further into his prospects with the Spanish national team, with eyes on next summer's Euros, the 24-year old focused on the work required.
"It's a bit strange these days because it's been a long time since I've been called up for the national team, but I'll keep working to get back. I enjoyed the two games, they were different because the opponent also influences your style, but Luis Enrique's team always goes out to win."
Injury has changed Asensio's outlook
As well as speaking further about the injury that kept him out for so long - confirming the initial fears he had, the pain he went through, and the mental stress that it put on him - Marco explained that it actually changed him as a person and a player.
"It is an experience that has strengthened me in all ways. The injury has changed me, every day is a battle against yourself, trying to improve. Every day there is a different goal because if not you take a step back in the recovery process.
"There have been many days when I've asked myself if I'd ever play football again. There have also been good and exciting moments that I will never forget. The simple fact of walking without it hurting at all was an incredible moment. Then I started running, playing again and scoring after 25 seconds [on his Real Madrid return]."
Regarding his club manager Zinedine Zidane, the young Spaniard was full of admiration and praise.
"When I returned to Madrid in 2016 [following loan spell at Espanyol] I knew I had to have a good pre-season to convince Zidane. He told me that I was going to be a starter in the European Super Cup, and that he was counting on me.
"Zidane is very sincere, he brings a lot of calmness and he is a great coach who has delivered many titles for Madrid, every year surpassing himself. When I was a child I had a poster of his [2002 UCL Glasgow] volley in my room."
Hazard to regain his confidence
Asensio has not had much pitch time with new teammate, Eden Hazard, a player that was signed as the club's latest Galáctico. Injury has also impacted on the Belgian's first year in LaLiga but his fellow attacker is positive about him returning to form.
"Hazard is in good spirits, he seems very well. It's difficult for him because he has not been used to injuries and it's just bad luck what has happened to him. As soon as he feels good, I'm sure he'll regain his confidence quickly."
With hopes that fans will be allowed back into the stadiums once it is covid-19 safe, Marco pointed out that, as well as being "strange" without supporters, the "matches feel more tactical" and they are "more restrained, more controlled." He also admitted to understanding that a lot was expected from him, and that he is happy to take that on and deliver more success for Los Blancos.
Messi's Barça exit
Away from Madrid, the footballing topic of the summer - Messi's request to leave Barça - was put to him.
"I didn't care if Messi left or stayed, but it was better for Barcelona that he stayed," replied Asensio before hinting that he was secretly happy.
"I like playing against the best."
Spain play the Ukraine on Tuesday evening and Real Madrid's next outing is at home to Cádiz on Saturday.