USA coronavirus live: Trump, stimulus checks, cases, deaths, updates today

USA coronavirus live updates: 19 October
US coronavirus latest: headlines
- Coronavirus cases static or on the up in 48 out of 50 US states
- Rise in US cases down to "mitigation fatigue", says health secretary
- Pelosi says stimulus deal needed in 48 hours if package to go through before election
- Biden criticises Trump for saying US has "turned the corner" in covid-19 battle
US covid-19 latest: 07:30 PT / 10:30 ET on Monday 19 October (16:30 CEST)
Latest figures published by Johns Hopkins University.
Worldwide
Cases: 40,118,314
Deaths: 1,114,765
Recoveries: 27,535,024
US
Cases: 8,156,970
Deaths: 219,681
Recoveries: 3,234,138
Related coronavirus articles that may be of interest:
Girl wins $25K prize for a discovery that could lead to a cure for covid-19
CNN - As scientists around the world continue to search for a treatment for the coronavirus, a young girl among them stands out.
Anika Chebrolu, a 14-year-old from Texas, has just won the 2020 3M Young Scientist Challenge and a $25,000 prize for a discovery that could provide a potential therapy to covid-19.
Anika's winning invention uses in-silico methodology to discover a lead molecule that can selectively bind to the spike protein of the SARS-CoV-2 virus.
"The last two days, I saw that there is a lot of media hype about my project since it involves the SARS-CoV-2 virus and it reflects our collective hopes to end this pandemic as I, like everyone else, wish that we go back to our normal lives soon," she told CNN.
US Supreme Court to hear Trump appeal of ruling against border wall funds
The US Supreme Court on Monday agreed to hear an appeal by President Donald Trump's administration of a ruling that he overstepped his constitutional powers by diverting military funds to pay for his promised wall along the US-Mexico border.
At issue is the legality of the president's decision, after Congress refused to appropriate money he sought for the wall, to shift other funds already provided by lawmakers for other purposes. Trump's administration appealed a lower court's June 26 decision that it lacked the authority to shift the military funds toward the border project because the so-called Appropriations Clause of the US Constitution exclusively grants the power of the purse to Congress.
The border wall was a central 2016 campaign promise by Trump and is part of his 2020 re-election bid.

Daniel Arbeeny speaks during a mock funeral for Governor Andrew Cuomo's 'leadership and integrity', outside the Cobble Hill Health Center following the outbreak of the coronavirus disease in the Brooklyn borough of New York City. REUTERS/Jeenah Moon
Half of Indians may have had coronavirus by February, govt panel estimates
At least half of India's 1.3 billion people are likely to have been infected with the novel coronavirus by next February, helping slow the spread of the disease, a member of a federal government committee tasked with providing projections said on Monday.
India has so far reported 7.55 million cases of the coronavirus and is second only to the United States in terms of total infections.
But covid-19 infections are decreasing in India after a peak in mid-September, with 61,390 new cases reported on average each day, according to a Reuters tally.
"Our mathematical model estimates that around 30% of the population is currently infected and it could go up to 50% by February," Manindra Agrawal, a professor at the Indian Institute for Technology in Kanpur and a committee member, told Reuters.
The committee's estimate for the current spread of the virus is much higher than the federal government's serological surveys, which showed that only around 14 per cent of the population had been infected, as of September.
Worldwide Covid-19 cases rise by 10 million in just over one month
Global coronavirus cases hit 40 million on Monday and experts fear the actual number is probably much higher. But another stark piece of data is how the number of new cases have risen dramatically over the past month. Like during the first wave, new infections are rising exponentially - averaging 347,000 cases per day over the past week, compared with 292,000 in the first week of October. The 30 million mark was reached on 18 September, which means that another 10 million new cases, a third of that total, have been registered in just 32 days.
Dr. Anthony Fauci: "Masks help to stop Covid-19 spreading"
In an interview with CBS' 60 Minutes programme broadcast on Sunday, Dr. Anthony Fauci made it clear that wearing face masks do help to stop the transmission of airborne Covid-19 droplets and that despite what president Donald Trump might say, wearing a mask is not a sign of weakness.
"He sometimes equates wearing a mask with weakness, masks really do work in preventing infections," Fauci told host Dr. Jon LaPook. "Deep down he believes in science, if he didn't he wouldn't have entrusted his health to the very competent physicians at the Walter Reed army medical center".
Global Covid-19 cases surpass 40 million mark
The number of positive Covid-19 cases worldwide hit a new milestone on Monday as reported cases reached 40 million. The number of global cases stood at 40,063,546 by midday (CEST) while the number of fatalities in the U.S. edged closer to 220,000, according to data complied by Johns Hopkins University.
Airline industry facing $300 billion in lost revenue this year
The travel industry has been one of the hardest hit by the coronavirus pandemic with many routes grounded until the New Year. Passenger numbers are down - CNBC reports that less than 640,000 passengers flew out of U.S. airports yesterday compared with over 2.6 million a year ago. "It could take several years before we're into our new normal of traveling," Delta Air Lines CEO Ed Bastian explained. American Airlines meanwhile has said it expects its second quarter 2020 revenue to be down about 90% compared to the second quarter of 2019.
Saeb Erekat is in "a critical condition"
Palestinian chief negotiator Saeb Erekat is in a "critical but stable" condition as he battles with Covid-19 at the Hadassah University Hospital near Jerusalem. The 65-year-old was diagnosed with the virus earlier this month and is reported to be in a medically-induced coma and on a ventilator.
Covid-19 cases rising in almost every U.S. state
Just Vermont and Missouri recorded falls in the average number of positive Covid-19 cases during the past seven days as cases continue to rise across the country. Connecticut and Florida posted increases of 50% or more while 27 other states suffered increases of between 10% and 50%.
Covid-19 transmission increases in confined, indoor spaces
Covid-19 transmission rates have been kept lower during the summer months as people have been encouraged to eat and drink, exercise and spend time with friends outside. But now autumn has arrived and with winter around the corner, temperatures have dropped and those activities will inevitably move indoors. That could cause a spike in the number of Covid-19 cases and Dr. Anthony Fauci has advised Americans not to make any big Thanksgiving plans this year. "It is unfortunate because that's such a sacred part of American tradition – the family gathering around Thanksgiving but that is a risk," he told CBS Evening News on Wednesday.

Eurofins gets U.S. 'EUA' approval for home-based Covid-19 Test
Laboratory testing and diagnostics company Eurofins said its new at-home Covid-19 nasal testing product had received Emergency Use Approval (EUA) status from the U.S. Food & Drug Administration regulatory body. Eurofins said the EUA authorised self-collection kit gives consumers a convenient and quick option to test from the comfort of their home, with results reviewed by a licensed physician and provided via email within 24 hours of sample receipt. Worldwide coronavirus cases crossed 40 million on Monday, according to a Reuters tally, as the onset of winter in the northern hemisphere fuelled a resurgence in the spread of the disease.
Kamala Harris to return to campaign trail in Florida
Joe Biden's running mate Kamala Harris will travel to Florida on Monday to make her first public appearance since isolating after a fellow passenger on a campaign flight tested positive for covid-19.
Full story: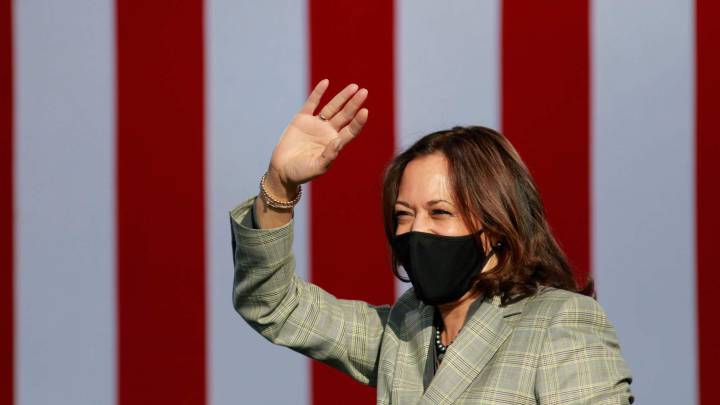 Stimulus deal needed within 48 hours if package to be passed before election - Pelosi
House Speaker Nancy Pelosi said on Sunday differences remain with President Donald Trump's administration on a wide-ranging coronavirus relief package but she was optimistic legislation could be pushed through before Election Day.
Pelosi, the top elected Democrat, said she wanted a bill passed before the 3 November presidential election between Republican Trump and Democrat Joe Biden but acknowledged an agreement would have to come within 48 hours for that to happen.
"I'm optimistic because, again, we've been back and forth on all of this," Pelosi said in an interview with ABC's This Week.
However, with her negotiating partner, Treasury Secretary Steve Mnuchin, in the Middle East until Tuesday, a deal appears to be a long shot.
The White House proposed a $1.8 trillion stimulus last week to help Americans struggling with the economic ravages of the coronavirus pandemic.
Pelosi said the offer fell short in a range of areas including tax credits for poor people, aid to state and local governments, worker protections and rent help. She has stuck to her demand for a $2.2 trillion aid and stimulus package.
(Text: Reuters; photo: REUTERS/Erin Scott/File Photo)
Covid-19 cases surging across the US
Coronavirus case numbers remain static or are on the up in 48 out of 50 states in the US, with only Vermont and Missouri posting an improvement of more than 10% in average weekly infections, CNN reports, citing Johns Hopkins University figures. In 27 states across the country, the last seven brought surges of between 10% and 50%.
Rise in US cases down to "mitigation fatigue", says health secretary
Health Secretary Alex Aznar says a rise in coronavirus cases in the US is down to "mitigation fatigue", adding that cold weather is also behind the uptick in infections.
The US registered more than 69,000 new cases on Friday, its highest single-day total since July.
"Cases are increasing," Azar told NBC's Meet the Press on Sunday. "We're seeing this happen because we're getting colder weather and we're losing that natural social distancing that happens from being out of doors.
"People are getting tired. We're seeing mitigation fatigue right now."
Twitter removes White House adviser's covid-19 tweet
Twitter has removed a tweet by Dr Scott Atlas, a member of President Donald Trump's White House coronavirus task force, in which he falsely claimed that masks do not help to prevent the spread of covid-19.
Dr Atlas, who was appointed to the task force in August, wrote on Saturday, per NBC: "Masks work? NO: LA, Miami, Hawaii, Alabama, France, Phlippnes, UK, Spain, Israel. WHO:"widesprd use not supported" + many harms; Heneghan/Oxf CEBM:"despite decades, considerble uncertainty re value"; CDC rvw May:"no sig red'n in inflnz transm'n"; learn why."
In September, it was reported that Dr Roberto Redfield, the director of the Centers for Disease Control and Prevention, had complained of Dr Atlas: "Everything he says is false."
Biden criticises Trump over covid-19 comments
Joe Biden has criticised Donald Trump for saying that the US had 'turned the corner' in the coronavirus pandemic.
"As my grandfather would say, 'This guy's gone around the bend if he thinks we've turned the corner,'" Biden said. "Things are getting worse, and he continues to lie to us about circumstances."
Biden's pick for vice president, senator Kamala Harris, canceled in-person events over the weekend as a precaution after an aide tested positive for covid-19. She will return to the campaign trail on Monday with a visit to Florida.
Coronavirus US live update: welcome
Hello and welcome to our live, US-focused coverage of the coronavirus pandemic, which as of 18:30 ET on Sunday had registered over 39.8 million cases worldwide, leading to more than 1.1 million deaths.
In the US, the world's worst-affected country, there have been 8.15 million confirmed cases and nearly 220,000 fatalities.
.