Unemployment benefits in US: how to claim and check weekly payments
Clawing back growth in the US economy post covid-19 is going to be painfully slow. How to apply for support if you're one of the millions unemployed.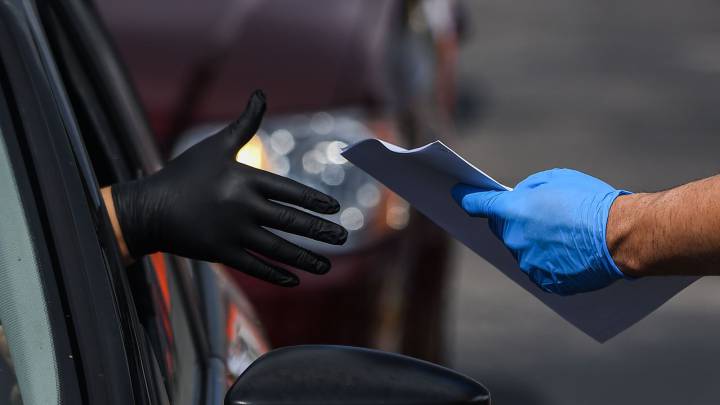 At the start of this month the unemployment rate in the US had dropped to 7.9%, after employers added over half a million jobs in September.
These figures show a gradual improvement since over 20 million people lost their jobs just in April, at the peak of the economic crisis caused by the covid-19 pandemic. In April the unemployment rate was 14.7%, having skyrocketed from a historic low in February of 3.5%.
Recovery is likely to be slow and stunted, with fits and starts in some industries but barely any growth for months to come in others. In the government's September report, while jobs were added in hospitality, retail and health care sectors, education and government employment suffered major job losses.
The lack of fresh federal support in the form of a new stimulus relief bill also impacts demand for unemployment benefits. It's no wonder that nearing a million Americans file new claims for unemployment support each week at the moment.
How do I claim for unemployment support?
Contact your state's unemployment office as soon as possible after becoming unemployed.
You should generally file your claim with the state where you worked. You can find details of each state program and how to file in your state using the U.S. Labor Department's Unemployment Benefits Finder.
Are benefits the same for everybody?
No. Payment amounts depend on a worker's prior wages, generally calculated over the last past fiscal year. They also vary significantly between states, which tend to use different formulas to calculate aid.
What are expanded unemployment benefits?
Under the CARES stimulus package which was approved by Congress and president Trump in March there was a federally-funded extension of $600 per week which was added to normal in-state unemployment funds, owing to the pandemic. The subsidy added by each state in addition to the extra federal support has long since dried up for many states. In the meantime some states are still offering $300 extra in unemployment support. Find out if your state is one of them.
Find out the latest on the negotiations for the latest stimulus bill.
What amount of unemployment benefits will I get?
The average jobless American receives $378 a week in unemployment benefits, according to US Labor Department data from 2019, but this number varies wildly state by state and depends on your individual circumstances.
How do I check the status of my unemployment benefit claim?
If you've made your initial claim and are waiting for and update, your state's labor department will have your details so contact them directly by email of phone. Alternatively there may be an online portal on the site to pull up your status automatically online. If you're not sure how to find the right contact, the government Benefits Finder is a good place to start. Just input your state and you're away.
For the latest on coronavirus in the US as it happens, follow our dedicated rolling feed.