What did Trump say about 60 minutes' Lesley Stahl and why?
President Trump walks out of Stahl interview then posts video on Twitter condemning Lesley Stahl, host of CBS 60 minutes for not wearing a mask.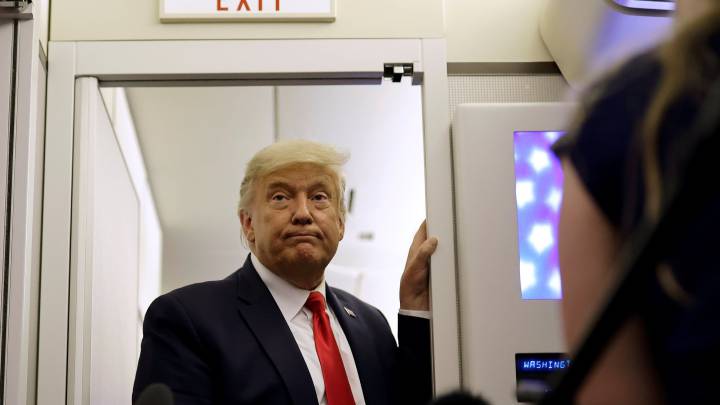 After walking out on her interview for CBS News, Donald Trump broke the internet over Lesley Stahl. Twitter has exploded this afternoon, to date over 40 thousand people have weighed in on the social media platform after Trump reached new heights of hypocrisy, calling out another person for not following precautions against the spread of coronavirus.
On Tuesday afternoon the president tweeted a short video showing the CBS host not wearing a mask, "Lesley Stahl of 60 Minutes not wearing a mask in the White House after her interview with me. Much more to come."
Public outrage at Trump vs. Stahl tweet
The post was met with fury at the president's gall, following his persistent under estimation of a pandemic that has killed over 220,000 Americans and caused what could be the worst economic crisis since the Great Depression.
The now-viral attack on Lesley Stahl was almost too ridiculous for Twitter users to bear and instantly went viral. It's no wonder, since in recent weeks the president did a drive by from his hospital bed and ceremoniously took off his mask for the press, both while still infectious with covid-19. Trump has been officially labelled a super spreader by the country's leading infectious diseases expert Dr Anthony Fauci.
Trump tweet distraction from embarrassing interview walk-out?
First reported in CNN, it's now been widely reported that Trump abruptly ended a solo interview with Lesley Stahl for CBS News show "60 Minutes" and did not return for an appearance he was scheduled to film with Vice President Mike Pence.
According to CNN's report, the interview took 45 minutes on Tuesday, and the president abruptly ended the interview, telling the network he believed they had enough material to use, according to two sources.
Trump upset at popularity rating heading into election
Biden has been leading Trump in the polls for months and as the race nears its end, the president has become increasingly emotional at comments he may lose his chance at a second term.
Standing on a tarmac in Arizona on Monday, the president told reporters "I'm not running scared...I think I'm running angry." CNN report.
Lesley Stahl has previously shared an anecdote that Trump openly admitted to her and her boss off-camera in 2016 that he continuously bashes the press to "discredit you all and demean you all so when you write negative stories about me no one will believe you."
When can you watch the infamous interview on CBS?
Trump's Democratic challenger Joe Biden and his running mate Kamala Harris were also interviewed by 60 Minutes and all four are scheduled to appear in the same program on Sunday.
Donald Trump and Joe Biden are set to go head to head in the final of two presidential live debates tomorrow night.