USA Election 2020: how can I track my early vote ballot?
Early voting statistics are breaking records all over the place, here's all you need to find out the status of your early mail-in vote in your state.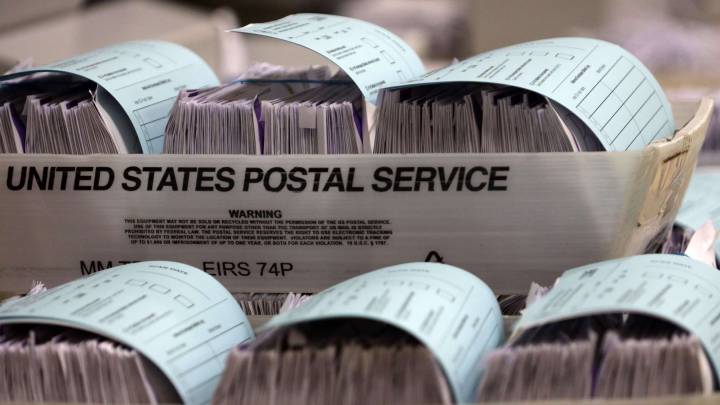 Turnout for early voting in person, absentee and mail in voting are at record highs already this year since covid-19 continues to ravage the US, deterring much of the electorate from waiting to vote in person on Election Day.
Although significant, unfounded concerns have been raised about the safety of mail voting by president Trump, we do know that due to the pandemic the postal service will be under extraordinary pressure with limited resources, following a losing battle against Trump himself for more funding. We can therefore reasonably expect a certain amount of delay as the system attempts to cope with the unprecedented numbers of postal votes.

How to track your postal vote 2020 by state

For each state that has a tracking service, see a link to the service below. Please note that prior to using this you will have to register to vote in your state and request either an absentee or early mail voting ballot. If yours isn't there, it may not be possible to track your vote online.
(Nb. The tracker tool is only available for absentee ballots for military members and their families, andUS citizens living overseas)
What about voting early in-person?
Early voting in-person is possible in 43 states and the District of Columbia. Six states do not offer pre-Election Day in-person voting options: Connecticut, Kentucky, Mississippi, Missouri, New Hampshire, and South Carolina.
To find out in your state when early voting in person starts and finishes, check the table on the National Conference of State Legislatures website.
General information about in-person early voting
The time period for early voting varies from state to state:
The date on which early voting begins may be as early as 45 days before the election, or as late as the Friday before the election. The average starting time for early voting is 22 days before the election.
Early voting typically ends just a few days before Election Day.
Early voting periods range in length from four days to 45 days; the average length is 19 days.
Of the states that allow early in-person voting, 24 and the District of Columbia allow some weekend early voting.
Saturday: 20 states, plus the District of Columbia provide for voting on Saturday. Four additional states (California, Kansas, Vermont and Massachusetts) leave it up to county clerks who may choose to allow Saturday voting. Delaware and Virginia will also include Saturday voting when the laws go into effect.
Sunday: Five states (Alaska, Illinois, Maryland, New York and Ohio) allow for Sunday voting. Five states (California, Georgia, Michigan, Nevada and Massachusetts) leave it up to county clerks who may choose to be open on Sundays. Florida mandates early voting must begin, including Sunday, the 10th day and end the third day prior to the election for state and federal elections. Local election officials also have the discretion to allow early voting the Sunday prior to the election. Delaware will also include Sunday voting when the law goes into effect in 2022.