USA coronavirus live: Trump, stimulus checks, cases, deaths, updates today

Cornavirus latest news: USA
US coronavirus latest: headlines
- Mnuchin says "significant differences" remain with Nancy Pelosi on stimulus package but ensures "we've made a lot of progress in lots of areas"
- US reports over 71,000 new infections, its highest daily case count since July
- New report says 130,000 to 210,000 US deaths could have been avoided
US covid-19 latest: 08:15 PT / 11:15 ET on Friday 23 October (20:45 CEST)
Latest figures published by Johns Hopkins University.
Worldwide
Cases: 41,992,358
Deaths: 1,140,593
Recoveries: 28,423,275
US
Cases: 8,445,242
Deaths: 223,437
Recoveries: 3,353,056
Related coronavirus articles that may be of interest:
Johnson & Johnson coronavirus vaccine trial to resume soon - Washington Post
Johnson & Johnson's coronavirus vaccine trial will resume very soon after investigators concluded a participant's illness was unrelated to the vaccine, the Washington Post reported on Friday, citing two people familiar with the matter. (Reuters)
AstraZeneca, Oxford allowed to resume covid-19 vaccine trial in US - WSJ
The covid-19 vaccine trial being undertaken by Astrazeneca and Oxford University will resume in the United States, according to a WSJ source after a decision was approved by the federal health authorities.

Mnunchin gives update on stimulus talks
Treasury Secretary Steven Mnuchin has given an update on stimulus talks during a press briefing at the oval office:
"The President's been very clear in his instructions to me. That if we can get the right deal we're going to do that."
"We've been speaking to the (House) speaker (Nancy Pelosi). I would say we've offered compromises. The speaker, on a number of issues, has still dug in. If she wants to compromise, there will be a deal.
"But we've made lots of progress in lots of areas, but there's still some significant differences that we're working on." (Photo: EFE)
France's Macron: Expect to live with virus at least till mid-2021
France will have to live with the coronavirus at least until next summer, President Emmanuel Macron said on Friday. Macron, who was speaking during a visit to a hospital, said there were no plans at this stage to reduce curfews aimed at preventing the virus spreading. (Reuters)
Calls for new lockdown as Italy reports a record 19,143 daily new cases
With Italy reporting a record 19,143 new coronavirus cases in the last 24 hours, the governor of Campania, Vincenzo De Luca, has asked the government for a national lockdown and announced he will close the region "for 30 to 40 days".
"Said in a brutally clear way, I don't want to find ourselves in front of military trucks that carry hundreds of coffins," De Luca said in a video message.
Over 76,000 new cases on Thursday - Reuters
While it has been reported elsewhere that the US registered 71,671 new coronavirus cases on Thursday (see previous post), a Reuters tally has put this number nearly 5,000 higher, at 76,195.
This would make Thursday the US' second-worst day in the pandemic so far.
US records highest daily case count since July
The United States registered 71,671 new coronavirus cases on Thursday, per CNN and Johns Hopkins University. This is the country's largest single-day case count since 24 July, and its fourth-highest ever, notes CNN reporter Ryan Struyk.
The US' worst day so far was 16 July, when it reported 77,255 fresh covid-19 cases.
Presidential debate fact check: coronavirus, Russia...
We take a closer look at the claims made by President Donald Trump and Democratic candidate Joe Biden in Thursday's final pre-election debate: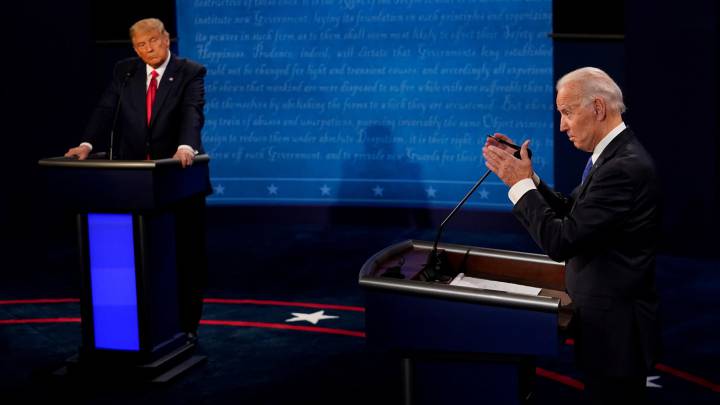 Li-Meng Yan: "Coronavirus is a biological weapon"
Now living in exile in the United States, the Chinese virologist reiterated on Spanish television that the virus is the creation of the Chinese military.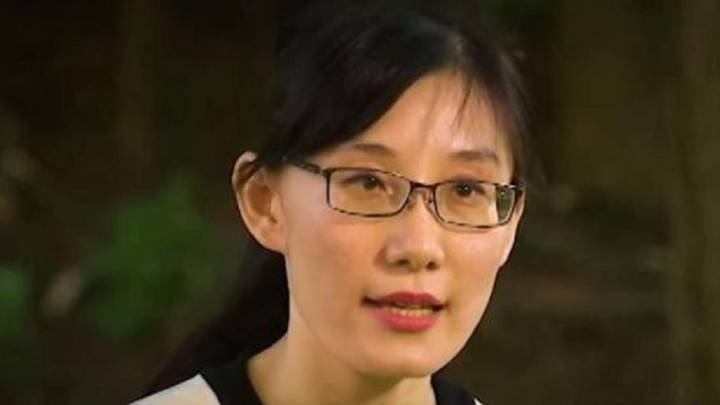 December release for Paul McCartney solo album recorded during lockdown
Paul McCartney will release 'McCartney III' in December, a new collection of stripped-back songs all written, performed and produced by the ex-Beatle, 50 years after his first solo album.
Recorded this year in Sussex in southern England, McCartney III is mostly built from McCartney's live takes on vocals and guitar or piano, overlaying his bass playing and drumming.
It joins two other albums - McCartney and McCartney II - created single-handedly by the 78-year-old at critical times in his life, in 1970 and 1980, when he was seeking a creative rebirth.
"I was living lockdown life on my farm with my family and I would go to my studio every day. I had to do a little bit of work on some film music and that turned into the opening track and then when it was done I thought what will I do next?" said McCartney.

Global market stocks bide time as U.S. election caution sets in
The final debate between U.S. President Donald Trump and his Democratic challenger Joe Biden on Thursday provided few surprises.
European stocks pushed 0.8% higher for their best day in five trading sessions. Strong third-quarter results offset key business survey data showing patchy recoveries across the euro zone's two largest economies, Germany and France.
Britain's main stock index added 1.1% as Barclays reported stronger-than-expected third-quarter earnings and British retail sales beat expectations in September.
The chief negotiators for Britain and the European Union were set to meet on Friday for talks on a last-gasp trade deal to avert a tumultuous finale to the five-year Brexit crisis.
U.S. S&P 500 futures were up 0.1%, after dipping following the debate. The underlying index had gained about 0.5% the day before on hopes the U.S. Congress and the White House would soon strike a deal on another round of COVID-19 stimulus.
Shares in Asia hardly moved, with MSCI's broadest index of Asia-Pacific shares outside Japan 0.1% lower.

A newly restrained Trump faces the same old problems
President Donald Trump turned in the restrained and consistent performance his advisers said he needed in his final debate with Democratic challenger Joe Biden, but it was unlikely to alter the U.S. presidential race in any fundamental way.
With just 11 days to go before the Nov. 3 election, Trump still faces the same fundamental problem: A country battered by the coronavirus, with cases spiking anew, and an economy that has yet to fully rebound from the pandemic.
Once again, the Republican president had no real counter to Biden's criticism of his handling of the virus that has killed more than 221,000 Americans other than to say that the nation is "turning the corner."
Biden leads Trump in opinion polls nationally as the race enters its final stretch, although his edge is tighter in key battleground states. Thursday's debate in Nashville, Tennessee, was the last time for both candidates to share a stage before a large television audience, and Trump engaged in a more civil discourse with far fewer interruptions than at their first debate in September.

Germany readies for coronavirus vaccine before end of year -Bild
Germany is making preparations to start vaccinations against the coronavirus before the end of the year, Bild daily reported on Friday.
The health ministry plans to create 60 special vaccination centres to ensure the vaccines can be stored at the proper temperature and has asked the country's 16 federal states to provide addresses for them by Nov. 10, Bild reported without citing its sources.
At a video conference earlier this week, Health Minister Jens Spahn, who himself tested positive for the coronavirus on Wednesday, said Germany's BioNTech was close to getting a vaccine approved, Bild cited participants as saying.
Asked when he expected the first vaccinations, Spahn replied: "That could happen before the end of the year," participants told Bild.
BioNTech is developing its vaccine in partnership with Pfizer Inc. Last month, Germany awarded $745 million in funding to biotech firms BioNTech and CureVac to speed up work on covid-19 vaccines and expand German production capacity.

Blood of recovered covid-19 patients shows little benefit as treatment
Using blood of recovered covid-19 patients - or so-called convalescent plasma - as a potential treatment is of little benefit in helping hospitalised patients fight off the infection, according to results of a clinical trial in India.
Published in the BMJ British Medical Journal on Friday, the results show that convalescent plasma, which delivers antibodies from covid-19 survivors to infected people, failed to reduce death rates or halt progression to severe disease.
The findings, from a study of more than 400 hospitalised covid-19 patients, are a setback for a treatment that U.S. President Donald Trump touted in August as an "historic breakthrough". The United States and India have authorised convalescent plasma for emergency use.
Trump-backed Remdesivir given approval for hospital patients
Amid doubts that the drug does much to help recovery
130,000 - 210,000 deaths in US could have been avoided, says new report
Between 130,000 and 210,000 covid-19-related deaths in the United States could have been avoided if the Trump administration had implemented a swift, effective and cohesive public health response to the coronavirus pandemic, according to a new by Columbia University Earth Institute's National Center for Disaster.

In pictures: An employee stands outside a Gucci store on the first day of the phase two re-opening of businesses following the outbreak of the coronavirus disease (COVID-19), in the Manhattan borough of New York City, New York, U.S., June 22, 2020. (REUTERS/Carlo Allegri/File Photo)
Europe daily coronavirus cases double in 10 days, reports 200,000 daily cases for the first time
Europe's reported coronavirus cases more than doubled in 10 days, crossing 200,000 daily infections for the first time on Thursday, according to a Reuters tally, with many Southern European countries reporting their highest single-day cases this week. Europe reported 100,000 daily cases for the first time on 12 October.
Europe has so far reported about 7.8 million total coronavirus cases and about 247,000 deaths, according to a Reuters tally. European countries like Italy, Austria, Croatia, Slovenia and Bosnia reported their highest single-day coronavirus cases on Thursday.
Europe as a region is reporting more daily cases than India, Brazil and the United States combined. The increase is partly explained by far more testing than was done in the first wave of the pandemic. (Reuters)
Montana sees highest daily number of new coronavirus cases
Montana confirmed 932 new coronavirus cases on Thursday, the highest number of daily new cases since the beginning of the pandemic.
"The numbers have gone up exponentially and it's very concerning," said state medical officer Dr. Greg Holzman during a news conference in Billings (via CNN).
"A lot of the hospitals are more stressed than they usually are at this time of [the] year and that puts more panic into us, knowing that we're now going into cold and flu season, which is the typical time of the year that hospitals see more people coming through," Holzman said.
"US could learn from Africa's coronavirus response"
Confirmed coronavirus cases in the entire African continent stand at around 1.66 million, a fraction of the almost 8.4-million caseload in the United States, which could learn something from African's response, according to this opinion piece in The Hill.
"According to the World Health Organization Director General Tedros Adhanom Ghebreyesus, Africa is the only region where COVID-19 cases are not increasing. The experts are trying to explain this phenomenon," writes K. Riva Levinson.
"They point to the continent's comparative youth, with a median age of 19 years old. The median age in Europe is a 44. Others speculate that it could be the greater use of outdoor spaces, or that Africans could have pre-existing protective immune responses due to exposure to other pathogens."
Biden-Trump debate live coverage
AS brings you live build-up and coverage of the second and final presidential debate between Donald Trump and Joe Biden...


Covid-19 surges across U.S. as some hospitals stretched
Several U.S. states, many of them in the Midwest, reported record single-day increases in Covid-19 infections on Thursday, further evidence that the pandemic is accelerating anew as cooler weather takes hold in many parts of the country. Indiana, North Dakota, Illinois, Montana, Oklahoma, Utah and Ohio posted daily records on Thursday, according to a Reuters analysis, while Florida reported more than 5,500 new cases, its highest single-day increase since 15 August.
Twenty-eight states have reported their daily record high of Covid-19 cases in the month of October alone. Increases in deaths tend to trail spikes new infections by several weeks. The autumn resurgence and dire predictions that the spread would further accelerate in the cold winter months have once again cast a harsh spotlight on President Donald Trump's handling of the pandemic.
A report released on Wednesday by Columbia University estimated that between 130,000 and 210,000 Covid-19 deaths could have been avoided in the United States, calling the federal government's response to the pandemic an 'enormous failure'.
France becomes second European country to surpass one million Covid-19 cases
Just hours after Spain hit one million Covid-19 cases, France became the second European country - and the seventh worldwide, to reach six figures. By late on Thursday, France had overtaken Spain and Argentina with the fifth highest number of Covid-19 infections - 1,041,991, behind Russia, Brazil, India and the United States.
Trick-or-treaters look to avoid covid-19 in this year's haul
As covid-19 haunts this Halloween communities and revelers around Florida find innovative ways to continue filling bags with candy. Some events will have to be put on hold this year but there are still ways to get a good fright.
Trump tests negative for coronavirus ahead of debate - aide
President Donald Trump has tested negative for covid-19 on Thursday ahead of the final presidential debate against Democratic nominee former Vice President Joe Biden before the 3 November election, his chief of staff Mark Meadows said.
Trump was hospitalized with the highly contagious novel coronavirus days after his first debate with Biden. Participants were to have been tested for the virus before the 29 September debate. The White House and Trump have repeatedly declined to say when the president last tested negative before that event. (Reuters)
.