USA
Cristiano Ronaldo and Lionel Messi could do more, says Rapinoe
In an interview with L'Équipe, the USWNT star highlighted where players with even higher profiles have a chance to take a bigger stand against racism.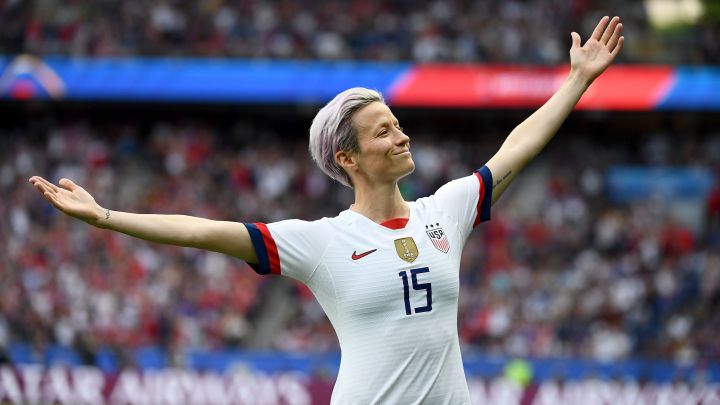 With an autobiography on the way, Megan Rapinoe spoke to French magazine L'Équipe, and during the interview explained how players with the very highest of profiles in the men's game could be doing more to help in the fight against racism.
Messi, Ronaldo, Mbappé opportunities
As well as captaining the US women's football team to World Cup glory, Rapinoe is also well known for taking a very public stance against discrimination of all types. And speaking about the Argentine and Portuguese stars, she talked about the incredible opportunity they have.
"They could do so much if they decided to use their stupendous level of popularity to fight racism, for example. I'm not talking about wearing a Black Lives Matter T-shirt, I'm talking about going deeper.

She then focused her attention on a player with an ever growing reach, PSG's Kylian Mbappé.
"I hope he understands the impact he can have, and how this influence can prove to be formidable for himself. He came into the world with an extraordinary gift which allows him to lead an extraordinary, very comfortable life. Perhaps he can ask himself how to establish a balance, how to inspire youth.
"I hope he understands that he can change the world, that it is not just an empty idea. Sometimes you decide for yourself to change the world, sometimes it falls on you. If you want to be the king, then be the best king you can be."

Hamilton, Osaka and LeBron examples
Examples in the world of sport are already out there and Rapinoe was quick to highlight three in particular.

"Lewis Hamilton's willingness to speak out is incredible, not to mention LeBron James, as they are at the centre of colossal economic powers.
"Naomi Osaka, who at the US Open wore masks with the names of black people killed by US police like Breonna Taylor and George Floyd. In the middle of the tennis world, which is so white! These athletes inspire me. There is like an invisible thread between us. We must not be shy."