US Elections 2020: Senate run-offs in Georgia - when are they, who can vote?
Both Senate seats in Georgia are set to be decided in run-off elections, as the Democrats bid to wipe out the Republicans' majority in the upper chamber.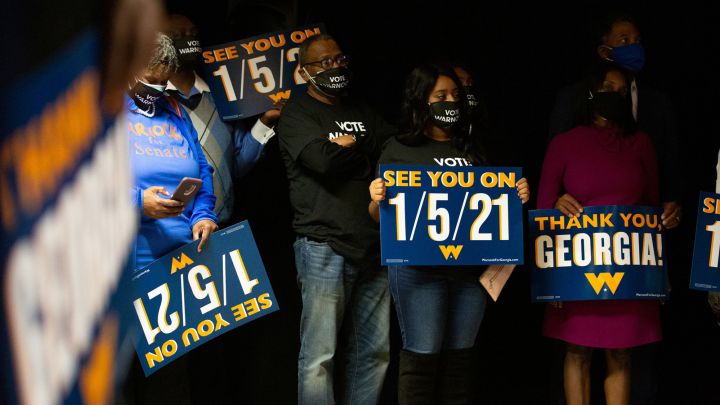 Both Senate races in the state of Georgia are to be decided in run-off elections as the Democrats look to flip the upper chamber of Congress.
Democrats out to wipe out Republicans' 53-47 Senate majority
To overturn the Republicans' 53-47 majority, the Democrats need to gain three Senate seats if Joe Biden wins the presidency, and four if Republican incumbent Donald Trump finally earns a second term in the White House.
This is because the US Constitution gives tie-breaking powers to the vice-president - which will either be Democrat Kamala Harris or current Republican VP Mike Pence - if the Senate is deadlocked on a vote.
With four Senate races to be called, it's 48-48
As things stand, the Democrats had managed an increase of one Senate seat in the wake of Tuesday's elections - taking the tally to 48-48* - with the two upper-house votes in Georgia among four yet to be called across the US.
(*Note: The count of Democrat seats includes two independents who caucus with the party.)
In one Senate election in Georgia, Republican incumbent David Perdue won 2,453,679 votes (49.8%), just ahead of Democrat Jon Ossoff, who picked up 2,357,910 (47.9%).
In the state's other Senate battle, meanwhile, Democrat Raphael Warnock took 1,607,402 votes (32.9%), with Republican Kelly Loeffler trailing on 1,268,925 (26%).
Georgia run-offs on 5 January; only top two involved
Both votes will now go to run-offs because election law in Georgia requires candidates to get over 50% of the ballots cast to be declared the winner. The deciding elections are scheduled for 5 January 2021.
To ensure the winning candidate in a run-off election does get the required 50%, all other contenders are removed from the ballot, with only the top two from the original vote moving on to the second election.
In the event of a Biden presidency, run-off victories for Ossoff and Warnock would net the Democrats the Senate majority they are chasing.
Presidential vote in Georgia to go to recount
The presidential election is also yet to be called in Georgia, with Biden leading Trump by just 4,020 votes as of 08:00 ET on Saturday.
Georgia's secretary of state, Brad Raffensperger, said on Friday that a recount can be expected in the state because Biden's advantage is below 0.5% of the total votes cast.
Who can vote in Georgia's run-off elections?
"Anyone who is registered to vote in Georgia can vote in state, local, and federal runoff elections," says the State of Georgia's website.
Registration to vote in January's elections closes on 7 December. You'll find further information here.
Will more younger voters help Democrats' cause?
People who were too young to vote on 3 November but will have turned 18 by 5 January will now get their chance to have their say on who occupies Georgia's Senate seats.
In an interview with CNBC in July, Ossoff said he believed youngsters would be key to helping him take Perdue's seat, saying they "get" his policy priorities, such as a drive for more sustainable energy sources and support for expanding healthcare coverage.
"I think that young people have a very clear-eyed understanding of what's happening in our country and in our world and where we need to get to," he said.
Live coverage of the US presidential election
You can stay up-to-date with the latest developments in the US elections with our dedicated rolling feed.