Turkish GP: Hamilton concerned after "disaster" outing on "ice rink"
After Max Verstappen topped FP1 and FP2, Lewis Hamilton reflected on difficult conditions at the Turkish Grand Prix.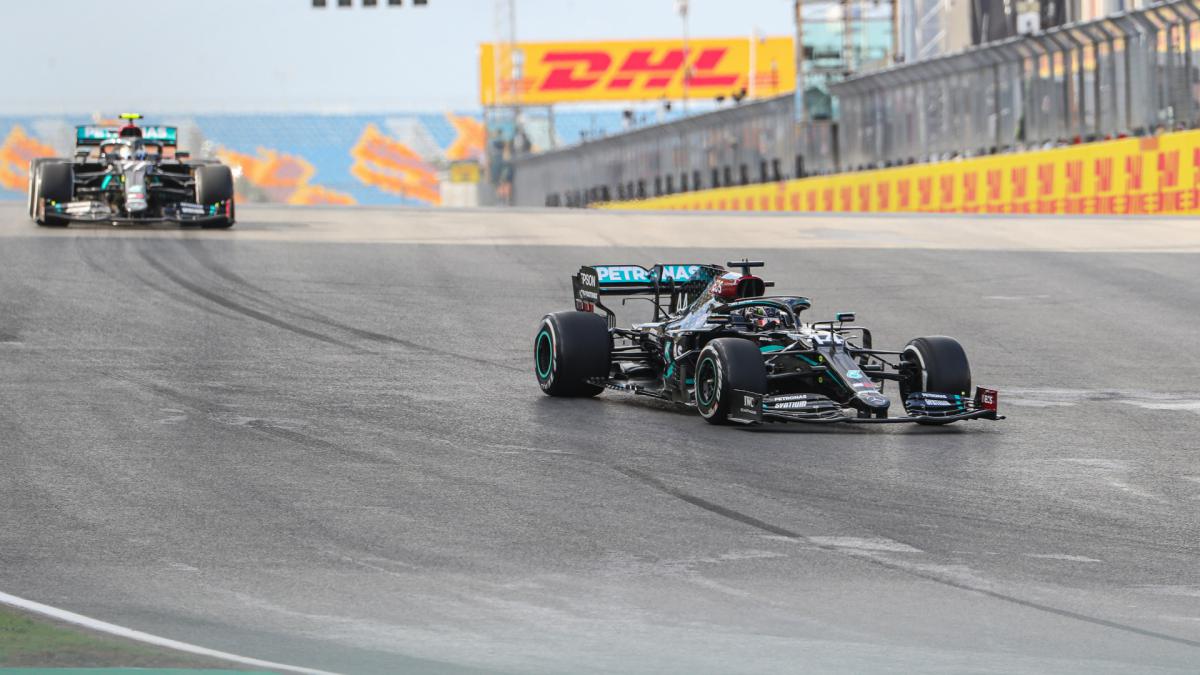 Lewis Hamilton labelled Friday practice at the Turkish Grand Prix as "a disaster" and like driving on an ice rink after Max Verstappen emerged from both sessions in first place amid testing conditions.
Cold temperatures and a recently resurfaced track combined to produce multiple spins in FP1 to begin the first grand prix weekend at Istanbul Park since 2011.
Verstappen goes fastest as Red Bull adapt the best
Verstappen topped the opening session ahead of team-mate Alex Albon as the Red Bull appeared to adapt best, with Charles Leclerc in third.
FP2 saw the track improve as drivers recorded significantly quicker times, with leading laps more than seven seconds faster, though once again it was Verstappen who came out on top.
The Dutchman was 0.401 seconds clear of the pack as Leclerc took an impressive second for Ferrari, with Valtteri Bottas, Hamilton and Albon rounding out the top five.
Hamilton: "It is terrifying the whole way around"
Hamilton was 0.850s slower than Verstappen and knows he has work to do ahead of a weekend where he has the chance to win a record-equalling seventh drivers' championship.
"It was a bit of a disaster, to be honest," said Hamilton.
"It's like an ice rink out there so you don't get quite the enjoyment of the lap you would normally get from Istanbul. I don't see that changing.
"The track is worse than Portimao was when we had the new surface there, so for us at least, the tyres aren't working, and you see it.
"It is terrifying the whole way around, it is almost like there are wet patches all over, so you are on your slicks and accelerating and then [like a snap] it goes so fast, and that is because you are way, way below the temperature window of these tyres.
"If the tyres aren't working, you don't know what the balance issues are. It's literally just tyres, but other people are starting to get them to work.
"Obviously the Red Bulls are doing really well with it and we've definitely got some work to do to figure out what we can change. We just have to try and do the best job we can."
Vertsappen expects Mercedes to "get it together" in qualifying
Mercedes have claimed pole at every race this season, though, and Verstappen expects them to bounce back in qualifying.
"For sure, Mercedes will get it together on Saturday," Verstappen said. "But overall for us it was quite a positive day, the car was working quite well, so pretty happy with that.
"Very positive [result]. It means the prep we did to get here was not bad, and also reacting to the conditions, we have done that well already in FP1, so I just hope that we can have a competitive qualifying.
"Even in FP2, it's still very low grip. We are still miles off [normal levels of grip], it's still like driving on ice."
Hamilton has won three straight races and leads team-mate Bottas by 85 points with four events left and a maximum of 104 points up for grabs, a figure which will be 78 after the race on Sunday.