QATAR
Aspire and Aspetar welcome Asian Olympic Committee
With eyes on the Asian Games Tournament in 2030, a group from the committee had a look around the medical and sporting facilities where the top athletes will perform.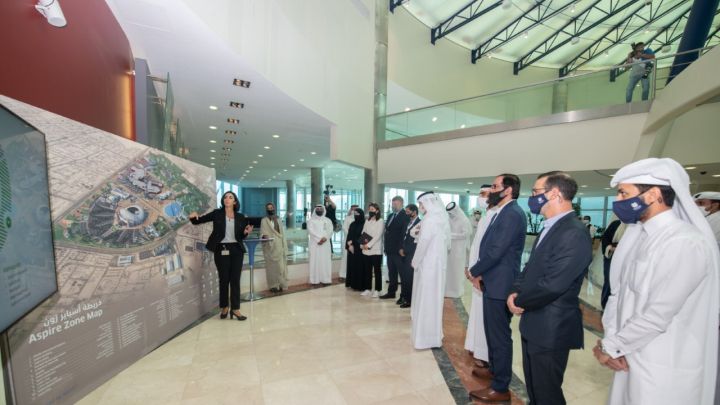 A group of experts from the Evaluation Committee associated with the Asian Olympic Council had a look around the medical and sporting facilities where star athletes have been hosted during major events in Qatar, with the promise of a wonderful Asian Games Tournament in 2030.
During their current visit to the city of Doha, the committee witnessed the facilities and infrastructure in the Qatari capital, as well as reviewing the Doha 2030 committee's plans to deliver a sustainable version of the Asian Games, one that will highlight the players.

In addition to this, along with the presidents of the confederations of Qatar gymnastics, table tennis and athletics, together with a group of young athletes, the committee visited Aspire before heading to Aspetar and other sporting facilities that form part of the State of Qatar's planning for the 2030 Asian Games.
Jassim bin Rashid Al-Buainain, Secretary General of the Qatar Olympic Committee, confirmed the importance of sustainability and the sense of assuredness. "Advances in sport need a lot of effort, now more than ever, therefore the Doha 2030 Games provides a level of certainty and, more than this, we can confidently confirm our strength to achieve the highest levels of sustainable excellence in line with the Asian Olympic Council and the local Olympic Committees on the continent. We can demonstrate this through the existing facilities proposed in our submission, which have been used for several international and continental events, giving us the knowledge and experience to provide all the necessary services as well as the highest levels of excellence for such tournaments."
Nada Mohamed Wafa, a swimmer who participated in the London 2012 and Rio 2016 Olympics, highlighted the special location that the athletes will enjoy in Doha during the 2030 competition, which, in addition to the world-class sports facilities, will be in Luasail, the largest sustainable city in Qatar, where the athletes will have the opportunity to enjoy "unprecedented" services.

"The 2030 Olympic Games in Doha are committed to providing everything athletes need to perform at their best and nurturing future generations," Wafa began. "And we can assure all athletes, participants, Olympic Council representatives, officials, media representatives and fans that they will have an unprecedented experience."

For his part, Qatar squash player, Abdullah Al Tamimi, added: "I joined Aspire in 2006 and there is no doubt that the academy has played a huge role in advancing and developing my professionalism. Therefore, thanks to the efforts being made at Aspire, I was able to develop myself until I was within the top 20 players in the world."