Mbappé, Neymar back in contention but Tuchel aiming to keep PSG fresh for Leipzig
Paris Saint-Germain have one eye on Tuesday's game against RB Leipzig before facing Monaco, head coach Thomas Tuchel admitted.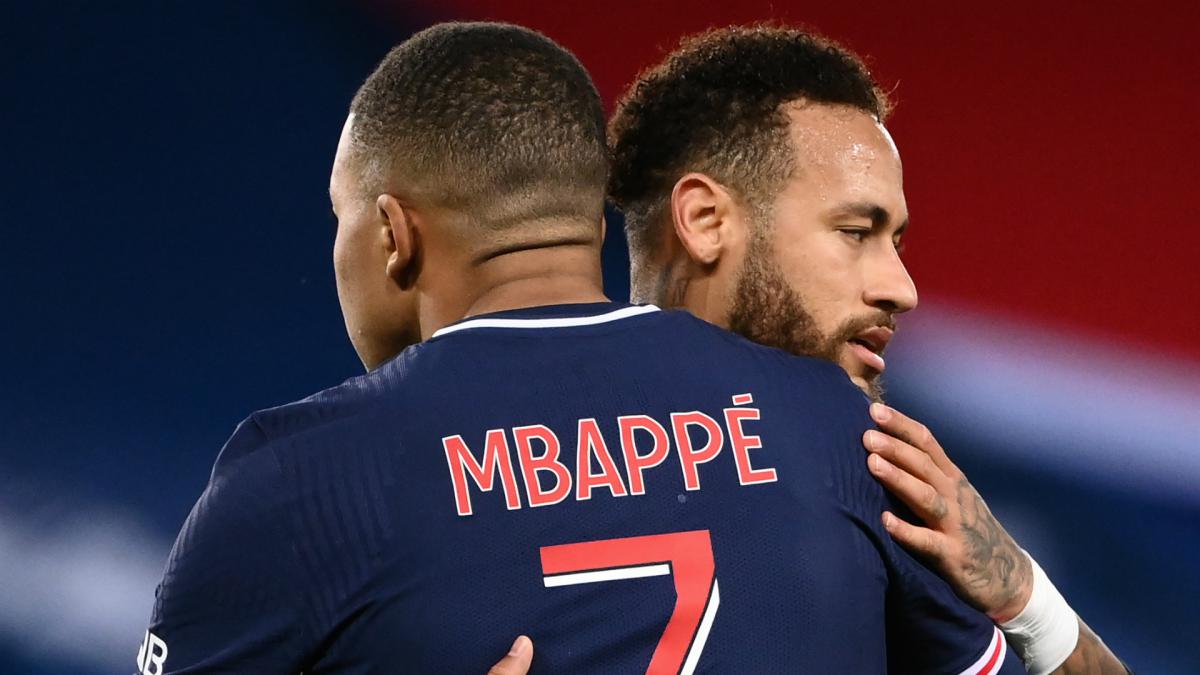 Kylian Mbappé and Neymar could return to the Paris Saint-Germain line-up against Monaco on Friday, but Thomas Tuchel acknowledges he must consider the midweek meeting with RB Leipzig.
Mbappé and Neymar have five and four Ligue 1 starts respectively this term, with Tuchel's options limited by injuries, suspensions and positive coronavirus tests.
PSG remain top regardless – with Mbappé their leading league marksman on seven goals – but their Champions League position is rather more perilous after defeats to Manchester United and Leipzig.
Therefore, even with Mbappé and Neymar back in training, the chances of the pair starting together in the league for just the third time this season appear remote.
Tuchel's men host Leipzig on Tuesday after visiting Monaco and the coach told reporters: "It is no secret that it is a very tricky time.
"We know we have a difficult game ahead of us against Monaco, because it is always tough to go there and they have plenty of quality. It is one of the most difficult games in France.
Fighting on all fronts
"But at the same time, we know that it is a tricky situation in our Champions League group, and we certainly want to win against Leipzig.
"We want to win [on Friday] while carefully managing the players and the playing time so that the team can be as fresh as possible on Tuesday. It is a really important game for us.
"We have to manage the two games. We have to do that together. I usually take it game by game, but at the moment, the situation in our Champions League group means we have to consider both games."
Mbappé's strong mindset

Discussing his star pair, Tuchel said: "Kylian has a very positive mindset. There was good communication between us and the France national team, so we know exactly what they did with him in training.
"So, that is all fine. He had a full training session with us [on Wednesday]. That was very good, so I'm very confident that he can play. We will have to decide how many minutes he will get, but he feels fit.
"With Neymar, it is a bit different because he didn't play for Brazil. He has been back for a few days.
"He started training [on Wednesday] but didn't do the full training session. He just took part in the first part, so we will step that up. We will do a bit more.
"I am confident that he might be able to play some minutes, but we will have to wait and see how he reacts in training."
PSG's South American trio

Marquinhos, Leandro Paredes and Angel Di Maria have all been in South America for 2022 World Cup qualifiers and Tuchel described relying heavily on the trio before the Leipzig game as "a big risk".
Meanwhile, Marco Verratti and Mauro Icardi will not be involved and the Italy midfielder has suffered "a small reaction" as the pair aim to return for Leipzig.
Amid the constant selection headaches, Tuchel was at least boosted last week by words of support from Leonardo.
"It is always good if the sporting director is on the coach's side," Tuchel said. "That goes for me as well, of course.
"We are always working together and there is never a problem. We know what we are doing and the way that we work together, so that is all fine."