Unemployment benefits: what is the plan after the CARES Act expires on 26th December?
Americans suffering financially due to covid-19 have benefitted from the $2.2 trillion package but the $600 weekly unemployment payments will end soon.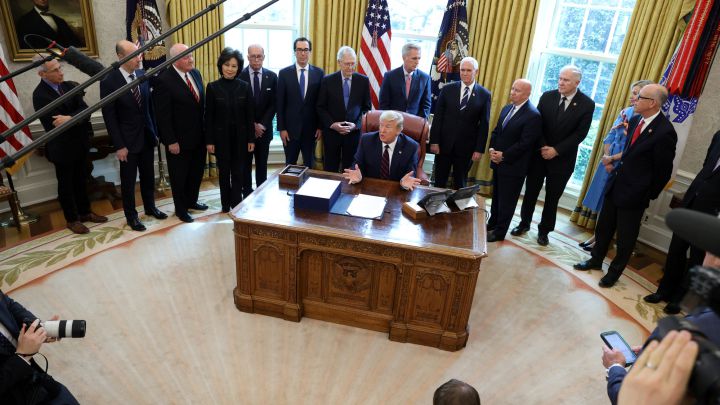 During the early stages of the coronavirus pandemic President Donald Trump passed a $2.2 trillion financial relief package, known as the CARES Act, to help ease the damage that would be done to the economy. But despite being the largest of its kind in American history the CARES Act only provides support for a limited amount of time and will come to an end on 26 December, Boxing Day.
With little over a month until the CARES Act's support runs out a new relief package still appears to be some way off, despite some more positive signs in recent days. If nothing can be arranged soon, it could be well into the New Year before Americans receive the next wave of financial support.
Millions to lose CARES Act unemployment benefits after Christmas
One of the key components of the CARES Act was the additional unemployment benefits it offered to those who had lost their jobs due to the pandemic. As well as the usual unemployment benefits an additional $600 payment was issued to those out of work to to help get by and to prevent the economy grinding to a halt.
Research from The Century Foundation found that around 12 million Americans will be hit when the unemployment benefits end on 26 December, leaving them in limbo until a new package is agreed. There are fears that, with some states tentatively re-imposing lockdown measures to combat spiralling case numbers, that figure could be even higher. A study carried out by the Economic Policy Institute from earlier this month found that over 25 million workers are being adversely affected by the pandemic. If conditions continue to worsen even more could soon be in need of financial support.
12 million people will lose pandemic unemployment benefits the day after Christmas, says a new @TCFdotorg report. PUA (which supports freelancers) and PEUC (extended benefits) expire that day.

The CARES Act itself expires Dec. 31, and Congress has yet to pass a new relief deal. pic.twitter.com/pEPLBtxRyB

— AJ+ (@ajplus) November 18, 2020
Can a new stimulus package be agreed before 26 December?
In the build up to the election negotiations over the second large-scale economic relief bill failed to find any real traction. The HEROES Bill passed by the Democrat-led House but stood no chance of passing the Senate, where the Republicans were drawing up their own "skinny" bill which offered just $500 billion in support. Things were at a stalemate when the looming presidential election and the rushed confirmation of Amy Coney Barrett took over the agenda.
Since then the focus has been the election but there are some suggestions that the two sides could be returning to the negotiating table. Senate Minority Leader Chuck Schumer told a press conference in New York earlier today that representatives for himself and Majority Leader Mitch McConnell would be meeting to discuss the prospective new support bill.
Staff for Pelosi, McConnell, Schumer and McCarthy are scheduled to meet today to discuss the omnibus spending package and coronavirus relief, according to a senior Democratic aide.

— Jennifer Shutt (@JenniferShutt) November 19, 2020
"They've agreed to sit down and the staffs are going to sit down today or tomorrow to try to begin to see if we can get a real good Covid relief bill," Schumer said. "So there's been a little bit of a breakthrough in that McConnell's folks are finally sitting down and talking to us."
What happens to unemployment benefits if no new deal can be agreed?
With the Republicans and the Democrats so far apart on their expectations of a new coronavirus support bill it would probably take some very careful coercing from the White House to get the two sides to agree. That would be tricky at the best of times but seems completely impossible at the moment with President Trump intent on focusing on a series of doomed legal battles to overturn the election result.
The U.S. Senate has adjourned for the holidays without passing a coronavirus stimulus package to provide necessary support to those American families most in need. Unfortunate. Careless. Unacceptable.

— Cooper Hefner (@cooperhefner) November 19, 2020
Trump's diary since the election shows he has essentially ceased to govern in the traditional sense, making the prospect of a new large-scale financial package during his presidency seem pretty remote. It may well be that it is not until Joe Biden takes office on the 20 January that there is any real hope of new CARES Act being passed.