Second stimulus check: US coronavirus relief bill update
What are the chances of passing a covid-19 stimulus bill either before President Donald Trump leaves office or after President-elect Joe Biden is sworn in?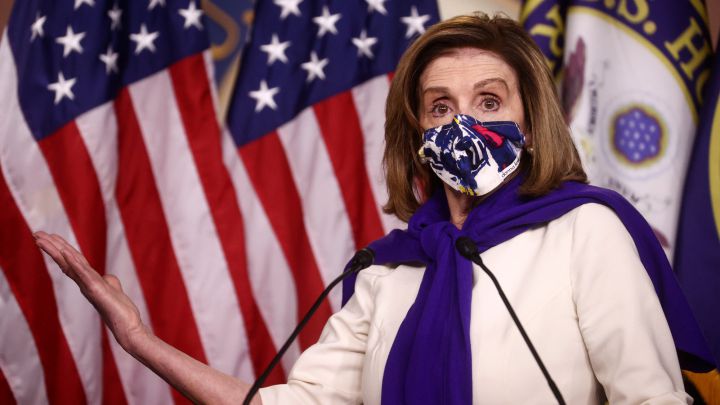 As President-elect Joe Biden prepares to take over at the White House from outgoing President Donald Trump - who continues to refuse to concede defeat in the US election - we take a look at the prospects of a major coronavirus stimulus package being pushed through both before and after Biden's January inauguration.
Stimulus talks between Republicans & Democrats still in deadlock
Talks over a bipartisan relief bill have been stalling since July, with Democratic congressional leaders unable to agree a plan with White House chiefs.
The two sides do appear to agree on measures such as a second stimulus check of up to $1,200 for qualifying Americans, following on from the direct payment sent out as part of the CARES Act, a $2.2tn stimulus bill signed into law in late March.
But House Speaker Nancy Pelosi (D-Calif.) and US Treasury Secretary Steve Mnuchin have not been able to find enough middle ground on the overall size and scope of a bill - albeit they have got closer.
While Pelosi has dropped the $3.4tn overall spend proposed in the Democrats' failed HEROES Act to $2.2tn, Mnuchin has raised the White House's offer from the $1tn in the HEALS Act - a bill proposed by GOP senators in July - to $1.9tn.
Democrats' major bill blocked in GOP-run Senate
However, reaching an agreement isn't the only problem: a bill also has to make it through a Senate whose Republican majority has shown a reluctance to countenance another big stimulus spend, having blocked both the HEROES Act and the HEROES Act 2, a $2.2tn package passed by the Democrat-held House in October.
In the past couple of months, moreover, Republican senators have twice unsuccessfully tried to pass 'skinny' relief bills worth just $500bn. Neither included a second stimulus check.
Can stimulus bill pass before Trump leaves office?
Senate Majority Leader Mitch McConnell (R-Ky) is now said to be taking the lead on stimulus negotiations on the Republican side, and has declared that a deal needs to be done "before the end of the year".
According to a Wall Street analyst quoted by CBS News, though, Americans should not expect a multi-trillion-dollar stimulus package between now and January, particularly in the wake of pharmaceutical giant Pfizer's announcement that its coronavirus vaccine has a 90% effectiveness rate.
The prospect of potentially imminent mass vaccinations is likely to further encourage Republicans to argue that major government aid is not needed and to seek a smaller spend, says Brian Gardner, chief Washington policy strategist at Stifel.
Speaking on Tuesday, McConnell bore out this analysis, indicating GOP senators' ongoing opposition to a significant outlay on stimulus. "We need to think about, if we're going to come up with a bipartisan package here, about what size is appropriate," he said.
"It seems to me that snag that hung us up for months is still there. I don't think the current situation demands a multi-trillion-dollar package. So I think it should be highly targeted, very similar to what I put on the floor both in October and September."
A 'targeted' bill "isn't anything that we should even be looking at" replied Pelosi, who remains adamant that Congress must pass a comprehensive package.
Matters are complicated further by the fact that a government funding bill also needs to be agreed on by mid-December, although it is also thought possible that coronavirus relief measures such as a stimulus check could be included in this.
Can stimulus bill pass after Biden becomes president?
Hopes were renewed on Monday 26 November when Biden expressly called upon Congress to "come together and pass a covid-relief package like the HEROES Act that the House passed six months ago" adding,"once we shut down the virus and deliver economic relief to workers and businesses, then we can build back better than ever before."
Right now, Congress should come together and pass a COVID relief package like the HEROES Act that the House passed six months ago. Once we shut down the virus and deliver economic relief to workers and businesses, then we can build back better than ever before.

— Joe Biden (@JoeBiden) November 16, 2020
The president-elect displayed concern at Americans facing a "very dark winter" in which "things are going to get much tougher before they get easier." Coronavirus infections continue to skyrocket all over the country while yesterday the US surpassed 250,000 deaths from covid-19. "The refusal of Democrats and Republicans to cooperate with one another is not due to some mysterious force beyond our control," Biden said in remarks in Delaware on the economy, as reported by CBS. "It's a conscious decision. It's a choice that we make."
Biden is a supporter of major economic relief and has put forward a plan that includes a second round of stimulus checks, but the prospects of a large package materialising after he takes office will also depend on the Senate.
Having maintained a majority in the House in last week's congressional elections - albeit they have been left with a slimmer one than before - Democrats can take control of both chambers of Congress if they win two run-off Senate votes in Georgia in the New Year.
On 5 January, Democrats Jon Ossoff and Raphael Warnock face Republicans David Perdue and Kelly Loeffler, respectively, in election re-runs after none of the contenders managed to win over 50% of the vote in last Tuesday's original ballots.
Were both Ossoff and Warnock to win their Senate races, Republicans' hitherto 53-47 majority in the upper house would be wiped out, leaving the two sides tied at 50 seats each. As the vice-president - which is to be Democrat Kamala Harris - is given a tie-breaking Senate vote in such a circumstance, the Dems would hold the advantage.
If Democrats can gain control of both legislative branches, they could then push through a larger package after Biden's inauguration. Indeed, according to Mark Zandi, the chief economist at Moody's Analytics, a Dem-held Congress could not only see a multi-trillion-dollar stimulus package go through early next year; it would also potentially bring another one in summer 2021, too.
A double win for the Democrats in Georgia remains a big if, however. Should January's run-off elections see them fail to take over the Senate, they will once more find themselves up against a Republican majority against spending big on stimulus.
US election: live updates as Trump refuses to concede
Amid Trump's refusal to concede defeat in the US presidential election, you can follow the latest developments in the wake of Biden's victory with our dedicated rolling feed.