Barcelona: Piqué injury update; Sergi Roberto out for two months
Bad news for Barça central defender Gerard Piqué. Tests conducted this morning detected a partial tear of the anterior cruciate ligament in his right knee.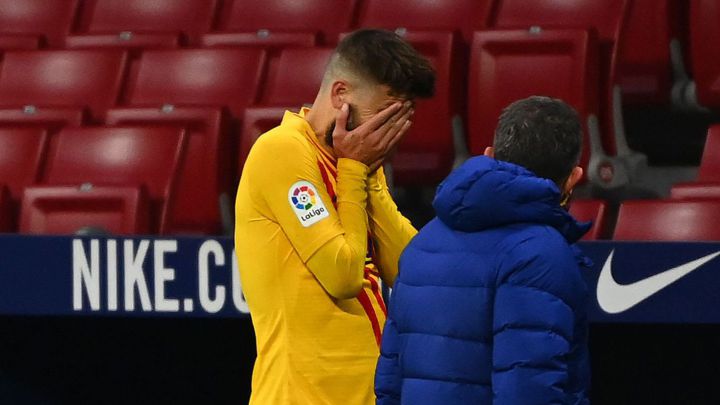 Gerard Piqué was the first to have doubts about the initial diagnosis of the knee injury he sustained in Saturday's meeting with Atlético - the first reports from Barcelona's medical services was that the defender had suffered a sprain. "I felt a crack," the player insisted, hardly able to walk on his right foot and in obvious pain. But Doctor Lluis Til announced that the ligaments inside Piqué's knee had not been affected and that the injury was a Grade III sprain. The recovery time was set at two months. On hearing that, Piqué went off to get some rest - at least he tried to as the pain was intense and his knee, unstable.
Piqué suffered damage to both ligaments
Sunday's tests proved Piqué was right all along. He had not only suffered a Grade II sprain to the lateral internal ligament but had also damaged the anterior cruciate ligament, which means he will face several months on the sidelines.
As of this morning, the club had not stated whether the player will require surgery. First, they must wait until the inflammation goes down. The medical report said that Piqué will remain out for the time being and the evolution of the injury will determine when he is fit to return. However, it is looking likely that he will face a minimum of three months on the sidelines and that is a conservative estimate if he manages to avoid a trip to the operating table.
Sergi Roberto, out for two months
As if losing Pique wasn't bad enough, Barcelona will also have to make do without Sergi Roberto, who will be out until the New Year. The player appeared to pull his right hamstring while shooting from outside the box in the final minute of the game. He quit the pitch, leaving the team on 10 men in stoppage time.
Sergi Roberto underwent tests tis morning which showed up a tear to the hamstring in his right leg which will keep him out of action for the next two months.