Olivier Giroud set to make decision over Chelsea future
Having started just once for Chelsea so far this season, France striker Olivier Giroud acknowledges he needs to be playing more regularly.
Olivier Giroud is worried about his lack of playing time at Chelsea and admits he will have to make a decision over his future in January if the situation does not change. 
Striker Giroud has yet to start a Premier League game for Frank Lampard's side this season, instead restricted to four substitute appearances in the competition. 
The France international was also on the periphery of the first team in the previous campaign, though did become more involved when the action resumed following the coronavirus-enforced break. 
However, the signing of Timo Werner – coupled with the continued presence of Tammy Abraham in the squad – has increased the competition at Chelsea, leaving the 34-year-old facing a dilemma.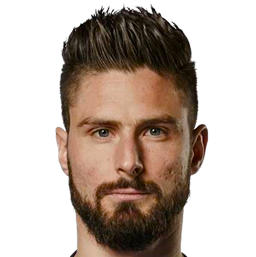 Giroud still believes he can contribute but, looking ahead to the delayed Euro 2020 tournament next year, has raised concerns over his lack of playing time. 
"Even if some people talk about my age, I still feel very good physically. I have a lot of desire and freshness, and what makes a career last is also the head," Giroud said in an interview with Telefoot. 
"We would like things to be a little easier, but we are built in adversity. And as my buddy [Laurent] Koscielny often says, 'I am the best when I am back against the wall'.
"It's worrying. I thought I still had a role to play at Chelsea, but my playing time is getting reduced a lot. It's going to have to change, or else make a decision.
"I am clear-headed about my situation - I will have to make a decision in January. I hope to make the right one, as I have always done" 
Giroud has played just 36 minutes in the league so far in the 2020-21 campaign, during which his only start came in the EFL Cup defeat away to Tottenham in September. 
He still remains a key component for the world champions under Didier Deschamps, scoring twice in last week's 4-2 victory over Sweden in the final round of Nations League fixtures. 
Deschamps discussed the former Arsenal frontman's future during the November international break, telling RTL: "Olivier Giroud knows it - the situation he's in today cannot drag on forever. Before March he will have to find another situation than this one."
David Beckham's Inter Miami have been linked with a move for Giroud, while Inter were rumoured to be interested in bringing him to Serie A back in January.