Second stimulus check: could it arrive before 2021?
Time is running out to pass a new bill through Congress this year that will provide sweeping support to individuals struggling to make ends meet.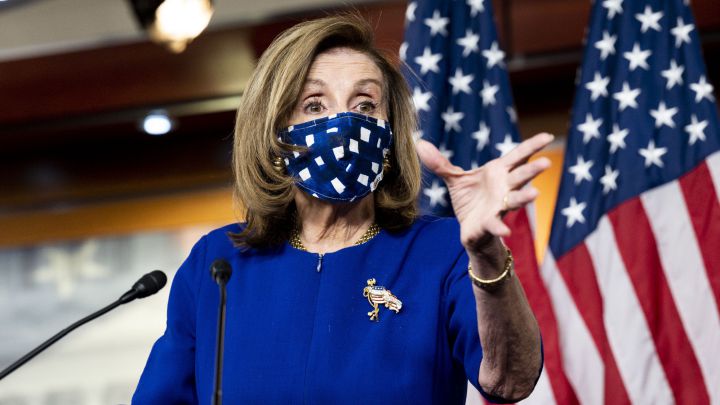 President-elect Joe Biden says a bipartisan coronavirus relief package needs to be pushed through immediately, and that it should be in the mould of the HEROES Act, a $3.4tn aid proposal passed by Democrats in the House in May, but subsequently blocked by the Republican-controlled Senate.
"Right now, Congress should come together and pass a COVID relief package like the HEROES Act that the House passed six months ago," Biden tweeted last Monday. "Once we shut down the virus and deliver economic relief to workers and businesses, then we can build back better than ever before."
Right now, Congress should come together and pass a COVID relief package like the HEROES Act that the House passed six months ago. Once we shut down the virus and deliver economic relief to workers and businesses, then we can build back better than ever before.

— Joe Biden (@JoeBiden) November 16, 2020
But right now, negotiations are halted while Congress is adjourned for Thanksgiving and Biden's administration focuses full steam ahead on his transition to power in January 2021, following extraordinary delays.
How badly does the US economy need stimulus?
A new report from the Economic Policy Institute recommends that "Congress provide debt-financed fiscal support of $2 trillion between now and the middle of 2022, and then continue support on the order of $400 billion annually between then and the end of 2024, with a slow phaseout of this aid thereafter."
With millions of Americans unemployed directly owing to the coronavirus pandemic and the last trickles of enhanced unemployment benefits due to dry up come 26 December, Josh Bivens explains that this plan needs to "first stop the economic bleeding and then repair the aspects that have been "rotted away" in order to rebuild a resilient economy."
Curious how much stimulus we really need? Read this excellent piece by @joshbivens_DC.

TL;DR: We need $2 trillion between now and the middle of '22, then continued support of $400 billion annually until the end of '24, then a slow phaseout after that. https://t.co/4ePnhaQcT3

— Heidi Shierholz (@hshierholz) November 24, 2020
What's the hold up with the stimulus bill talks?
Negotiations between the Democrats and the Republicans over a fifth piece of covid-19 relief legislation have been at an impasse for several months. Although Democratic negotiator Nancy Pelosi and US Treasury Secretary Steve Mnuchin seem to have been in agreement on the need for another round of stimulus checks of up to $1,200, they have struggled to come together on many other aspects of an aid package, most notably its overall size and scope.
While Pelosi (D-Calif.) dropped the spend proposed in the HEROES Act to $2.2tn, Mnuchin raised the White House's offer from the $1tn in the HEALS Act, a bill proposed by Republican senators in July, only as far as $1.9tn.
After meeting with Kamala Harris, House Speaker Pelosi and Senate Minority Leader Chuck Schumer (D-NY), Biden doubled down on his urgent call for major stimulus on Friday. "President-elect Biden, Vice President-elect Harris, Speaker Pelosi, and Leader Schumer discussed the surges in covid-19 infection rates and the corresponding economic strain that communities, working families, and small businesses are experiencing across the country," the quartet said in a joint statement.
"They agreed that Congress needed to pass a bipartisan emergency aid package in the lame duck session, and that package should include resources to fight the covid-19 pandemic, relief for working families and small businesses, support for state and local governments trying to keep frontline workers on the payroll, expanded Unemployment Insurance, and affordable health care for millions of families."
However, recent remarks made by significant players on the Republican side of the process don't offer great cause for optimism over the prospects of a swift deal on a major bill.
Senate Majority Leader Mitch McConnell, who now looks to be taking the stimulus lead on the Republican side, has claimed he wants to pass a bill this year as well. But he only appears interested in a "skinny" smaller and more targeted bill, where the government doesn't spend as much money.
"I don't think the current situation demands a multi-trillion-dollar package," McConnell said two weeks ago. "So I think it should be highly targeted, very similar to what I put on the floor both in October and September." Those bills constituted two $500bn packages, neither of which included a stimulus check to individuals.
Vaccine news: Wall Street not hopeful for stimulus package in 2020
All in all, then, the prospects of a second stimulus check being approved as part of a bipartisan relief bill before the end of December don't look too rosy, not least given the fact that both houses of Congress are now on a week-long recess for Thanksgiving and will adjourn again for the last 10 days of 2020.
Wall Street analysts quoted by CBS agree that Americans should not expect a stimulus bill before 2021, with Deutsche Bank saying it views a "fiscal package legislated by [the first quarter of 2021] as reasonable".
The GOP reluctance to pass stimulus has also been heightened by the news that US firms Pfizer and Moderna have achieved an efficacy rate of over 90% in trials on their candidate drugs.
The first vaccinations could take place as early as the second week of December, Moncef Slaoui, a leader in the government's drive to produce a vaccine, told CNN's State of the Union last weekend.
Could there be a stimulus check without stimulus bill?
One outside chance of hope for a pay out this year lies in the possibility that some coronavirus economic-relief measures could be included in a general federal funding bill that needs to pass Congress by 11 December to avoid a government shutdown.
What's the timeline to deliver a stimulus check after it gets approved?
The good news is that if a bill does get passed and that bill has stimulus checks in it, the systems are already in place with the IRS that make the whole process run a lot quicker the second time round.
Back in August, Treasury Secretary Steven Mnuchin said it would take about a week to process the first payments. "I can get out 50 million payments really quickly. A lot of it into people's direct accounts," he promised. Of course, this doesn't mean you'll definitely get yours a week after pen goes to paper in Congress, but there are some methods of payments that are slower than others; the fastest being direct deposit, then paper checks, then the slowest is "EIP", Economic Impact Payment, cards.
Important to note, even in the earliest case scenario, the first checks likely won't start arriving until the second week of January.
The earliest possible scenario looks like this; if the president signs the bill into law on 13 December, the first direct deposits would be issues the week of 28 December. The first paper checks would be sent out the week of 11 January, and finally EIP cards the week of 8 February.
The next possible date for the president to sign a bill following mid-December would be 3 February. The direct deposits would come the week of 8 February, paper checks on 16 February and then the EIP cards trailing on 15 March.
Following those two scenarios, according to analysis done by Cnet, the next dates start in March and then April respectively, with checks trickling in right through April and May.
It's important to note that the IRS doesn't have capacity to send all checks at the same time, they've so far sent 160 million of them from the first stimulus bill and some people are still waiting.
The IRS has said it can deliver five million to seven million paper stimulus checks a week, and that they will prioritise those most in need, so they'll start with people whose adjusted gross income, or AGI is less than $20,000.
And here's a handy stimulus calculator devised by Cnet that can help you figure out how much you could get.