Second stimulus check: how long since the first financial package was passed?
The CARES Act provided $1,200 Economic Impact Payments for 160 million Americans but Congress and the White House have been unable to agree on another bill.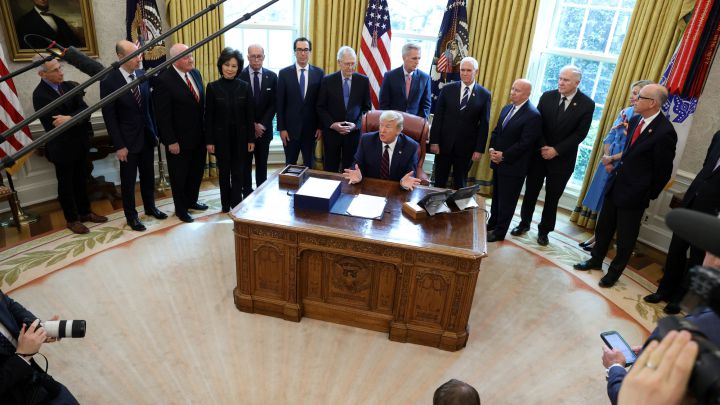 The last few weeks have been a turbulent and chaotic time in the Capitol after the election provoked widespread debate on the future of the presidency. But while President Trump clings to power there are more pressing matters for the American people, ones that have been brushed aside for months.
Not since the CARES Act was signed into law on 27 March 2020 has the US government passed a major economic relief package to help deal with the financial fallout from the pandemic. The $2.2 trillion package included $435 billion worth of tax rebates that provided $1,200 stimulus checks for over 160 million Americans. But, eight months after the CARES Act was signed, we are yet to see another round of stimulus checks agreed.
Everyone agreed to this in the spring. The day Congress passed the CARES Act, on March 27, there were 17,300 new Covid cases. Yesterday, there were more than 159,000. https://t.co/YM1qBb2ijt

— Kate Davidson (@KateDavidson) November 19, 2020
When could a new wave of stimulus checks be agreed?
Despite the partisan nature of Congress, there is certainly a desire for a new economic relief bill to be passed as soon as possible. President-elect Joe Biden tweeted recently to give his support for the HEROES Act, which was proposed by the House of Representatives back in May. Speaker of the House Nancy Pelosi has been the most vocal proponent of that package, which includes funding for another round of Economic Impact Payments (stimulus checks).
Pelosi's opposite number, Senate Majority Leader Mitch McConnell, is also keen for a new bill to be agreed and stressed that it should be in place before the New Year. Earlier this month McConnell told reporters in his home state of Kentucky:
"Hopefully the partisan passions that prevented us from doing another rescue package will subside with the election and I think we need to do it and I think we need to do it before the end of the year."
However in response to the HEROES Act, McConnell has tabled a $500 billion "skinny" bill and is deeply resistant to anything that commits more federal resources. Crucially, his proposition does not include another round of stimulus checks, something that Pelosi and House Democrats are desperate to provide.
When could the next round of stimulus checks arrive?
Americans will hope that an agreement can be found in the coming weeks but if not, it may take some political changes to break the deadlock. The 5 January Georgia Senate runoff election will decide which party controls the Upper House, and could give the Democrats the ability to force through the HEROES Act complete with stimulus checks.
"It is unconscionable to cut off money to the hardest hit." @Claudia_Sahm was one of 125 economists who signed our letter urging Congress to act to get stimulus checks in people's hands before the holidays. pic.twitter.com/IATfafQY7R

— Economic Security Project (@EconomicSecProj) November 23, 2020
If not, the inauguration of Joe Biden on 20 January could be the decisive moment. Biden's relationship with McConnell goes back decades and they have worked together on many bipartisan issues before in the Senate. McConnell is an extremely tough negotiator, but Biden's consensus-based approach and skills of diplomacy could make the difference.
It should be said that the signing of the bill will not immediately lead to dollars in the bank. There are logistical limits on the speed with which such a large amount of money can be distributed. Previously, Treasury Secretary Steven Mnuchin said that the first batch of payments would take about a week to process: "I can get out 50 million payments really quickly. A lot of it into people's direct accounts."