Casillas: "Zidane has earned the right to lead Real Madrid"
Upon receiving his AS award, ex-Real Madrid goalkeeper Iker Casillas admitted that he would love to return to the club in the future. "It is my home."
Vicente Jiménez, director of AS, was in charge with presenting Iker Casillas with his award to celebrate a hugely successful career. The 36-second video to summarise a sports career of more than 20 years full of success, titles and wonderful moments captured everyone's attention. With images such as Robben's decisive stop at the World Cup in South Africa, the European Cups with Madrid, the European Championships with Spain or that moment when, as captain of Spain, he lifted the World Cup in South Africa. Moments that we will never forget and that place him high on the list of the best goalkeepers of all-time.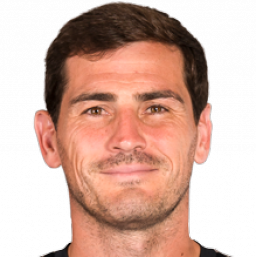 The legendary goalkeeper spoke to AS on the latest situation at Real Madrid. In particular, the current situation regarding Zinedine Zidane's future with Los Blancos. "Madrid now depend on themselves in the Champions League and the league is still quite even... it is a different year," Iker said. "Zizou is a magnificent coach, a good friend and will do everything possible to have Madrid in the best position possible. You cannot live in the past, but he has earned the right to lead Madrid." He also spoke about former teammate Sergio Ramos, and his pending contract contract renewal. "Sergio is a Real Madrid legend and the club must keep the best." Regarding his own future, Iker is prudent but the excitement flows in his voice. "Back to Madrid? We have returned to Madrid, I will relocate and see in time ... but Real Madrid is my home, if it happens it will be nice to come back."
Iker, dressed in a black suit, with a dark tie, arrived at the Teatro Real accompanied by Carlo Cutropía, his agent. He remains an idol among young and old, as was demonstrated upon his arrival at the venue when, despite health restrictions, people came to take a selfie with him. Talkative and affable, as he has always been, greeting everyone he met. He also had some kind words for his compatriot Rafael Nadal, with whom he has a good friendship. "Rafa is exemplary, we all admire him, wherever he goes he carries the names of Real Madrid and Spain."
Iker wrapped up his speech with words of thanks. Visibly moved, the man from Móstoles, Madrid, addressed the crowd. "It is an award for a career over many years, and I have to thank many people that I have had with me along the journey, not forgetting my coaches, all my teammates, the sacrifice of my parents and the clubs I have had, Real Madrid, which is my home and which gave me another opportunity to discover another way of life, and Porto. And to the Spain national team, the emotion that we have given to this country. There have been many experiences. I would like the next awards ceremony to be different, where there will be a vaccine and we will all be fine. Thanks to the newspaper AS for this award that fills me with such pride and joy, thank you very much."
Casillas announced his retirement from professional football on August 4, 2020 through a statement on his social media accounts. He has a track record matched by very few. In addition to the 2010 World Cup, he has two European Championships with Spain (2008 and 2012) and also a U-20 World Cup and a U-16 European Championship at underage level. With Real Madrid he won three Champions Leagues, 5 leagues, 2 cups, 2 intercontinentals, 1 Club World Cup, 2 European Super Cups and 4 in Spain. He signed for Porto in 2015 and won 2 Portuguese league titles, 1 Super Cup and 1 cup. On May 1, 2019, he suffered a heart attack, which led to him announcing his retirement after a hugely successful career.
New Casillas documentary
"Spread your wings" is the new documentary, based on Casillas' career and is available to watch on Movistar. The first two episodes have aired and there are still four left to be released. The last will be aired on Christmas Day. "When I watch it I get emotional, those images that have been captured, people are going to like it," Casillas said.
One of the most striking moments in the series is the heart attack he suffered on May 1, 2019. "Being able to show people that after having a mishap like this you can move forward. There is also uncertainty, but then there are those of us who like to compete throughout our lives and overcome challenges. We are that way."