Who is Xavier Becerra, Biden's pick for Health and Human Services?
Joe Biden makes a surprise pick for the nation's next top health official. Xavier Becerra will be central to how the administration handles the pandemic.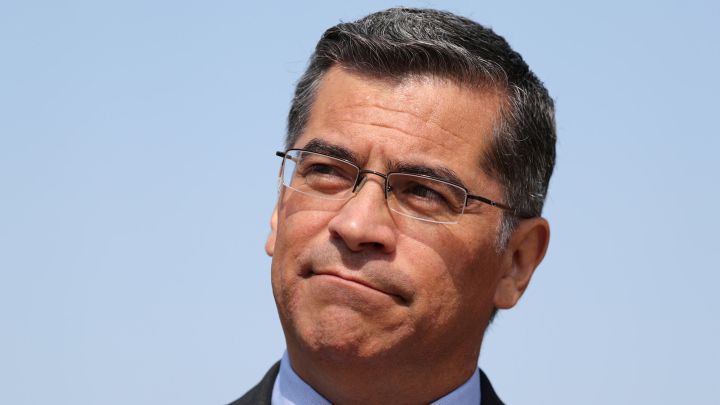 President-elect Joe Biden has tapped California Attorney General Xavier Becerra to head the Department of Health and Human Services, if confirmed to the cabinet position, he will be the first Latino to run the department. As Secretary of HHS he will be fundamental in the administration's efforts to bring the surging covid-19 pandemic under control and the rollout of the vaccination program.
The massive department comes with a $1.3 trillion budget and 80,000 employees spread across eight agencies including the CDC where Biden has named Dr. Rochelle Walensky, first reported by Politico. Biden has also created new senior White House positions intended to signal a more aggressive response to the coronavirus pandemic.
Who is Xavier Becerra?
Becerra, who is 62, became Attorney General in California in 2017 filling the position vacated by Vice President-elect Kamala Harris when she won her Senate race. He became the first Latino to hold that office. Prior to running the largest justice department in the US, he served 12 terms in Congress representing Los Angeles. In Congress he was the first Latino to serve on the Ways and Means Committee.
In Congress, I helped pass the Affordable Care Act. As California's Attorney General, I defended it. As Secretary of Health and Human Services, I will build on our progress and ensure every American has access to quality, affordable health care—through this pandemic and beyond.

— Xavier Becerra (@XavierBecerra) December 7, 2020
Why did Biden pick Xavier Becerra for Secretary of Health and Human Services?
Becerra being picked was a surprise given that he was not originally mentioned as a top contender for the position but had become the main candidate in recent days according to the New York Times who first reported his nomination. Some medical experts wanted the incoming administration to choose a person with medical or public health expertise.
What Becerra does bring to the job is his experience with a number of issues that will be central to the new administration. During his time in Congress he served as a member of the Ways and Means Committee, where he worked on health care as a senior member of the health subcommittee. He also led the House Democratic Caucus giving him a strong position of leadership.
As Attorney General in California he was part of the campaign to defend the Affordable Care Act from being dismantled by his Republican counterparts. He led a group of 20 states and the District of Columbia in the legal battle to uphold the Obama era legislation in the courts. He is an outspoken advocate of improved health care access and supports Medicare for all something that Biden is against. According to the New York Times Becerra would not push for that idea instead focus on Biden's push to preserving and strengthening the Affordable Care Act.
President-elect Biden and Vice President-elect Harris are confronting a pandemic, an economic crisis, widespread racial injustice, and climate change. The team being assembled will meet these challenges on day one.https://t.co/umtZMG8BbH

— Biden-Harris Presidential Transition (@Transition46) December 7, 2020
Biden's other picks for public health positions
On Tuesday Biden is expected to announce his other picks to run his administration's response to the covid-19 pandemic at a critical moment as new infections are surging and the death toll rising. The coronavirus has caused over 280,000 fatalities so far and infected 14 million. Also they will have to coordinate the rollout of the vaccination program with FDA emergency use approval expected soon for the first vaccine in the process. These people include:
Dr. Rochelle Walensky will be chosen to lead the Centers for Disease Control and Prevention as reported by Politico. She will replace Dr. Robert Redfield as the leader of the scientific agency at the vanguard of the nation's pandemic response.
Dr. Vivek Murthy, will serve as Surgeon General a position he held under President Barack Obama. He will head up the bulk of the public outreach on the pandemic and be one of Biden's closest advisors. Some had expected him to get the Secretary job at HHS.
Dr. Anthony Fauci will stay on as the director of the National Institute of Allergy and Infectious Diseases but he will also pick up a new position as chief medical adviser according to NBC News.
Jeffrey D. Zients will become a coronavirus czar in the White House. He fixed the botched rollout of the health law's online insurance marketplace.
Dr. Marcella Nunez-Smith will serve as chair of the covid-19 Equity Task Force, a newly created panel and position within the White House according to NBC News. She will advise Biden on efforts to reduce disparities in response, care and treatment in the response to covid-19.
Natalie Quillian will serve as Deputy National Coordinator of the covid-19 response according to NBC News.