Canelo Álvarez - Callum Smith: arena, how to buy tickets and prices to see the fight
Álvarez is ranked as one of the finest pound-for-pound boxers of his generation but WBA and The Ring super-middleweight title-holder Smith is looking to become only the second fighter to defeat the Mexican.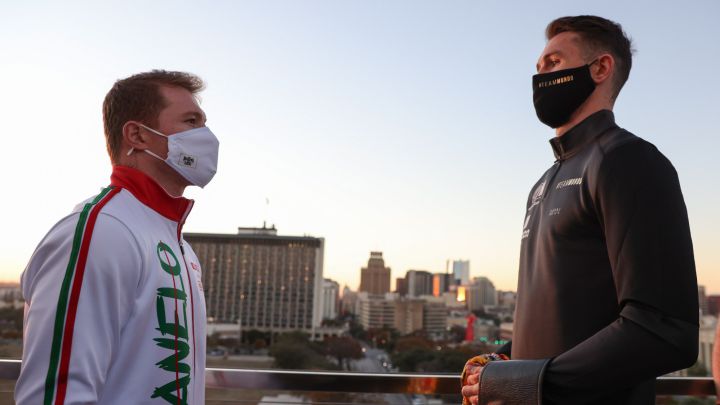 Two of the most successful middleweights of a generation face off in Texas on Saturday 19 December as Saul "Canelo" Álvarez takes on fellow super middleweight Callum Smith for the WBA title. Neither has fought competitively this year due to the pandemic disruption and both have a huge amount at stake.
Canelo Álvarez vs Callum Smith updates: live online Super Middleweight fight
Álvarez last fought in November 2019 when he defeated Sergey Kovalev to clinch the WBO light heavyweight title, his fourth world title. He comes into the fight as favourite, despite being considerably shorter than Liverpool-based Smith, and has suffered just one defeat in his 56-fight professional career.
However the less experienced Smith possesses a stellar record of his own winning all 29 of his professional fights to date. Both fighters are 30 years old but 6ft 3in Smith possesses an eight-inch reach advantage over the 5ft 8in Mexican. Smith is the current holder of the WBA super middleweight belt and will be desperate to become just the second man, after Floyd Mayweather, to defeat Álvarez.
Álvarez – Smith: Arena
Saturday's title fight will be held at the Alamodome in San Antonio, Texas. The 70,000 capacity multi-purpose venue was opened in 1993 and has played host to the WBC welterweight title fight between Julio César Chávez Sr and Pernell Whitaker. In 2013, Canelo Álvarez defeated Austin Trout at the Alamodome with a seventh round knock-down to retain his WBC light middleweight title. He also boasts a four-from-four record when fighting in the state of Texas, which includes a victory over Smith's older brother Liam in 2016.
Saturday's spectacle will be unlike fights of the past with the capacity reduced to ensure that covid-19 precautions can be observed. Despite the limited numbers Smith will expect to face a San Antonio crowd that heavily favours Álvarez and will make themselves heard in the Alamodome. Álvarez has secured a number of close scorecard victories in the past and Smith may need a knock-out if he is to win the fight.
A member of Liverpool's famous Smith family, and perhaps the best of the bunch 👊

𝗖𝗔𝗟𝗟𝗨𝗠 𝗦𝗠𝗜𝗧𝗛 is the Ring Magazine and WBA Super Middleweight Champion, with a superb 27-0 record 👏

He's just days away from his biggest challenge however, the mighty Canelo Alvarez 👀 pic.twitter.com/ZjEXP5jwjr

— Sky Bet (@SkyBet) December 9, 2020
Álvarez – Smith: How to get tickets
Given the limited number of tickets going on sale it is no surprise that the fight is expected to be a sell-out. The cheapest tickets began at just $75 but these soon sold out, with the remaining available tickets costing up to $1,000 for floor-level seats.
With a boxing public starved of elite action this year Álvarez's return to the ring was always going to draw a huge crowd and in 2018 he signed the biggest contract in sporting history. The $365 million deal was supposed to see streaming service DAZN cover 11 of the Mexican's fights, but he reached an agreement to terminate the contract after just three contests.
Álvarez – Smith: How to watch at home
Álvarez's long-term deal with DAZN came to an abrupt end last month as the boxer's team sued the streaming service over a disagreement over his earnings for individual fights. Álvarez believed he was entitled to a $35 million purse, a proposition that saw DAZN refuse to approve potential fights because it would cost them too much. However that matter has been put aside to allow DAZN to work together with cable networks to facilitate the much-anticipated Álvarez – Smith fight this Saturday.
DAZN had been critical of the traditional pay-per-view model of boxing broadcasting but they have announced that they will be offering the fight between Álvarez and Smith for a one-off fee, with some conditions. Excluding Mexico, where the fight will be broadcast on TV Azteca, Saturday's championship fight will be shown on the DAZN streaming platform or through DAZN-affiliated cable providers.
In the US, a DAZN subscription is available with $19.99-per-month or $99-per-year packages. In Canada the price is $20 CAD a month or $150 CAD a year. If you currently have either Comcast, Charter or Cox as your cable provider the fight is also available to purchase for a pay-per-view price of $69.99 which can be viewed on your cable box. However, for this sizeable price you will also receive a four-month DAZN subscription included.
Viewers from further afield will have to sign up for DAZN's streaming platform to watch the fight but there are some great deals for overseas fans. The service has only recently been rolled out in the UK, Australia and New Zealand so a monthly subscription is available at astonishingly low prices.
In the United Kingdom, boxing fans can subscribe to DAZN for just £1.99 a month. In Australia and New Zealand the price is a mere $2.99 a month. In both territories there is no minimum contract length so you are free to cancel after the initial month.