Carlos Vela leads LAFC to the Concacaf Champions League Final
The former Major League Soccer MVP scored a brace against Club América to give Los Angeles FC their most important win in the clubs history.
The Los Angeles FC defeated Club América 3-1 in the semifinals of the 2020 Concacaf Champions League on Saturday night. The Liga MX side opened up the scoreboard in the 11 minute with a header inside the box from Sebastián Cáceres. Just before the first half ended, Eduard Atuesta was given a red card for an apparent aggression on Guillermo Ochoa.
No VAR in this tournament
The referee didn't see the aggression on Ochoa; rather it was his assistant who saw the incident and after a lengthy discussion Eduard Atuesta was sent off. There is no VAR in this edition of the Concachampions and the television replays didn't show clearly whether Atuesta had hit Ochoa or not.
LAFC therefore started the second half down to 10 men and at the start of the second period, Carlos Vela stole the ball after a bad pass from Cáceres and the former MVP went inside the box and shot with his left foot to beat Ochoa after a deflection by a defender.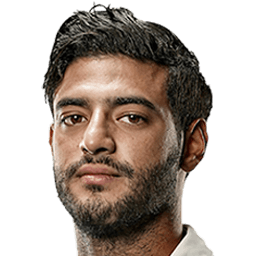 One minute later, Carlos Vela received a long ball from Eddie Segura and the No 10 controlled it as he was entering the area and fired a veritable cannon with his left foot to beat Ochoa for the second time in the game. América started to feel the pressure and they were unable to claw their way back into the game during the second half.
In the 78 minute, Luis Reyes was sent off after committing a hard tackle on Diego Rossi and they had no other option to go full-attack in the last couple of minutes. Towards the end of the game LAFC had a counter attack and Vela gave a through ball to Rossi who entered the area and shot, but Ochoa was able to block it.
The ball though fell to Latif Blessing and he scored the final goal of the game to seal LAFC's victory. The MLS side will now face Tigres UANL in the final on Tuesday 22 December at the Exploria stadium in Orlando, Florida.
LAFC is having an outstanding run as they beat three Liga MX giants in this tournament, Club León (who won the 2020 Guardianes tournament last week), Cruz Azul (6 Concacachampions titles) and Club América (7 Concachampions titles). Los Angeles FC will try to be the first MLS team to win the Concachampions since LA Galaxy won it in 2000 to end the dominance of the Mexican teams in the tournament.