Second stimulus check deal: when should you expect payment?
Congress has agreed a new covid-19 relief package which provides $600 to each eligible American. But with over a hundred million payments to be made, how long until you get yours?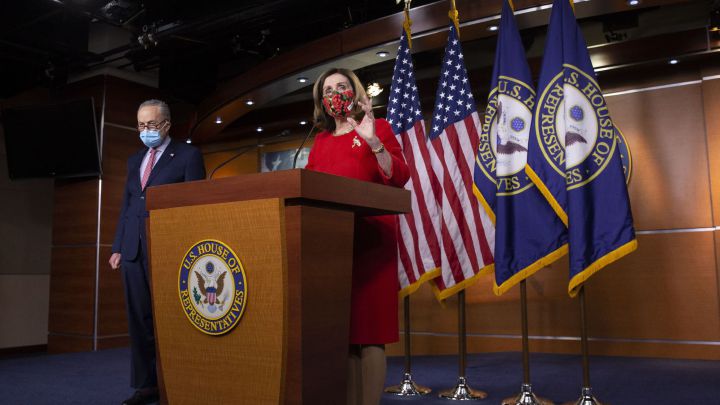 On Sunday it was confirmed that Republicans and Democrats have come to an agreement on another round of coronavirus economic relief. Negotiations in Congress continued over the weekend as lawmakers' Christmas break was postponed until they had passed this package and a federal financing bill.
Included in the $900 billion pandemic support package is another round of stimulus checks that will provide direct payments to Americans. This news will come as great relief for tens of millions across the country but the checks will only provide $600 per person, rather than the $1,200 provided by the CARES Act.
Lawmakers were desperate to get this bill passed before Christmas but even once President Trump has signed it there is still a vast administrative process to be undertaken before that money is in the hands of Americans.
When will the stimulus check payments be distributed?
After the CARES Act was signed on 27 March it took around two weeks before the first wave of payments was sent out to Americans. In fact it was not until mid-July that the majority of eligible individuals had received their payments, a wait of around three-and-a-half months.
Howard Gleckman, a senior fellow at the Urban-Brookings Tax Policy Center, told CNN that this second round of payments will also suffer a delay in distribution: "The timing could be more challenging this time, but the IRS could likely begin to get the money out in January."
Exact details about the eligibility requirements for this support has not yet been confirmed but, assuming that it remains similar, there should be fewer people waiting months for their money as their details should already be on file. During the first round of payments it was IRS non-filers (those who do not usually pay tax and so are not known to the IRS) who were waiting the longest.
One thing working against the IRS this time is the timing, with December usually reserved for preparations for the upcoming tax filing season in the New Year. However Chad Hooper, executive director of the Professional Managers Association, believes that stimulus payments may well be prioritised to minimise that delay: "I believe the IRS will deliver the stimulus checks in a timely manner. It just might be at the expense of the filing season start date."
Who will receive stimulus checks first?
Over 160 million Americans received stimulus checks during the first round and with so many payments to be made the process will need to be staggered. Previous stimulus checks were sent in batches to five different groups and they will probably follow a similar order this time around. Those groups, in order of stimulus check receipt, are:
Direct deposit recipients – Anyone whose details are already on file with the IRS should be the first to receive a stimulus check. Those receiving through electronic transfer may have their money within a couple of weeks of the bill being signed because it utilises the fastest system.
Social Security beneficiaries - During the first round of stimulus checks Americans who also receive Social Security payments were the second group to get theirs. The federal government already has the relevant details on file and payments were usually received after two-to-three weeks.
Paper check recipients - After the initial waves of payments have been sent the IRS will move on to the paper checks. During the first round of stimulus checks this was reserved for those who were eligible for the support but whose direct deposit details were not on file.
EIP card recipients - The IRS also distributes the money via Economic Impact Payments debit cards, which were given to around 4 million Americans. These are prepaid Visa cards that were first distributed in mid-May, around a month and a half after the bill was signed. However these cards could be reused so there should be a shorter wait for the second round of stimulus check payments.
Recipients with more complex situations - Despite attempts to keep the distribution as standardised as possible, with hundreds of millions of payments to be made there were unavoidable complications. This group may have received their payments in late-2020 after issues with registering for the service or administrative errors. This group should be far smaller than last time but it is likely that an unlucky few will have to wait for their payments.