Osasuna 0-0 Real Madrid: result, as it happened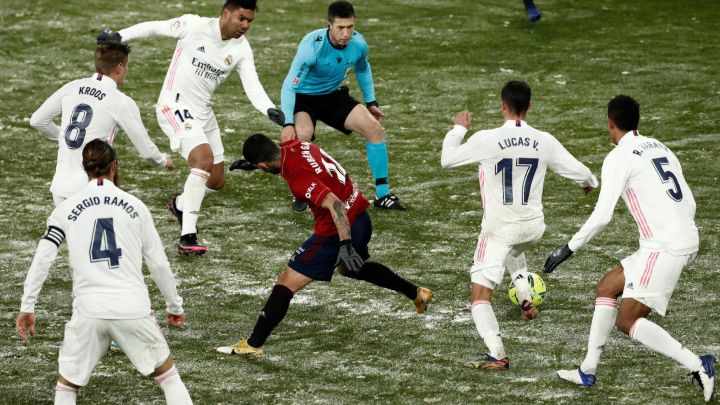 Osasuna 0-0 Real Madrid: LaLiga as it happened
AS journalist Marco Ruiz's Real Madrid player ratings: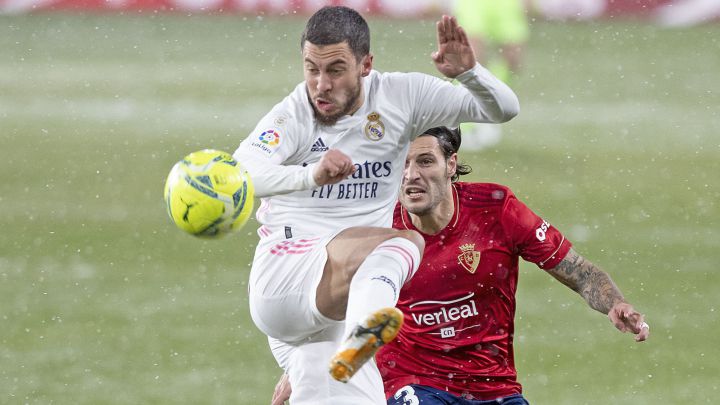 Peeep peeep peeeep! And that's your lot. 0-0 it ends.
Real Madrid had the ball in the net twice but otherwise struggled to create clear-cut chances, and Osasuna were well worth a point on a night when the playing surface made free-flowing football decidedly tricky.
It's a draw that sees Madrid miss the chance to end the weekend top of LaLiga - and although they're now only a point behind leaders Atlético Madrid, Los Rojiblancos have three games in hand on their city rivals, having had their match against Athletic Club postponed earlier today.
Meanwhile, Osasuna's fourth straight draw means the hosts remain in the drop zone but cut the gap separating them from 17th-placed Valencia to one point.
That's all from me - thanks for reading!
One last chance for Real Madrid. Benzema darts towards the box and feeds Vázquez to cross, but he's falling over and his delivery is high and long. Casemiro flops to the turf in search of a penalty as he tussles with Oier in the middle, and the Osasuna man is less than impressed, it's fair to say. He directs a firm finger-wagging at the Brazilian, who replies in kind.
Benzema cuts it back from the byline to Mendy, who fires a right-footed shot well over.
Three minutes of time added on in Pamplona.
Goa... no! Offside. Kroos chips the ball to Benzema at the back post, where he plays it across goal for Ramos to turn home from close range. As before, though, Madrid are denied by the assistant referee's flag.
Budimir does very well to win the ball back and play it out to Roberto Torres, who lifts the ball back to the Croat on the edge of the box. Casemiro gets there first and heads it behind, but for some reason the referee gives a goal-kick.
Shortly afterwards, Osasuna get Budimir back on the ball when Íñigo Pérez plays it to him in space in the penalty area, but a delegation of white shirts is swiftly onto him to block his shot. The loose ball falls to Jony, who pings a 25-yard drive well over.
Isco dinks a ball into Mariano just inside the box, where the striker tries to chest it down and turn into shooting space, but is run off it by Aridane.
If it stays this way, it'll be 11 league games without a win for Osasuna, but also four without defeat - they came into tonight on the back of draws with Elche, Alavés and Real Sociedad.
Osasuna boss Jagoba Arrasate makes his first two changes of the evening, bringing Rubén García and Calleri off for Jony and Budimir. Calleri looks absolutely knackered as he comes off.
And Mariano is straight into the action, latching on to a lofted pass over the top to knock the ball past Aridane and shoot straight at Herrera from an angle. Ah, but the flag was up.
Zidane makes two more substitutions, throwing on Isco and Mariano Díaz for Hazard and Modric.
That's a great chance for Osasuna! Rubén García clips the ball towards the penalty spot to meet Roberto Torres' run into the box - he's in plenty of spcae to shoot, but he can only lift it over the bar! What a let-off for Madrid. Thankfully for the visitors, it was on Torres' weaker foot.
Mendy tries to knock it past Nacho Vidal and into space to cross, but he knocks it too long and succeeds only in playing it out for a goal-kick. A minute later, Mendy again has it on the left wing and fires the ball into the area, but it can't find a white shirt.
Madrid have pinned Osasuna back for the past few minutes, but there hasn't been a whole lot of end product.
Real Madrid make their first change of the night, Federico Valverde replacing Marco Asensio. A midfielder for a winger: that'll bring with it a shift from 4-3-3 to 4-4-2.
Vázquez exchanges passes with Benzema and crosses from the right, but Modric's header is well off target.
What a save! The flag was up, but all the same: hats off to Herrera. Kroos crosses from the left-hand edge of the box to Benzema, who is free at the far post. Somehow, somehow the Osasuna keeper manages to beat out his point-blank header, and although the Frenchman does finally scramble the ball in, it turns out he was offside anyway.
Real Madrid hearts are in mouths for a moment or two when Eden Hazard is left in a heap on the floor after being caught on the ankle by Oier... but he looks like he'll be OK. He's already broken his ankle twice since joining Madrid, you might just remember.

Real Madrid skipper Sergio Ramos challenges Osasuna's Jonathan Calleri at El Sadar.
(Photo by ANDER GILLENEA / AFP)
Vázquez cuts it back to Casemiro to shoot from the edge of the box... and the Brazilian's strike is hit with plenty of force, but flies well wide.
At the other end, Calleri pops the ball off to Nacho Vidal to cross, but Rubén García can't get a good connection on his delivery and his hooked effort loops comfortably over.
It's been pretty end to end so far in the second 45, and feels like both sides have clicked the tempo up a gear.
Oh, that's sublime again from Asensio. This is what you expect from the lad. He pulls a ball over the top beautifully on his left foot, before cutting inside Aridane on the edge of the box and sending a shot towards Herrera's top corner, but the goalkeeper gets across to gather. That was Madrid's first shot on target.
Moments before that Asensio effort, Calleri had tried his luck from range for Osasuna, but it was tamely-hit and straight at Courtois, and was never likely to trouble the Belgian.
Asensio clips a lovely first-time, diagonal ball into Benzema's run into the box, but the Frenchman can't control. If he had been able to, he'd have been in on Herrera - and the flag had stayed down.
It's all Madrid ball for the first couple of minutes, and the guests weave together a neat attacking move that is finally worked to Vázquez to cross from the right. His ball is fizzed into the six-yard box, where Herrera parries and Oier, having initially swung and missed, gets it clear.
Peeep! We're back up and running at El Sadar.
No changes for either side.
Peeep peeep peeeeep! Señor Soto Grado blow his whistle right on 45 minutes, bringing an end to a pretty evenly-fought first half that yielded little in the way of genuine goal-scoring chances. Neither side looked terribly comfortable on the ball - but, given the conditions, that's only to be expected. Fair play to the El Sadar ground staff that this game's being held at all.
Kroos tries to slip Hazard in behind Aridane and into the box, but Sergio Herrera is out quickly to gather.
Moments later, Mendy advances towards the area and pings a low shot towards the far corner, but it gets a touch off an Osasuna boot and flies wide for corner, which the hosts clear.
Torres curls in a venomous cross from the right that has Oier's name on it - but a stretching Sergio Ramos just gets there to cut it out.
Modric then conjures up a lovely little reverse ball into that box that threatens to release Mendy into space, but Nacho Vidal is there in time to clear.
It's a pretty even game.
Landmark night for Kroos
By the way, Toni Kroos is making his 300th appearance in all competitions for Real Madrid tonight. He's now just eight games short of Uli Stielike's record for Madrid appearances by a German player.
Modric produces a trademark outside-of-the-boot ball into the box that Sergio Herrera slightly flaps at, before Osasuna clear and get Rubén García running at the Real Madrid defence. His incursion into the Madrid area is brought to an end when Vázquez sticks a boot in and brings the ball away, though.
Asensio looks to release Hazard into the box with a first-time flick on the turn, but it's overhit and the Belgian doesn't appear to read his team-mate's intentions, anyway.
At the other end, the pitch does Varane a mischief as he tries to control Vázquez's pass, and the ball dribbles behind for an Osasuna corner - from which Oier twice has chances to send an effort towards goal, bringing a save out of Courtois with one of his efforts!
Madrid struggle to clear, and back come Osasuna, Roberto Torres pinging in a shot at from the right-hand edge of the area that flashes across the six-yard box. The hosts' best moments.
Real Madrid break at pace, Vázquez feeding Modric, who in turn plays it on to Hazard. His first touch is poor, though, and the chance is lost. Both teams are, unsurprisingly, struggling to knock the ball about with a great deal of tempo or precision.
Madrid keep it in the Osasuna half for a good minute or two, before Kroos pings a long diagonal pass to Vázquez on the right. His cross is tame, though, and the hosts clear with ease.
A minute later, Mendy crosses for Casemiro, whose shown he's more than half-decent with his head, but Aridane wins the aerial battle and Los Rojillos bring it away.
Hazard does very well to win the ball back in the midfield, before advancing towards the Osasuna box and feeding Modric... who miscontrols. It's not going to be a night for tiki-taka-esque attacking moves.
Up the other end, Íñigo Pérez's left-wing cross is too long for Calleri.
There's the first moment of real danger from Madrid. Mendy cuts in from the left and finds Benzema, whose cute first-time pass slips Hazard into space inside the box. The Belgian is well-placed if a little wide, but produces a cross-cum-shot that drifts across the area and away from danger.
There's a clear example of the pitch catching the players out. Lucas Vázquez thinks the ball is going to bounce harmlessly out of play but instead it stops dead, allowing Rubén García to latch onto it and win a corner... which, thankfully for Vázquez, comes to nought.
Moments later, Jonathan Calleri suddently finds himself charging at goal in between Raphael Varane and Sergio Ramos, but Varane is a defender who's got plenty of gas and he runs the striker off it before he can shoot.
Real Madrid chase record-equalling fourth straight win at El Sadar
Spanish football stats guru Mister Chip notes that Real Madrid have won on their last three visits to El Sadar, and a fourth straight triumph at Osasuna tonight would only be the second time Los Blancos have managed such a run of victories in Pamplona.
Marco Asensio gets to the byline and crosses low, but sees his ball deflected out for a corner kick by David García. The corner is then worked to Lucas Vázquez in crossing space deep on the right, but his ball is straight down Sergio Herrera's gullet.
It does seem, as would be to be expected I guess, that the players are having one or two issues with keeping their feet.
There are a few large-ish patches of thin snow on the El Sadar pitch, but in general the playing surface looks in very decent nick. That said, the snow appears to have started falling again just as the teams kicked off.
Peeeep! We're underway at El Sadar.
What the coaches said: Zinedine Zidane, Real Madrid
Period in self-isolation:

"In the end I tested negative and that's that. We were ready in case anything happened but in the end I'm able to be with my team and to travel."

Eden Hazard, who has returned to the line-up:

"He's with us and is training every day. I don't know if he's fit to play 90 minutes - we'll have to see. We also have games coming up… Step by step."
Zidane travels to Pamplona after negative test
Real Madrid boss Zinedine Zidane is in Pamplona with the team despite having to undergo a recent spell in self-isolation after coming into contact with someone who tested positive for the coronavirus.
Having tested negative for covid-19, he was given the green light by LaLiga to be with his squad tonight.
Full story: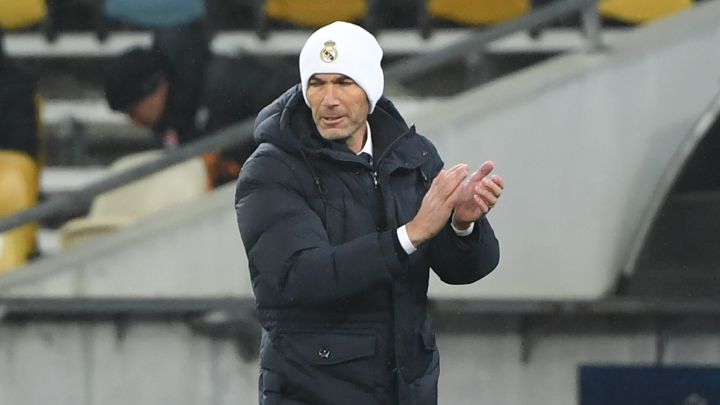 What the coaches said: Jagoba Arrasate, Osasuna
How does the potential state of the pitch affect your game plan?

"I don't know if it's going to snow, how much it's going to snow, what the pitch will be like… Given that we don't know what's going to happen, you can't train for that. You always have to adapt to what's in front of you in every moment. Right now we're not thinking about that, but rather trying to make the strengths we have count against a top side."
Chances of beating Real Madrid:

"We know we're up against the reigning LaLiga champions and that they're a top side. It's going to be a tough game, but we're in better nick and we're going to do everything we can to win the game. We'll need to put in the perfect performance; that's the bar, and if you meet that standard and they still beat you, there's nothing you can do about it. We're confident we'll put in a fine performance and we'll try make life difficult for a side who, if they play to their best, are very difficult to beat."
(Photo: Eddy Kelele, Diario AS)
Clubs agree to come back tomorrow if match halted
Here's an interesting bit of information from Movistar+, who reveal that Osasuna and Real Madrid have agreed that if tonight's game has to be stopped midway through because of the weather, they'll come back tomorrow and play whatever's left of the game.

Real Madrid on seven-game winning run against Osasuna
Real Madrid haven't lost to Osasuna for almost exactly 10 years: you have to go back to 30 January 2011 for the last time the Navarrese club beat Los Blancos, when Javier Camuñas' 82nd-minute goal gave a side managed by former Real Madrid favourite José Antonio Camacho a 1-0 win.
Since then, Madrid have won 10 out of their 12 clashes with Osasuna in all competitions, and have been victorious in each of the teams' past seven meetings.

Real Madrid can end weekend top of the table
While Osasuna-Real Madrid has finally been given the go-ahead, the snow in Spain did cause the postponement of LaLiga leaders Atlético Madrid's clash with Athletic Club earlier today.
That means victory for Madrid would send Zinedine Zidane's men to the top of the table, albeit Los Rojiblancos will have a full three games in hand on their city rivals after this weekend.
As for Osasuna, they're in a spot of bother down in 19th in LaLiga. Although they beat Olot 3-0 in the Copa del Rey second round in midweek, Los Rojillos have now gone 10 games without a win in the Spanish top flight and find themselves two points shy of safety.
Game on: El Sadar pitch passes inspection
We are go in Pamplona: match referee César Soto Grado has given the pitch the green light after carrying out a final inspection of the El Sadar playing surface.
Hazard returns to Real Madrid line-up in Pamplona
Eden Hazard returns to the Real Madrid line-up as boss Zinedine Zidane makes two changes to the team that beat Celta Vigo last weekend in LaLiga.
Having missed the win over Celta due to illness, Sergio Ramos comes back into the centre of defence, while winger Lucas Vázquez drops to the right-back to deputise for the suspended Dani Carvajal.
Hazard makes his first start for Madrid since late November.
Meanwhile, Osasuna boss Jagoba Arrasate makes two changes to the side that drew 1-1 with Real Sociedad last time out in LaLiga, as Roberto Torres and Oier Sanjurjo return to the hosts' XI.
El Sadar pitch looking in decent shape...
Osasuna have shared a photo of what the El Sadar pitch looks with a little under an hour to go until the game's 21:00 CET kick-off, and it would certainly appear that the ground staff have excelled themselves.
Real Madrid team news
Starting line-up: Courtois, Vázquez Varane, Ramos, Mendy, Casemiro, Kroos, Modric, Asensio, Benzema, Hazard
Osasuna team news
Starting line-up: Sergio Herrera, Vidal, Aridane, David García, Cruz, Roberto Torres, Oier, Moncayola, Íñigo Pérez, Rubén García, Calleri
Osasuna vs Real Madrid: ¡hola!
Good evening and welcome to our live coverage of Osasuna vs Real Madrid, which is set to go ahead as scheduled despite heavy snowfall in Pamplona, as Storm Filomena causes extreme weather conditions across Spain.
Although snow has continued to fall in the Navarrese capital throughout Saturday, ground staff at El Sadar have worked flat out to get the pitch into a fit state and it looks like it's going to be playable.
"We'll be able to play and we'll see a great match," Osasuna general manager Fran Canal told Spanish TV channel Movistar+ a short while ago.
"In the past couple of years, Osasuna have invested in resources that include lamps that allow us to melt the snow and keep the pitch in a good condition throughout the winter [...]. They'll keep the pitch in good condition and it'll be in a fit state to play on."
.